Ajit Gulabchand, Chairman and MD of HCC, does not mince words when he criticises the UPA-led government. "Measures taken by the past government led to lot of disappointment in the environment and have affected our economy a lot. People were afraid to invest in such environment." He hopes that the new government would give a fresh direction in its upcoming budget. "I hope that the government will solve the problem our economy is facing," he says in an interview with Mihir Bhatt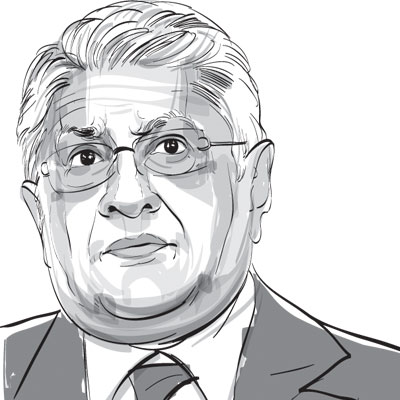 Everyone expects Modi government will bring in a change to India
There are no changes in the ground reality since the new government came in, but there are hopes that it will change. Measures taken by the past government (UPA) led to a lot of disappointment in the business environment and have affected our economy a lot. People were afraid to invest in such environment. Now, with the change in government, sentiments have improved. New government will surely solve the problems the Indian economy is facing. I hope that the upcoming budget shows some direction to us.
The new government has a lot of challenges to tackle with. PM had indicated that he might have to give some bitter pills to bring in change. What is your take on the same?
I agree with the prime minister's approach that to bring in a change there is dire need to take tough calls which will improve our economy. Past government has done a lot of damage, and this government needs to undo that. For instance, government needs to pay around Rs 1.5 lakh crore to infrastructure companies and to pay that amount government will take time. One more important step is to provide employment to 30 crore people, which is a challenge. To bring down inflation, it cannot be just dealt by increasing interest rates. Government needs to come up with some other option and for that it has to take tough calls.
How do you think can they unshackle the infrastructure sector?
The government needs to pay off around Rs 1.5 lakh crore to infrastructure companies. The new government will take time to pay that off and we need to give that time. Government needs to form an environment committee which will form measurable standards related to environment and not like the way it's done on a case basis now. Also, they should remove this Land Acquisition bill.
Talking about Maharashtra, your Lavasa project faced a lot of challenges related to environment. Do you think you were targeted?
There was no environment-related issue. Issue was who will give the permission. Over the last five years, we have been facing many difficulties. I was really disappointed. Here the attitude of the new government was 'hum kare so kaayda', meaning what we do become the rules. Finally, things are sorted and now, we have clearances from both the state level and the national level. This is what the new government needs to focus on, to bring down the implementation risks. New government needs to create a safe and risk-free environment.
All big corporates have complaints related to natural resources, environmental clearances, revival of infrastructure. Do you think we will see a road-map to solve these issues in the upcoming budget?
It is difficult to come up with solutions on all these issues but there should be a way out of it. Talking about the difficulties in getting environmental clearances, half of India is shut from development because of this, and also there is no improvement on pollution front. I hope the new government simplifies these issues for us and Narendra Modi has simple policies in Gujarat and I hope that is passed on to the country. In terms natural resources restrictions, there is a need to change policies and bring clarity and a policy that promotes free enterprise.
There is this debate on the need to replicate the Gujarat model at a national level. Is that possible?
I don't know if that's a model or not, but it was good. Looking at the national level implementation, it's not just in the hands of Prime minister, but also in the hands of various states as well. PM needs to make rupee strong, bring down CAD, improve production and provide a safe climate for investment. If attention is paid on these things, it will lead to growth.