He calls himself 'OKOK', makes friends through his instagram handle and travels light. Came to India with no fixed plans, after spending the first 24 hours in Mumbai, he took a quick escape to Goa where he found an audience for his art.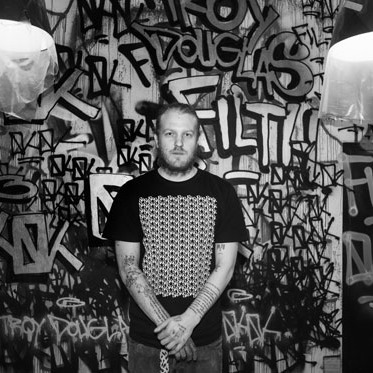 In Pune, this Swedish artist discovered spaces that inspired him to re-create his art, new experiences to display and new patterns to scribble.

My first love
Film maker, photographer, writer, designer and a painter, the long list of credentials to his name are just a proof of his creativity and passion. With 300 videos already on youtube, OKOK has extended his creative horizons, He recounts, "I've worked in various genres including making grafitti movies in New York, Stockholm, Copenhagen and Brazil". But when you ask him where his heart resides, the instant response is "painting, which happens to be my first love".
Patterns are beautiful
What makes him stand apart is his effortless style and the journey behind 'OKOK' to establish himself as a brand. Started as an enterprise in November 2013, this humble artist had already created art for a restaurant, Strandvägen 1 in Sweden. "A repetition of certain patterns is the best way to describe my art, repetition is the mother of all learning". He loves pattern so much so that his first endeavour was a tee shirt which had one large pattern repeating 'OKOK'.
Painting outdoors
Painting as a passion took birth for OKOK right in his childhood, when his mother used to arm him with a pen and paper and he as a child spent hours doodling and scribbling. "I tried my hand at grafitti art for the first time in 1987 and have been painting outdoors since I was 13", he says fondly remembering his childhood with his now deceased mother and how she remains to be an inspiration in his life. In Pune he offers to transform walls for friends and art lovers out of sheer love for his art.
A noble cause
OKOK today is on the verge of creating a mini brand for itself, despite the recognition he received over the past few months, his thousand followers on facebook and instagarm, he prefers to stay rooted in his art. At the same time he is practical enough to breakeven, "I am not afraid of branding and packaging my art, it's my source of livelihood after all", he says. And when he has enough funds his intention is to start something noble, "perhaps an art school for the children on the street." He says.

I am traveling within myself
So while the usual humdrum of his life goes on, OKOK is here in India in search of his own self, visiting various places, meditating in ashrams and drawing inspirations from the artistic side of the country. In the meantime he's painting graffiti here or there for a friend, justifying his interesting tattoo which reads, 'Sluta Aldrig Måla' in Swedish meaning "never stop painting". A thorough follower of his heart, he lets this organ make the vital decisions for his life as he puts his visit to our city in his own edgy manner, 'I have travelled from Sweden to India, but more than travelling across the world, I am travelling within myself".
More of his work : http://www.artbyokok.com/ , instagram : @artbyOKOK