Doggie treats, darzis, clairvoyance — there's all this and more in Tavleen Singh's new book about New Delhi's charmed political circuit.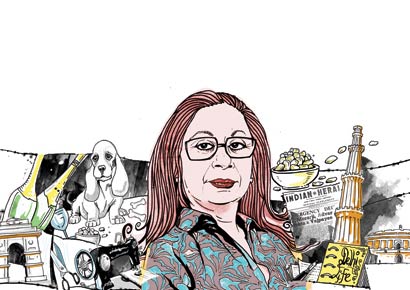 Book: Durbar by Tavleen Singh
Publisher: Hachette India
Pages: 312 pages
Price: Rs599
If you are part of the Twitter crowd who revel in bashing the Nehru-Gandhis on an hourly basis, this book with an insider's view of Lutyens' Delhi will satisfy your craving. Durbar by Tavleen Singh tries to establish through superficial gossip (it's that sort of a book that skims the surface, never burrows deep to reveal the serious political direction of the times) that Rajiv Gandhi was a man without vision, only somewhat better than a complete imbecile; and that Sonia Gandhi's foreignness was so intrinsic, her contempt for Indian politics so deep-rooted, that she should never have been allowed to sit on the Congress throne.
Tavleen Singh is an immensely privileged individual. She has easy access as an insider to Delhi's charmed power circuit where evening parties are incomplete without imported champagne and the finest Scotch, even during the Socialist Seventies. She may herself be a junior reporter doing insignificant colour stories, but she accompanies a young Naveen Patnaik to these elite evening gatherings.
She tells us how the present chief minister of Orissa dreads the moment when Rajiv saunters in because he does not want to be a part of any conversation with the son of Indira Gandhi who has put his father (late Biju Patnaik) in jail.
Tavleen Singh tells us how Sonia reveals mysteriously that she got her dress tailored by "her darzi" in Khan Market. She tells us how Maneka Gandhi wanted to feed her pet the same biscuits that Sonia had obtained for her dog and how the friction snowballed into some kind of a family feud. Singh captures these moments with a rare eye for trivia, but she does not draw larger political conclusions from them. Yes, she is occasionally gracious to Sonia Gandhi especially when she remembers that it was Gandhi who had arranged her boss' (the then Sunday editor, MJ Akbar's) interview with Prime Minister Rajiv Gandhi.
And the other irritating aspect of the book is that the author herself becomes part of the facts she narrates. Singh does not restrict her role to being a transparent, at best translucent, medium. She often makes herself the unabashed focal point of her account. If you read the book carefully, you will notice how every time there is an election whether it is the historic post-Emergency 1977 poll which unseated Indira Gandhi or the 1980 general election which brought her back with a resounding majority, Tavleen unerringly gets it right.
Every time she claims to have guessed the results rightly unlike her politically clueless colleagues. The tragic part of the story is that she knew which way the wind was blowing long before the average journalist could sense the trend but her own boss did not trust her remarkable clairvoyance.
Occasionally, you feel that you are reading a long list of Tavleen Singh's reporting achievements, her unabashed conceit prompted by her unfettered access to the powers-that-be but, sadly enough — with so much focus on herself — she always denies you the overall political picture. More often than not the book is a stringing together of chit-chat and personal experiences, which does not lead you anywhere except to the predictable conclusion that as a nation we suffered indescribably because the Nehru-Gandhis were at the helm. You must, however, definitely get hold of this book if you are looking for an insight into the drawing room conversations of the event-packed late Seventies and Eighties.
Tavleen Singh is against dynastic politics but does not ask the larger question of why family businesses prosper in India where children are never separated from their parents. Tavleen Singh writes with a complete innocence, as though she is unaware that a lawyer in this country would always push his son into the legal business or that a doctor would hope that his son would choose the same vocation. Or are we to make an exception only in the case of politics and blame the Nehru-Gandhis for perpetuating an unhealthy tradition?
Singh herself talks about her friendship with scions of illustrious families whether it is Biju Patnaik's son Naveen, or it is the children of the Scindia royal family. She accepts these other dynasties uncritically and does not enter into the debate of whether politics in the country became an unprecedented family enterprise because of the trend unveiled and pursued by the Nehru-Gandhis. She does not stop to think that such easy inheritance of a complex profession like politics could not have been incorporated in society without the idea being rooted somewhere in the Indian consciousness. It is a national malady. Should we only blame the Nehru-Gandhis for it?
With such an insider's view, Tavleen Singh could have taken a closer look at the policies and politics of the Rajiv era. Instead, it seems that she is more interested in telling us how Arun Singh (Rajiv Gandhi's friend) and his wife, Nina, became distant from Rajiv and Sonia. No doubt, the book creates the impression that Tavleen Singh had lost her journalistic impartiality and become more critical of Sonia Gandhi after Rajiv's shunned Singh and refused to take any notice of her.
Ultimately, this book appears to be one penned by a socialite who, by sheer accident, also happened to be a journalist.