We're seeing a brave new age of Hindi film songs. Aniruddha Guha introduces you to the men and women who are its voices.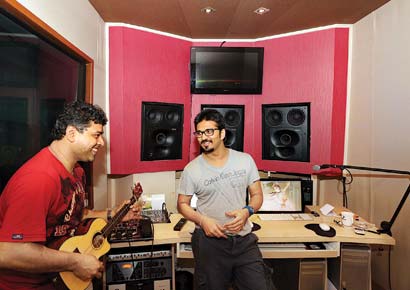 Teri halki launi launi si haye hasi. Tadke di lali gala te haye khili.'
Lyricist Shellee wrote these lines, describing a woman's "launi", or savoury, smile and how she blushes while cooking, for a song in Luv Shuv Tey Chicken Khurana. This song, 'Luni hasi', along with all the others in the film, was composed by music director Amit Trivedi. His team joined the crew of the film on the second day of shoot in Ludhiana to "get a feel of the story", as one of Trivedi's men put it.
While the cast shot on location, the music team went scouting for singing talent around the city. The search culminated in a studio in Ludhiana, where Trivedi recorded 'Luni hasi' with 17-year-old Devender Singh and 'Makkhan malai' with a folk singer named Dilbahar.
Hindi film music has been undergoing change for a few years now. The lip sync songs remain a fixture in the traditional masala films like Ek Tha Tiger and Rowdy Rathore, but there are some who are ready to dabble with newer themes and stories, and also experiment with music.
Often, the songs play in the background, like Pritam's soundtrack for Barfi, about a deaf and mute protagonist, did. Anurag Kashyap's Gangs Of Wasseypur featured everything from the folk-based 'Womaniya' to the techno-heavy 'Keh ke lunga', set to tune by Sneha Khanwalkar. Ram Sampath's work in Talaash provided perfect accompaniment to Reema Kagti's suspense drama. Every song in Luv Shuv... had the distinct flavour of Punjabi folk.
A New Voice
Amit Trivedi says that he's able to make the kind of music he does because of the new tribe of filmmakers and the new singers he discovers. "There are two ways to compose," says Trivedi. "Either you think up a song with the singer's voice playing in your head from the very beginning. The other is to see your work come alive through the voice of a singer who brings something to the song that you hadn't imagined before," he says.
While composing 'Iktara' for Wake Up Sid, a voice he had heard on a demo tape came to mind. Kavita Seth was relatively unknown then, but Trivedi knew hers was the voice he needed. A year later, Seth was picking up awards at every other ceremony. The other option demands the music director tries out many singers before deciding on one. In Habib Faisal's Ishaqzaade, for example, a newcomer Shalmali Kholgade stepped behind the mic and "took the song to another level".
Ram Sampath faced a similar problem while recording 'Jiya lage na' for Talaash. He tried a number of male voices to accompany Sona Mahapatra on that track. Finally, he settled on the lesser-known Ravindra Upadhyay, a reality show winner who had sung only a handful of playback songs until then. Sampath had called in Upadhyay to sing another song but asked him to give 'Jiya lage na' a shot. "Ravindra made the words ring true," Sampath says, explaining that few singers could make the kind of impact Upadhyay eventually did.
"The composition is thumri-based but the gayaki needed to be simpler. His rendition had restraint and maturity," says Sampath. The music director, who tried out different voices like Keerthi Sagathia ('Nakkadwaaley khisko') and Chetan Shashital ('Saigal blues') in Delhi Belly, says he's fortunate to be working with "courageous people" like Kagti, who are unafraid to experiment with music in their films.
For Gangs Of Wassseypur, Sneha Khanwalkar brought on popular Bhojpuri film star and singer Manoj Tiwari to provide vocals for 'Jiya tu Bihar ke lala', a song that needed to convey a rustic north Indian vibe. In the film's sequel, Khanwalkar got a girl who used to sing in train compartments to lend her voice to 'Chi cha ledar', a fast-paced song used in the background for a thrilling chase sequence.
Sweating It Out
While discovering singers is a time-consuming process — you need to find and try various voices before deciding on the right one — the challenge doesn't end there. Getting brand new singers to deliver the way their music directors want them is a task too.
Ashish Narula is the artist and repertoire manager for Trivedi and maintains a database of singers in every state. He says that it takes time and effort to get less experienced singers to deliver, adding that Trivedi usually has to slog it out with new singers till he gets the desired result.
"Dilbahar is known for his road shows up north. But he can't read, write or memorise. You have to be very patient with a talent like that," says Narula. Eventually, Trivedi sung each line of 'Makkhan malai' first, asking Dilbahar to copy him till the singer got each note right. The song was recorded "one line at a time" but the effort paid off.
While Trivedi prefers newer voices, he also feels that there are times when a song needs the expertise of a well-established singer. "The advantage of getting someone like Mohit Chauhan, Shaan, Sunidhi Chauhan, Shreya Ghoshal is that they share the burden of the song, making the job a lot easier for you. You just give them a brief, and they go behind the mic and kill it," he says.
Sampath concurs: "Suman Sridhar ('Muskaane jhooti hain'), Vishal Dadlani ('Jee le zara') and Sona Mahapatra are prime examples of easy casting choices." But casting singers, says Sampath, is a serendipitous process. As he puts it: "You have to trust your instinct."