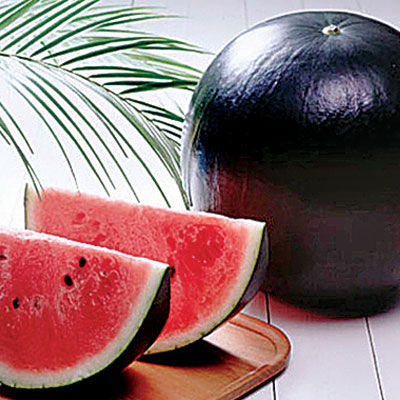 Would you try a fruit salad that will cost you $1000? Believe it or not, but its true. Some fruits such as melons, bananas and mangoes can set you back a few thousand dollars. Truffles, caviar, wagyu beef surely fetch dear prices but I was quite alarmed when I heard thet the Gokusen bananas are sold only on one particular day - May 9 - at just one store and each banana is sold for a fancy $6 each. The fruit, developed using the best characteristics from more than 100 bananas and grown 500 meters above sea level, comes in special boxes and equipped with serial numbers.
A luxury fruit boutique Sembikiya in Tokyo sells designer type grown strawberries for about Rs 1600 each and those square shaped watermelons for Rs10,000.
Well these are just for starters. Densuke Watermelon, another produce form Japan is a black skinned, stripeless watermelon from Hokkaido (famous for scallops as well) has a sweetness about it. Only 100 of them are farmed every year and a 9 kg watermelon is auctioned for about $6100.
The Sekai-Ichi Apple as well from Japan costs close to $20 or about 1200 each, is washed with honey and completely blemish free. The orchards where they are grown are pollinated by hand.
Yubari King Melons from Japan went once for $23,000 making it the most expensive fruit in the world. Grown in Hokkaido region, the hybrid, orange-fleshed melon is highly prized for its sweetness and each one grown in green houses are actually given a hat in order to prevent sunburn.
The Lost gardens of Heligan in Cornwall, one of the most mysterious estates in England grows a delicious pineapple for two years under straw, manure and horse urine. Some say it's a Victorian kinda way that allows a fruit such as pineapple to survive in cold climates. These pineapples which are never sold but are given free to the staff costs about $1600 or almost Rs 90,000.The iconic Arnauds in the french quarter of New Orleans serves a bowl of strawberries for $1.4 million , multiply that by 56 and you know what that's gonna cost you for that bowl which comes with a 4.7 carat pink diamond ring and a whole jazz quartet..
A grape of a ping pong ball size from Japan, Ruby Roman are only harveseted when they reach a sugar content of 18 per cent. They come 25 in a bunch for about $300. The Dekopon, a hybrid of a mandarin and an orange is rumoured to be the most delicious citrus in the world. It looks like an orange, with the exception of a bump on the top, but is larger and sweeter. Until 2011, when the citrus made it's way to California and was renamed "Sumo"—the Dekopon was available only in Japan. Try and check these out on your travels to check them out. As we chefs say "Produce is King"
Name: The Bellisima Pizza
Cost: $1,000
Where it came from: Nino's Bellisima Pizzeria, New York
What it is: This pizza pie features $820 worth of six different types of caviar. On top of the caviar rests two Maine lobster tails, because the lily needs to be gilded when you're paying 1K for a pizza.
Name: 2013 Lobster Pasta
Cost: $2,013
Where it came from: Bice, New York
What it is: In Midtown Manhattan, those who power lunch have been known to pay a premium for fancy food. But back in January, Bice celebrated the New Year with a pricey pasta dish brimming with luxurious ingredients like lobster and black truffles, and a sizable portion of calamari and veal. The dish included a serving of chocolate mousse for dessert and gratuity, and diners got to keep the custom, gold-leaf Versace plate
Name: White Truffles and Gold Pizza
Cost: $2,400
Where it came from: Margo's Pizzeria, Malta
What it is: This world record-setting pie featured 100 grams of 6,500 EUR per kilo (approximately $8,576 per lb) white truffles, along with 24-carat gold leaf. "This is not just a pizza; this is a sign from God telling us how great She is," says the restaurant's menu