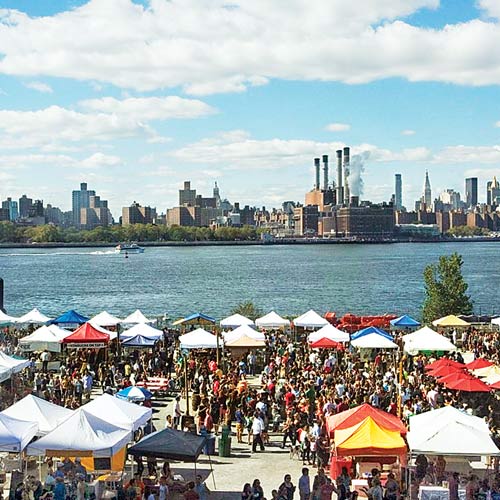 This week, I'm in New York, a combination of work and vacation. It is most certainly one of the best places to shop for interiors. The range and styles of interior stores is nothing if not bewildering; from ultra chic to ultra kitsch. There's something for everyone.
While in New York, essential stops include the Garage Flea Market for African handicrafts, ABC carpets for seven floors of furniture, carpets, textiles and home accessories and of course Restoration Hardware.
Here's a list of a few other spots worth checking out.
Ralf Pucci
The two story loft space located on 44 W 18th Street features top designers like Vladimir Kagan, Jens Risom, Andree Putman and lighting designers include Lianne Gold, Ted Abramczyk and Michael Anastassiades. The store feels like a curated design museum combining creative designs in spectacular displays.
The high end mannequin, lighting and furniture showroom was voted the best furniture gallery in New York. Pucci's displays of various creative practices is visionary, delivering unique talent to wide audience.
In his words, 'Furniture should be simple, timeless and beautifully crafted. Mannequins should be elegant, modern, edgy and hip. Art should make you think.'
BDDW
Before dedicating himself to design, Tyler Hays was an artist and sculptor. His artistic roots are clearly visible in his stunning furniture pieces. The store is well known for its heirloom quality wood furniture and natural finishes. The spacious 5 Crosby Street store is filled with subtle and poetic details. BDDW designs bridge the gap between classic American wood based pieces with contemporary forms.
Espasso
The first ever dealer to dedicate a showroom in the United States entirely to Brazilian design, Carlos Junqueira first opened the store in Long Island City, New York in 2002 before moving to its present location on Moore Street. An eclectic combination of 20th century Brazilian design and more contemporary pieces, the store conserves Brazil's rich design heritage and acts like a platform for new talent from the country. On view are pieces by design icons like Oscar Niemeyer and Jorge Zalzupin.
Johnson Trading
A dynamic downtown design space, Paul Johnson has been exhibiting the works of architects, designers and artists since 2000. The gallery combines cutting-edge contemporary designs and classic and vintage pieces. ''In addition to unusual or rare works from the past, I look for talented young designers who pour their personalities and their lives into what they make,'' Johnson says. The space exhibits designers like Max Lamb, Katie Stout and Jack Craig and also exhibits at leading international design fairs in Milan, Basel and Miami.
Brooklyn Flea Market
Brooklyn Flea Market has never been more exciting, even the hardened Manhattainites are now crossing the iconic bridge to Forte Greene.
With an eclectic mix of objects, new collections by young designers, and furniture and artefacts from across the world, it's no wonder it's no wonder Chelsea's market is now at number two.
New display at Splendour
The third in it's series of artistic interventions, Splendour's façade windows pay tribute to the Italian artist and interior designer Pierro Fornasetti. Using the designers iconic surreal dark cloud wall paper, the multimedia installation by Thierry Betancourt and Suhani Parekh alludes to the oncoming monsoon. From the advent of the monsoon birds in one window, to more than a thousand needles combined with sounds of rain and thunder that mimic the downpour of showers in the second. And what looks like lighting seems to whisks through the third display. The 24 hour audio visual installation is a quasi immersive experience. Splendour continues to push the limits of creativity and innovation.