Congress candidate from Phulpur and cricketer Mohammad Kaif talks to dna's Taus Rizvi on the eve of polling in his constituency. Excerpts: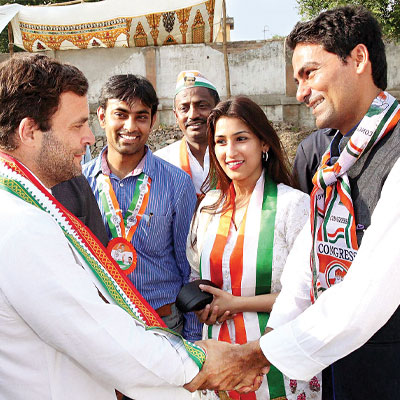 D-Day, May 7, is upon us. Are you nervous?
Not nervous. I've worked very hard the last two months, but yes there is slight anxiety, which I think should be there. The response has been good, and am expecting a positive result.
What has the response been so far?
People are excited. Different parties have ruled this constituency for more than two decades, but now they want something new and different which they will get. I have been meeting people personally and they are really excited. Youngsters are carrying Congress flags on their cars and bikes. We have connected with the locals.
How different is the political pitch from the cricketing pitch?
There is not much difference. Travelling is the common part. I had to cover many areas while canvassing the last one-and-a-half to two months. I met people on one-to-one basis, understood their problems just like when I was the captain of the India U-19 team during the 2000 World Cup, which we won. You have to visit every nook and corner, every area before the election. It is like cricket where we travel throughout the year to all parts of the world.
Phulpur has a history. Jawaharlal Nehru used to contest from here, but the Congress has failed to win here in nearly 25 years.
It has been more than 20 years. It has always been caste-based politics. Parties and MPs come and go and there is no fixed set up. These parties only give support at the Centre while Congress is the one that rules there. The Congress has always been working for poor people, farmers and the common man. It is the Congress that helped India get freedom. People are excited this time. And they want me to work hard just like how I did when I played for India.
Have you been able to identify problems in your constituency?
Yes definitely. It is a big constituency which has four to five grameen areas and a city. They have different problems and different demands. However, the demand is not big. They don't want cars or houses. Their demands are simple and basic. Youngsters want jobs, people want roads, electricity, proper colleges and technical colleges, hospitals that functions well. A certain kind of professionalism.
Is there a Modi wave in Phulpur?
That is just the media's creation. I start my day at 6am and return home by 11.30pm, meeting all kinds of people. There is certainly no Modi wave here. People in villages are more concerned about the local leaders and not what appears in the media.
Being a sportsman (cricketer), what will be your priority if you win?
I want to create job opportunities for sportsmen. Job security will allow them to play freely. There are many sportsmen in this part who play badminton, swimming, hockey and other sports. I would like to bring professionalism to these sports. I will bring international coaches and create good infrastructure and facilities.
Why did you choose Congress for your political debut?
I don't believe in caste-based politics, and the Congress is a secular party. Congress is a party for the poor people and the common man. Its a party of farmers. Apart from that, the Gandhi family comes from that party. It is a family that has given martyrs to the country, like Indira Gandhiji, Rajiv Gandhi. There have been leaders like Lal Bahadur Shastri and so many others.
Is your choice to contest in the parliamentary election a one shot at politics or will you continue in this sphere?
Of course I will continue. There is no looking back even if I lose. Whatever be the result, I would like to continue. As a player, I have seen what victory and defeat means. I have seen the worst and the best. It is a mental process of happiness and sadness, and I am mentally prepared for whatever comes. People have responded well while I was canvasing and they expect a lot from me. I will definitely be here and continue to try to solve their problems.
There were reports that your campaigning was more door-to-door than public meetings or public gatherings.
I have attended public gatherings and my political colleagues like Azhar bhai, Nagma and many more have campaigned for me. But I believe in door-to-door campaigning compared to rallies. Because you have a certain connect with the people and understand the ground problems. I may have missed out some areas, but the response has still been amazing.