Be it wildlife adventure, sports or an intriguing historical background, South Africa has everything a place needs to become the most favoured tourist destination.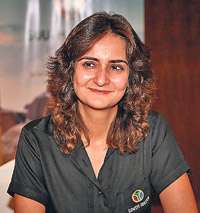 Be it wildlife adventure, sports or an intriguing historical background, South Africa has everything a place needs to become the most favoured tourist destination. And according to the country's tourism board research, Gujarat has a lot of potential for outbound tourism. In a bid to promote the country as the most promising tourist destination, the South African tourism department will organise a road show in Ahmedabad for the first time. In an interview with DNA, Medha Sampat, India country head, South African Tourism, speaks about their future plans.
Has the Indian perspective on tourism evolved over the years?
We are receiving a very good response from the Indian tourists, especially when we started promoting South Africa as an ultimate tourist destination. I think the country gained popularity because of the Bollywood film industry, which has shot a number of films in South Africa including the latest release, Race. This apart, Mahatma Gandhi's close relation with the country has also linked us to India in a unique way. Last year, we received 52,700 Indian tourists which is an overwhelming response and we will ensure the figure goes higher in the years to come.
Any special emphasis on Gujarati tourists?
The fact that we have planned a promotional activity in Ahmedabad answers the question. We see a lot of potential for outbound tourism from Gujarat. Nearly 10-15% of the Indian tourists, who visited South Africa last year, were Gujaratis. And this is why we have planned to offer best packages to tour operators in Ahmedabad. For instance, since most of the Gujaratis are vegetarians, we have hotels in South Africa, a number of them, that offer authentic vegetarian Indian food. In fact, some even serve Jain food since the country has many Gujarati residents.
What is the promotion budget for India?
We have budgeted 15% of our overall travel promotion budget for India. This will be used for road shows in Ahmedabad and for 'Incountry Famil', a venue that will replicate the South African atmosphere in the city to give them a feel of the country. We will advertise through various mediums and will also arrange for experience tours for the Indian people. Hotels and inbound tour operators, who offer special packages and discounts, will also be promoted.
What does South Africa have to offer as a tourist destination?
South Africa is being called as the new Switzerland, which clearly indicates that it is a place for honeymooners. Besides, the country also has shopping malls and luxurious hotels like the ones in Paris. But it is best known for its wildlife adventures.

For Gujarat, we want to focus primarily on the 'self-drive' concept and adventure sports like biking and shark diving which are safe and fun. So long, Cape Town and Johannesburg were the only places known to the tourists. Now, it is time we promote other places, too, like Eastern Cape Town or Zambia and the Kruger National Park. The African culture is another interesting aspect that needs to be unfolded and experienced by the world. It is best to visit South Africa in April, May and June which are the winter months in the country.
S Africa roadshow in city
More than 25 representatives from the travel and hotel industry in South Africa took part in a roadshow in Ahmedabad, on Wednesday. This was the first of its kind in Ahmedabad by South African Tourism. Mumbai and Delhi will also be part of the road show. Medha Sampat, India country head of South African Tourism, said, "Every year, we aim at educating the travel trade through interactive workshops and presentation at various events, including the roadshows and 'Incountry Famil'. We want to increase outbound tourism from India to South Africa and this event in particular will serve as an effectual platform to bring out our latest tourism products as well as refurbish our contacts with the travel trade." South Africa has become a favourite destination among the Bollywood fraternity in recent times. Several films have been shot there, including Race, and many song sequences.