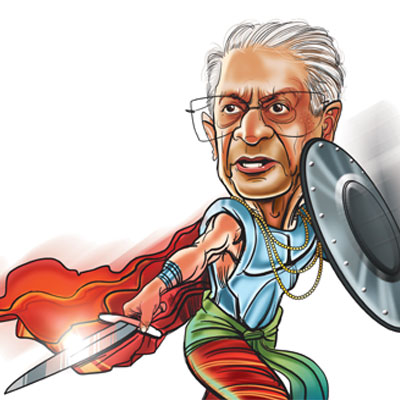 AB Bardhan is the former general secretary of the Communist Party of India (CPI). As a member of the CPI's secretariat now, Bardhan still holds considerable influence on the party's affairs and decisions. dna spoke to him on the current political situation and how he visualises Left playing a part in the post-election scenario.
How do you visualise Third front?
I have been saying right from the beginning that the Third Front option can be considered only after elections. It may not look very bright as an option now but post-election I see it emerging as, perhaps, the only possible option. I expect a good deal of political space being taken by regional parties and Left.
What makes you think so?
In the current political scenario, both Congress and BJP together do not look like crossing the mark of 300 seats rather they would fall much behind even this mark. In our assessment, this means that a large number of seats will go to the regional parties who are secular in approach and also do not want to side with the Congress. This automatically leaves a lot of pace for the Third Front or which you may call even a non-BJP and non-congress front to play their part.
But the beginning does not seem to be good for the CPI. Regional politicians like Jayalalithaa, Naveen Patnaik and even TRS did not give you what they had promised?
That is okay. This time were keen to maximise their seats and thus were reluctant to part with seats. That is not a problem. We are not dependent on them. Why should we?
Like Buddhadeb do you think that if 2004 like situation emerges, the Left may support Congress?
His assessment and my assessment are not the same. I strongly think that the political space will be occupied by the regional and left parties will be sufficient to form a coalition government. So such a question does not arise now.
If in post-election situation Mamata and Jayalalithaa get together, will Left go with it?
At present both are anti-BJP and anti-Congress and naturally they find a place in the larger scheme of things. But whether they will be part of a collation is an open question. Coming together will depend on the common minimum programme (CMP). Without it no coalition worth its name can continue.
Can you spell out some main features of the CMP?
Major issue would be reversal of neo-liberal economic policies that are spelling disaster in the country and are responsible for price rise, rising inequality, corruption and scams on major scale. Another important issue would be restoring federalism that has been eroded completely by the Congress's centralist agenda that shows in pushing for laws without consulting the states.
Do you think AAP could be part of this larger coalition?
It depends on them. They have to decide whether they want to be a part of this coalition or not. Right now they do not have clarity – whether they are Left or Right. It depends on them. But yes they are anti-BJP and anti-Congress which can be a meeting point.
How do you rate AAP's chances?
AAP seems have people's imagination in some pockets but without organisation and ideology no party can go a long way. Generally, AAP looks inclined towards left of the centre but they have strange organisational structure in which people from all hues are joining. This can prove to be a bane. They need to evolve an organisational structure which is a difficult task.
Kejirwal is taking on Modi in Varanasi?
AAP should not think that it is main force fighting Modi and, certainly not in UP. They should take a note of it and play their politics accordingly. I don't want to make a definitive statement but Kejriwal decision to fight in Varanasi make Modi win as it would fragment the secular vote.