Aam Aadmi Party candidate from Mumbai, Meera Sanyal, opens up about politics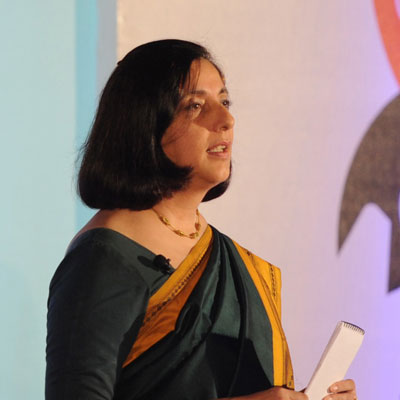 A banker by profession, Meera Sanyal faced a lot of skepticism when she first embraced the role of a political leader and reformist in 2009.
The 26/11 terror attacks in Mumbai changed her life. Despite being called idealistic, and foolish she decided to contest as an independent candidate from South Mumbai, determined to make a change. And although she lost in the last Lok Sabha elections, she learnt a lot when she walked the roads of Mumbai.
"If you make the wrong assumptions, you'll make the wrong interventions," was her advice to the youngsters at the United Nations Young Change Makers Conclave in Mumbai.
She inspired the gathering with a beautiful speech on the need for change.
Sanyal also proudly announced that when a critic asked her how long she would go, she had replied by saying that, "I will stand till I die", to which he had retorted "well then you will lose till you die"; after this there was no turning back for her.
She is confident that even if she doesn't win, in her lifetime someone like her will win.
In an exclusive interview with Vasudha Ramakrishnan and Unnati Ghia of dna's Shadow Editorial Board, Sanyal speaks about AAP and Indian politics.
Why AAP?
I had no alternative, and I don't agree with the policies of the Congress and the BJP. I believe that Indians are entrepreneurial. They don't depend on charity, handouts, loans and subsidies. These aids are fiscally unsustainable and morally discouraging.
The elections in Delhi were a defining moment — people with ideas and integrity without money or muscle power have proved that anyone can stand and win an election. AAP has leaders with clean hearts and good intentions. We feel like a startup, slowly making our way. Like the characters in the movie Rang De Basanti, AamAdmi Party mein Bahoot Junoon Hai.
Change is something for which we are willing to give our lives for.
Given that you were the president of a NGO (Liberals India for Good Governance), what do you think is the best mode of reform from within the government or from outside?
I have great respect for individuals, and believe that they are instrumental in bringing about a change. However, the state has maximum power.
Sometime back I met Sunita Krishnanan, a crusader for rape victims. She recently rescued her 9,500th victim and told me about another young girl who disappeared the night before she was to testify for the same victim, and now she is probably dead. So bringing about a change is impossible without government backing, law and police enforcement.
What issues will you bring up in Parliament, if you get elected?
I am still awaiting my party's manifesto but according to me at a basic level we need to ensure water, fuel, food and toilets for the poor. They are the backbones of the nation-honest, decent and entrepreneurial people.
At the nation level, I intend to work on empowering enterprise, education and the environment. I don't agree with Raghuram Rajan on this aspect. (He spoke earlier at the conclave about a tradeoff between growth and environment). There is no tradeoff. Look at the US, they have clean air and water, why can't we in India have that too?
Who do you think will be India's next prime minister — Rahul Gandhi or Narendra Modi?
I don't think we should focus on individuals. We are the custodians of the future of the younger generation. You all need to focus on issues. The lives of 1.2 billion people are at stake. 2014, is going to be a defining year. India has to change; it cannot remain the way it is. We all need to be part of this change.
___________________________________________________________________
Sanyal has resigned from the Indian National Advisory Board of AIESEC, as well as from her president ship at Liberals India for Good Governance. She is now completely invested in the political arena. She is still awaiting nomination from within the AAP, following which she wants to work on policies which will help the future generation.