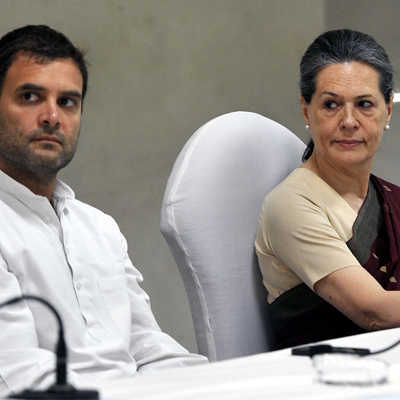 The Congress Working Congress (CWC) team had an internal meeting with top congress leaders and big decisions were expected including resignation by Sonia and Rahul Gandhi. As per reports, both Sonia and Rahul Gandhi were willing to step down form the President and Vice-President's posts, which was clearly rejected by the CWC committee.
Congress leaders unanimously rejected party president Sonia Gandhi and Vice President Rahul Gandhi's offer to resign at the Congress Working Committee (CWC) meeting on Monday over the party's electoral defeat.
"There was no discussion about changes. We have given authority to Sonia Gandhi and accept that we are all responsible for the defeat," said party leader Beni Prasad Verma.
As the meeting began, a group of youth Congress workers outside the venue shouted pro-Rahul slogans.
"We all rejected the resignation of the Congress president and vice president and general discussions followed later," said Congress leader Amarinder Singh.
The Congress Working Committee (CWC) met in the wake of the party's worst-ever performance in the recently concluded Lok Sabha polls.
Accepting responsibility for the poll debacle, Sonia Gandhi and Rahul Gandhi had said that the mandate in the Lok Sabha polls was clearly against the Congress and said there was a lot for the party to think about.
According to reports, CWC leaders rejected their resignations. After Lok Sabha election results and Narendra Modi's rise to power, there was a contemplative mood among Congress leaders with Rahul and Sonia owning responsibilty for the debacle and Congress' worst performance in the elections.
Talking about the issue, India's Outgoing Manmohan Singh said, "Resignation of Sonia Gandhi and Rahul Gandhi is no solution to the problems faced by Congress."
We will fight under the leadership of Rahul Gandhi, said another party spokesperson Raj Babbar on the issue of resignation.
Watch the entire proceedings here:
Capt. Amrinder Singh who was in the meeting told journalists that the resignations were rejected. He said, " We rejected their resignations because they are the best leaders we have."
He further added that the entire party was responsible for the debacle and that the blame should not rest with only Sonia and Rahul Gandhi for Lok Sabha electiosn debacle.
While numerous Congress leaders had failed to retain their seats, Sonia and Rahul to managed to hold onto Gandhi bastions of Rae Bareili and Amethi.
Prior to this, Kamal Nath had defended Rahul Gandhi and said, "Internal democracy can only stop patrongae within Congress and that Rahul Gandhi could not be blamed for Congress debacle.
Below are some tweets about the meeting:
They(Sonia and Rahul Gandhi) offered(resignations) it but it was not accepted-Makhan Lal Fotedar,Congress pic.twitter.com/bms72BGLoh

— ANI (@ANI_news) May 19, 2014
Group of Congress workers raise slogans in support of Rahul Gandhi outside AICC office pic.twitter.com/VgvYViZIV9

— ANI (@ANI_news) May 19, 2014
Everyone is responsible, decisions taken at every level affect election results: Renuka Chowdhury, Congress pic.twitter.com/U3djffZieR

— ANI (@ANI_news) May 19, 2014