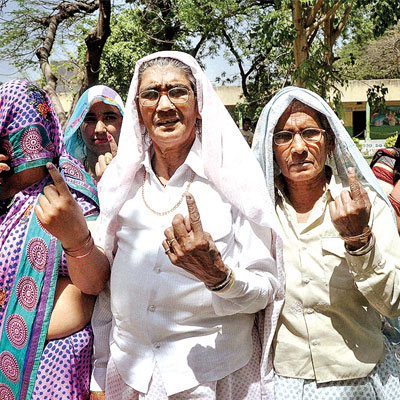 Outside the polling station at the Primary and Junior High School on Masjid Road in Sector 31, Noida, there's a sudden commotion at three o'clock in the afternoon. It turns out that the police have apprehended two "outsiders", who were dragging a seven-year-old girl into their car allegedly planning to rape her.
Locals chatting away about poll prospects and cracking jokes — "Bhaisaab, your party has screwed itself. Now have a cold drink!" — under a tarpaulin-covered spot near the school entrance, saunter over to check what the ruckus is all about. And after some 15 minutes, they return to their spot as if it's just another day in Sector 31, Noida.
A two-minute walk away is D-5, the sandstone bungalow house in front of which the national media descended in December 2006-January 2007 to cover what became known as the 'Nithari murders'. This house, now looking like any other ostentatious house belonging to the men of means in this neighbourhood, was where businessman Moninder Singh Pandher and his servant Surinder Koli reportedly tortured and killed at least 15 children and one 20-year-old woman.
Nithari village and Noida Sector 31 are two very different sides of the same coin. The former is largely a network of bylanes with crowded shops, loud neighbours, the trademark cramped space of C towns and children out on the streets everywhere. The latter is quiet a dusty neighbourhood with fancy buildings with resident welfare associations and big cars. Signs such as tethered cattle, an iron scrapyard, a government school with a dirt field and the visible presence of a labour force from the adjoining village makes Nithari seep into Noida.
I meet Nithari's pradhan, the head of the village panchayat, Vimlesh Sharma, just before she cast her vote (on Thursday). I ask her what the main issues in the polls are for the people of Nithari. "Number one is primary education. We don't have enough government schools in this area. Number two is the matter of compensation for all the locals who were displaced that's been pending since 1976." She has a sudden change of heart. "No. That is the number 1 issue, compensation. No. 2 is education. And, of course, general development."
I ask her whether law and order is a priority. "We have no problems here. In fact, people here are very helpful and friendly to one another." When I tell her about the incident that had happened just a few minutes outside the school, she is vague. "It was probably something small (Shayed kuchh choti baat hogi)." I give her the benefit of doubt that she may not have yet heard what had happened outside. But on the same day that Mulayam Singh Yadav in Moradabad tut-tutted, "Should rape cases be punished with hanging? They are boys, they make mistakes," I'm unsure of what to make of Sharma's reply.
Inside Nithari, near Mandir Market, I meet Brajmohan Sharma, a shopowner, who tells me how he's voted for the Congress throughout. He's clearly an anomaly and admits as much when he says it's a straight two-way fight in Gautam Budh Nagar (Noida) between 'kamal' (lotus, the BJP symbol) and 'haathi' (elephant, the BSP symbol). With the Congress not having any candidate after the defection of the nominated Ramesh Chand Tomar defecting to the BJP, he's voted "the cycle," referring to the Samajwadi Party symbol. "Kya karey? Majburi hain (What to do? I had no choice)."
Nithari has some 12,000 voters and the turnout in the 2012 assembly elections was about 70%. This time, the prediction is of at least 60%. Children of various ages, shapes and sizes seem to be making themselves visible. One kid on a small cycle asks another, "Who did you vote for?" "Congress," replies the pretend-voter. "What? I'll break your head!" the boy says, laughing deliriously. On being asked which party he voted for, he cycles away shouting "AAP! AAP! Aam Aadmi Party!" even as a younger boy in blue-rimmed glasses sitting on a staircase buries himself deeper into the exercise book he's writing in.
And yet, less than a five-minute walk away from here, it's Noida Sector 31 again. It's election day and I spot a Chevrolet and an Audi parked outside the Government Industrial Training Institute where Noida voters from a very different demographic have come.
As these Gautam Budh Nagariks come out of this voting centre, a bit of Nithari has infiltrated here in the form of a bedraggled girl who asks them for money. She tells me her name is Suparna and she has no idea what her age is. With the nearly completed Super Specialty Child Hospital and Post-Graduation Institute behind us, I reckon she'd be around seven, born around the time when we all heard of a place called Nithari for the first time.
(Indrajit Hazra is a Delhi-based writer and journalist)