Arvind Kejriwal's arrival in Mumbai created chaos and excitement. A first-time rally-goer's perspective on whether his Jansabha created the wave he wanted or not.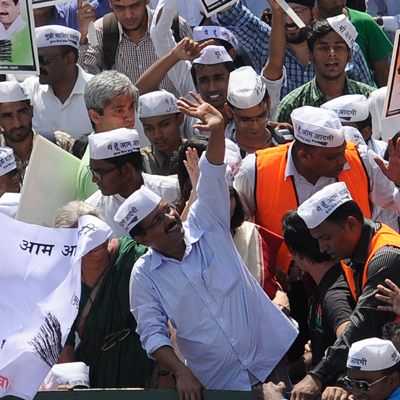 On March 12, all media was a-twitter with Arvind Kejriwal's 12-hour stint as a 'Mumbaikar', with TV channels, websites and social media dogging his steps, both literally and metaphorically. The physical imprint that he left in Mumbai, using an auto and the local train to traverse the stretch of this city is going to be etched in the minds of people, after all, a chaos which leads to broken metal detectors is not an incident forgotten easily.
The first leg of Kejriwal's trip seemed to have worked well for him, not so much for the police though, who had to do damage control on a large scale – arresting the autorickshaw drivers who had ferried the AAP VIPs from the airport to Andheri station, then making sure that there is adequate police force available to keep the crowds from becoming chaotic (which the situation did turn into), both at Churchgate Station and at Kannamwar Nagar 2 in Vikhroli, where the AAP Mumbai Maha Jansabha was held.
The disappointment faced by certain denizens of Mumbai on the cancellation of the Azad Maidan meeting and the August Kranti Road show for the contesting AAP candidate from Mumbai-south, Meera Sanyal, was also felt by the people of Vikrant Circle in Ghatkopar and Tagore Nagar in Vikhroli, as Kejriwal himself stated in the Jansabha that due to confusion, he got into the wrong car and came directly to the venue of the Jansabha.
He was still late for the Jansabha (a fact he did not apologise for), but AAP did not falter in their methods of entertainment to ensure that the crowd would not leave. They acquired a guitar, found three to four singers, and started singing 'Vande Mataram'. It did not take long for them to move onto patriotic songs created in the realm of Bollywood, such as 'Is Desh ke Hum Rakhwale hai' and 'Mera Rang de Basanti Chola', with singers looking up lyrics in their smart phones. This entire karaoke session was peppered with rhythmic slogans like 'Brashtachar ka ek hi kal- Kejriwal Kejriwal' aimed at gearing up the crowd.
Synthetic Nehru topis with AAP slogans and the logo (jhaddu) printed on both sides​ - were being distributed freely, and AAP members were continuously urging the crowd to take a seat and wear the topi. And not to forget, little children, aged 6-7 years, dressed up as Kejriwal, with a sweater, muffler and moustache were made to stand on stage to welcome the leader.
After the sing-along session, there were a few AAP party members who wished to connect their inner 'aam-aadmi' with the rest of the aam janta, and so they took the stage, releasing their pent-up frustration about corruption that plagues and hinders them every step of the way. It was a kind of preparation ritual, exciting people into a frenzy for Kejriwal's arrival.
The AAP contingent arrived at venue an hour after their stated time, and immediately the crowd, that was starting to get restless, was on its feet, to catch a glimpse of that 'saviour' they had so come to inspire. Accompanying him were the candidates contesting from Thane, Nashik, Kalyan, Beed, and not to forget, Mumbai South, Mumbai North East and Mumbai North West.
Maharashtra candidates of AAP Sanjeev Sane, Vijay Pandey, Nandi Madhav and Naresh Thakur took the stage to give speeches that lasted for an hour.
Either Arvind Kejriwal was there only to be a crowd-puller for the Mumbai candidates or they were giving warm-up speeches before their leader and Medha Patkar took the stage.
Patkar, with her strong activist background, spoke about 'land', the gold of this day and age and the fraud that companies such as Lavasa, Hiranandani and Larsen and Toubro inflict upon the poor masses. Ironically, Manju Jagtap, a resident of Kannamwar Nagar 2, said that there were builders who were prospecting for land in the area, making Patkar's speech extremely relevant to the problems being faced in the area.
After that, Kejriwal shared with the masses his usual spiel, about corruption reigning in Congress, about Narendra Modi and Rahul Gandhi being in Mukesh Ambani's pockets, the media, price rise, and the good that he had done in 49 days as CM of Delhi. The only new that came from his speech were random figures from Gujarat about 800 alleged farmer suicides and the alleged shut down of 60,000 small-scale industries.
All through this, donation boxes were being passed through the crowd, for any small amount of cash that could be given to AAP. And then the Jansabha ended, and the dispersal happened fast. The ground emptied in a matter of minutes, though there were some who gathered around the stage to meet with Kejriwal and the rest of the AAP VIPs.
The matters that Patkar and Kejriwal spoke about are highly relevant, but when such issues are discussed alongside entertainment, one tends to wonder about their real goal, is it entertainment or inspiration or awareness? A Jansabha is to discuss the problems of the people, but this one seemed to be aimed at self-promotion. And Kejriwal's entire trip to Mumbai was made into a spectacle, both by AAP and the media. Should an 'aam-aadmi' really make such a huge spectacle?
Read more: AAP blames police, media for chaos during Arvind Kejriwal's visit
Arvind Kejriwal in Mumbai: Jansabha starts at Vikhroli, Arvind Kejriwal targets Narendra Modi
Arvind Kejriwal cancels Maharashtra rally, farmers disappointed