Bow Barracks in Indiranagar recreates the Calcutta Anglo-Indian cuisine by featuring some of the most popular dishes of the yester-years.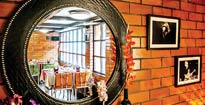 An Anglo-Indian connection was almost natural when one has grown up in Calcutta. It was a gateway to a culture that was so far removed from the quintessential Bengali life that most of us would find ourselves 'collecting' at least one Anglo Indian friend. For those who've moved away from that life, one of the only ways to transport to the good old days is through food. In fact, Anglo Indian food, which was a very obvious cuisine in various pockets of India, is fast becoming the flavour of the season — a move perhaps to cling on to a distant past.
Bow Barracks in Indiranagar, tries to get three things together — Calcutta, Anglo Indian food and Bangalore.
From the Mulligatawny Soup that is NOT a variation of the rasam but a lentil soup that's made creamy with coconut milk and chopped vegetables or chicken and noodles dunked into it (how Anglo Indians ate it in Calcutta) to Lamb Ball Curry — in fact, the food at this restaurant differs quite largely from what perhaps the kitchens of Kolar Gold Fields would have cooked up. Lapping up the soup, which looks rich but is quite subtle in its flavour and tucking into the Beef Pantheras, where beef mince is rolled into crêpes and then deep fried, I had the odd feeling of eating soup and spring rolls at an old-school Chinese restaurant. The feeling is, but of course, imaginary because both dishes are anything but close to Chinese.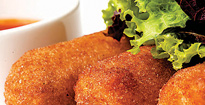 It's not that Bow Barracks has pulled out from its hat every single recipe ever cooked in an Anglo Indian household. It merely highlights some of the more popular ones — ones that give a diner a flavour of one of the most natural births of fusion food. I won't even say they are the best I have eaten — the food has its moments but to be exemplary, it has a certain distance to go.
The Lamb Potato Chops where mashed potatoes are stuffed with minced lamb, which is first cooked with onions, garlic, green chillies and coriander, is a popular pick. These huge oval shaped creations, which are crumb-fried, are similar to the ones you've probably eaten at a Parsi restaurant. I've noticed a slight variation in this starter a few times at the restaurant. While it was absolutely perfect one time, the second time around I wasn't too happy. It's sad how bits of uncooked mince can spoil the fun.

It was time to move on to some of the more robust and classic flavours. As Aunty Pamela's Pork Vindaloo was placed on the table, I was quite intrigued by the origin of this particular recipe. The chef, who actually grew up in Bow Barrack in Calcutta, inherited the recipe from his aunt. So don't expect it to taste exactly like what you've eaten in Goa or anywhere else.
Aunty Pamela took a shoulder of pork, cut them into cubes and marinated them in a mix of cumin seeds, coriander seeds, black mustard seeds and vinegar for a while and then slow cooked it till the desired flavour, texture and colour was reached. It's not very hot but does have a lot of flavour.
The Anglo Indian meal would not be complete without two dishes — the Railway Mutton Curry and The Lamb Ball Curry (also known as the Bad Word Curry in this part of the country).
The Railway Mutton Curry is loaded with history and at one point of time, tons of grease. It used to be served on trains and dates back to the British Raj. Typically this curry is red, owing its colour to a lot of tomatoes and red chilli powder. It's best eaten with rice because the gravy is not too thick and varies from station to station. It's rarely mellow and has a very distinct flavour and always red.

Bow Barracks serves a slightly refined version. Freshly chopped coriander is used as garnish and you could eat just this with some steamed rice. The flavour is developed and while there is a bite to it, it lacks the original rustic flavour.
The Lamb Ball Curry appears to be simple but does have a complicated process; minced lamb, rolled into small koftas and then cooked in an assortment of spices with a lot of focus on the garam masala. Therefore, you might feel the heat after you're done eating with it. I'd say it makes for a good curry on a winter's night.
If you're not a vegetarian, a category that doesn't quite find much room in an Anglo-Indian menu, there is a lot the cuisine can offer you, but you have to step outside familiar territories for that.
To be critical, I would have been happy to see the kedgeree or even the goat head curry, but no such luck, at least not yet. However, I had for company people who've never eaten Anglo-Indian food before and they enjoyed it and that was fair enough for me.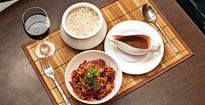 Finishing my meal with a Caramel Custard, for a general palate, I realised that the menu would have been more appealing if there were no 'North Indian' additions. It's hard to visualise a butter naan next to a meatball curry but if you can ignore that part, it doesn't bother you much and you might just come back for seconds.