Shahid and Sonakshi try their best to salvage the formula film which is a complete no-brainer.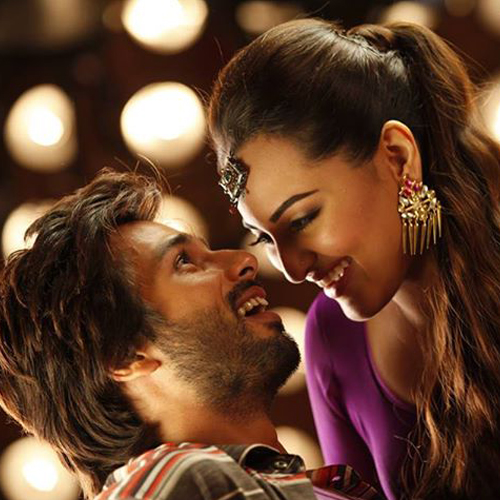 Cast: Shahid Kapoor, Sonakshi Sinha, Sonu Sood, Ashish Vidyarthi, Mukul Dev, Asrani
Director: Prabhu Dheva
Rating: **
What's it about
The Shahid Kapoor in Kaminey and the Shahid Kapoor in R…Rajkumar are very two different people. While the former relied on making his character believable, the latter tries very hard to make Rajkumar into this year's biggest caricature. Desperately wanting to recreate the success of Rowdy Rathore, Prabhu Dheva uses the same formula mixing it in an old bag of tricks that has Shahid caught up in an illegal opium smuggling run by two warlords (Sonu Sood and Ashish Vidyarthi). The kahani mein twist comes when he realises his object of affection Chanda (Sonakshi) is also being pursued by his former ally and now enemy Shivraj (Sood). All hell breaks loose and we are subjected to the usual dosage of over the top dialogues, goons being flung in air and loads of pelvic thrusting!
What's hot
Shahid is remarkably earnest in his desire to make Rajkumar as likeable as possible. Unfortunately, a hapless script and a poorly sketched role reduce him to making faces, jiggling his backside and showing off his dance moves. Pritam delivers two chart busters with the lyrically genius Gandi Baat and addictively melodious Saree Ke Fall Sa. Prabhu Dheva gets full marks for attempting to choreograph the latter in an unique way (the background dancers hide their faces doing a singular step through out). Sonakshi puts all heart into Chanda and makes the otherwise loud affair a bit bearable with her comic timing. Sonu Sood looks the part and gets enough opportunity to show off his well chiselled torso.
What's not
In an attempt to follow the 'bigger the better' mantra, Prabhu Dheva goofs it up. Not knowing where to stop, he inflicts us with a barrage of action scenes that go on forever. Wonder, how the writers didn't find it odd that Sonakshi who comes across as a strong-headed independent girl who fights goons and can protect herself in the first half, suddenly cowers and becomes a helpless lass hiding behind Shahid's bronzed shoulders. Even if we give logic and reason some rest, such loopholes are too glaring to be ignored. Dialogues sound like lines from a limerick contest. Silent ho ja warna mein violent ho jaunga sounds like a poor substitute for Rowdy Rathore's roaring Don't angry me.
What to do
Watch it if you are in the mood for a loud no-brainer that relies on formulaic over the top entertainment.
Watch the trailer here: