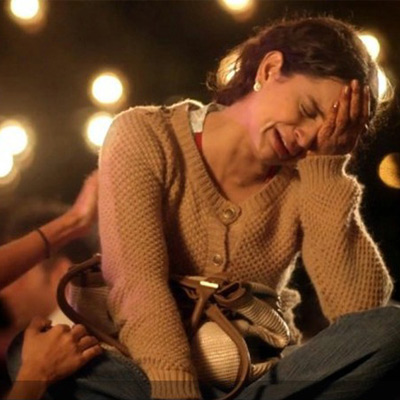 Film: Queen
Rating: ****1/2
Director: Vikas Bahl
Starring: Kangana Ranaut, Rajkumar Rao and Lisa Haydon
What it's about:
Queen is about a girl Rani (Kangana) from a small town, whose fiancé Vijay (Rajkumar Rao) decides a day before their wedding that he has gotten over her and they should not be together. Dumped and depressed, she is at her wits' end. The shy girl who has led a sheltered existence until then, decides to go for her honeymoon anyway. And then she discovers herself and freedom.
What's good:
The best thing about Queen is it simplicity. It's uncluttered and sweet. The plot can be explained in two lines and the makers manage to tell you that story in over two hours, while keeping you entertained every minute. It is a clever script and an engaging subject.
There isn't a moment in this cosy and charming film when you aren't smiling. The writers are the kings of this Queen; they've made every character so real. It's like Rani and every character is someone you know or have met at some point in your life. Queen is brilliantly cast -- Rani's family, her three friends in Amsterdam, the Italian chef -- and much of the film's appeal comes from that.
Kangana displays a surprising capacity for both comedy and emotion. As Rani, she displays amazing vulnerability and depth that very few performers can pull off. She is a delight - be it in the drunken scene, the ride back home in the rickshaw after she has been dumped, or fighting off a mugger on a street.
Director Vikas Bahl displays brilliance. He captures Rani's journey wonderfully; from a reluctant girlfriend to a woman in love, to a jilted woman and then one who accepts change and discovers a side to her that she never knew existed. Bahl ensures you feel everything that Rani does -- from her emotional trauma to her elation at small things as driving or earning a few bucks.
You find yourself batting for her and find love with one of the many interesting characters she bonds with on her journey. But Bahl delivers a far more interesting conclusion.
Lisa Haydon in a small role defines fabulousness. The music is complexly in sync with the film. The dialogues are both funny and effective.
What's bad:
Nothing. Except that I can see women audience relating more to this. It's not really a chick flick but yes, the actress is the protagonist here, and those films are 'generally' not considered commercially viable. But that is such a small non-problem when this movie gets everything else so right.
What to do:
Queen is irresistible. Highly recommended. A must-see film. You will leave the theatre with your heart humming happily.
Watch the trailer: