Priyanka Chopra on her Kerala roots, her latest film Barfi! and why she will go to the airport wearing chappals.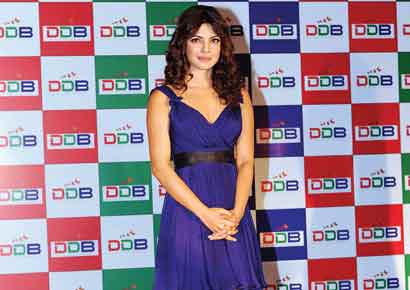 You didn't know Priyanka Chopra had her roots in Kerala, did you? Find out more about the svelte actress as she sits back for an easy banter with DNA.

I am a Malayali," says Priyanka with a straight face on learning about our recent trip to God's Own Country. Even as one rubbishes it off as a prank, she says, straight-faced "My naani is a Malayali from Kottayam, so I have roots there." Even as the trivia leaves us bemused, she quips, "That's where I get my brains from," setting the mood for an interview that soon turned into a casual repartee between girls.
First off, there is her movie Barfi! where she plays Jhilmil, a girl with autism and Ranbir Kapoor's love interest. Needless to say, there was a bit of preparation that she did to get into the skin of the character. "I had to research a little for the role because in India awareness about a condition such as autism is very low," she says.
A tiny part of the research involved taking cues from Shah Rukh's role in My Name Is Khan. But beyond just doing a role that is seemingly challenging, PC reckons "I feel that commercial actors need to commit ourselves to do such films to spread awareness about such issues and we need to do them not as art films but within the commercial set up" and she notes, "Barfi! is such a film."
Apart from raking up a hit on her filmography, another reason why Priyanka wants the film to be a success is "to inspire and show people that the disabled are also people and their disabilities are just incidental."
"That is also what's cool about the film, too" she chimes despite a bad throat, "In most movies, the disabled are shown either as caricatures who are made fun of or they are pointed tragically as dying. Barfi! is a positive film and you will come out of the film, feeling happy."
As if that's not enough reason to get us to watch the movie, PC says, sounding rather profound, "This film's changed my perspective of life. It's taught me that you can be happy with the simple things in life. That a quiet dinner with family is enough to be happy."
Moving on, quiz her about working in a movie like Barfi! that has almost nil dialogues and a very fluid script and she says, "In the entire film, I had no lines and so I couldn't have developed the role of Jhilmil until I completely understood her."
After playing such heady, author-backed roles, will she even bother doing no-brainer, slapstick comedies? "That's the point!" she exclaims before saying in a characteristic deadpan style, "The point is to mix it up and I've never really done an out-and-out comedy film. As an actor, I have to be able to challenge myself and experiment with genres and doing a comedy is definitely one of them. "You can get people to cry easily but making people laugh is the toughest job you can do, you know," she says.
Nattily dressed for the meet and greet that was scheduled for later in the day, the question that begs to be asked is of all the excessive attention actors including her have been getting of late, of not romantic links but more about their clothes. Is that a little too much to handle and her reaction is instant: "I can understand people commenting about how we are dressed for events but commenting on what I wear to the airport... that is too much."
"I like getting dressed but I hate getting dressed under pressure!" she says animatedly and then says, almost in conspiratorial tones, making her annoyance quite obvious, "I am going to start a campaign where I am going to repeat the shoes I wear and I will go to the airport wearing jeans and tees and chappals." You go, girl!