The actress who is essaying the role of a married woman moving on after her husband commits adultery.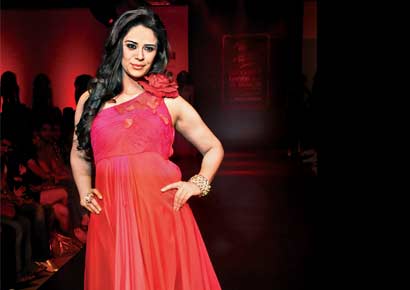 Mona Singh who is essaying the role of a married woman moving on after her husband commits adultery

You took up a fiction show Kya Hua Tera Hua Vaada almost five years after Jassi Jaisi Koi Nahi...
Yes, and I am just loving it. It's an urban-based show and I know that a lot of people are watching it because I get compliments from women all around. As an anchor I have done all the shows possible — dancing, singing, comedy, a marriage-based one — and it was time to do something else. I was completely convinced about this show and I have realised that my first love is acting.
What kind of feedback are you receiving for your role of a wife whose husband has left her for another woman?
There are a lot of women who are going through the same kind of situation. Many of them come up to me and say they are glad that I am not crying or being helpless. I think it's a bold step on Ekta's (producer Ekta Kapoor) part to make her protagonist fight. It is refreshing. Mona (her character) is a working woman, not dependent on husband and has moved on in life.
Do you think TV has become bold in its content?
TV has come a long way. At one point, there were several similar serials — everybody was a farmer or poor. Right now, the plot in serials like Kuch Toh Log Kahenge, Bade Acche Lagte Hai and my show are different. Protagonists are strong, which is inspiring for women and in that sense bold. There's not a single show where the saas is bad and bahu is good or vice versa.
Which show has been more challenging, Jassi... or Kya Hua...?
Both are challenging in their own way. In Jassi, I had to look, talk and behave in a particular way, which I was not. Today I am playing a mother of three kids. But I am neither married nor am I a mother. I see how my mother deals with kids, see people around me and watch films to learn how to deal with broken marriage in a mature way.
Will we see you in any reality show now?
My personal track record is doing one thing at a time. I shoot for the serial for 22 days and the rest eight days chill and be with my family.
After 3 Idiots, we haven't seen you much in films either...
That's because nothing interesting has come my way. I felt very instinctive about 3 idiots and did it. Films will happen eventually. I don't want to give up on anything. I also want to direct some day.
There are reports of you seeing Vidyut Jamwal...
(Cuts in) I have always been a private person I don't like to talk about it.
Any plans of getting married soon?
I don't plan things. I am open to the institution of marriage because I see my parents so much in love with each other. I will get married someday, but not now.