South director SS Rajamouli talks about his Bollywood plans; also reveals that a sequel for Makkhi may soon be on the cards.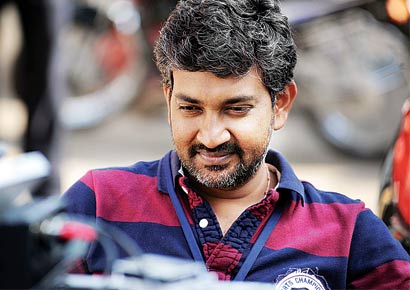 Filmmaker SS Rajamouli may not have made his Bollywood debut yet. But Makkhi (releasing soon), which is the Hindi version of his Telugu hit Eega and thanks to his several superhits that are being remade in B-Town, the acclaimed South director is already a well-known name here. This year's 100-crore superhit film Rowdy Rathore is a remake of his Telugu blockbuster Vikramarkudu, while Ajay Devgn's big ticket film this Diwali Son of Sardar too is a remake of his hit down South, Maryada Ramanna. In fact, one of the most hotly-discussed South films up for remake, Magadheera too has been helmed by Rajamouli. The director may have churned out one blockbuster after another, but as we grill him for his success mantra, he insists that there's just no hit formula. Here he talks about his much-in-the buzz film Makkhi and also shares his Bollywood plans
You have dabbled in different genres, but all your heroes are shown as being larger than life…
Yes, because films are stories and fantasies, not reality. And in stories, heroes are larger than life. For me, films are all about story-telling, so my heroes too are all larger than life as well.
Even if the hero is a fly, like in Makkhi?
Absolutely. There are no exceptions (smiles).
Wasn't it a huge risk since it's not something people can relate to easily?
It was a risk, but the relatability was in fact, one thing that I was confident about. The film may be about a fly, but at the end of the day it's all about emotions. This is a universal language, so no matter how unbelievable the twists are, if presented convincingly with emotions, it will always connect with the audience even if the protagonist is a fly.
What was the biggest challenge in making a fly the hero of a film?
The biggest challenge was to get the fly to show its emotions. I didn't want the animation to look like a cartoon. So, to get the fly to emote without using the eyes or mouth was the real challenge.
A lot of your films are being remade here. Is there any of your film like Magadheera you'd want to direct here?
No, instead of spending my time in recreating something I have already done, I would prefer doing something new altogether.
You have eight blockbusters to your credit. Do you feel the pressure of the expectations?
Well, each hit has to be left behind when you start on your new film and that's what I do. I never worry about people's expectations when making a film, nor do I take them for granted. I keep it in the back of my mind that I have to make an entertaining film, but don't let it overwhelm me.
What's your take on the Rs100-crore club?
It's great if a film does that business, but I aim for a 15% profit over the making costs so that my producer makes money. You can't make films thinking of records, but I know that I am responsible for my producers' money.
What are your Bollywood plans?
Nothing as of now. I have three films to finish down South, but I do hope to make a bilingual soon. I would like to make a sequel of Makkhi as well, but only when I get the right script.