Karsh Kale talks about playing at the city festival headlined by Norah Jones.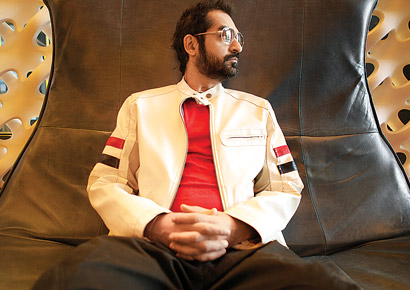 Singer, composer, producer Karsh Kale is a consistent newsmaker. He composed the theme song to the One Billion Rising campaign — Jaago Jaago; was chosen by Yoko Ono to remix the iconic track Give Peace A Chance by John Lennon; is currently working on a project with his band Karsh Kale Collectiv in India, and will be seen playing at the all new music festival in the city, A Summer's Day, tomorrow. We chat up with this maverick on the same...
You are performing at A Summer's Day, tell us what's in store?
I think there will be a sense of celebration in the air and that the Collectiv will rise to that occasion. We have a lot of material to sift through to figure what to play on that day. We are playing a little under an hour so I think we will choose wisely. Choosing a set list is like choosing which raag to play.
It's tagged as a music festival for women, how does it really change things for you as a performing artist?
It just makes us excited and proud to be bringing music to such a fest. There is a lot of interplay between femininity and masculinity in my music so I hope to bring this kind of celebration of unity to the fest. It definetly doesn't change things for how I might approach music.
You have worked with Norah in the past, what are you most looking forward to in this festival?
I think every festival is special and unique in their own way. It's hard to predict but never duplicated. I look forward to seeing Norah's set as well as Ankur and the Ghalat Family. I do expect some surprises as well.
It's great to see you perform on the home turf more often, but what really led to it?
Karsh Kale Collectiv was formed out of the All Stars gig at Bacardi NH7 Weekender at the end of 2011 and that's been immense as we've done everything from playing at major festivals to Coke Studio. For me, it is the dream band I have always been striving to put together. I get to explore rock, electronica, classical and film music and much more, all at the same time. I also see myself improving as a musician collaborating with such a creative group of artists.
What's new with Karsh Kale Collectiv?
We are in the studio recording a new album which will be out later this year.
Heard you're working with Kailash Kher and Amaan-Ayaan. Tell us more about it?
I will be directing a collaboration between all of us for a TV spot on an awards show. I have worked many times before with Kailash who is incredible. I look forward to working with Aman and Ayaan — they are both super talents and I think we all will create something unique for that evening.