Atul Agnihotri talks about his next satirical film O Teri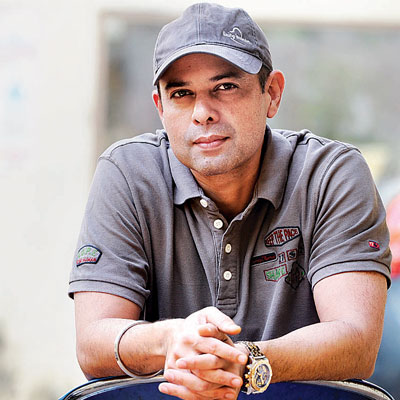 After delivering the blockbuster Bodyguard, producer Atul Agnihotri is back with O Teri, a satire around the socio-political issues of India. This time his production does not star brother-in-law Salman Khan but newcomers. However, Atul promises that what the film lacks in star value makes up in strong content. Excerpts from the interview...
Is it true that Salman heard the script of O Teri first and then recommended it to you?
Yes. Pulkit and bhai (Salman) are quite close and he consults bhai on all important decisions. When director Umesh Bisht approached Pulkit, he made bhai hear the script and he loved it. Salman then called me and said that O Teri was one of the better scripts he had read and had black humour which I like, so I should look at it. For us Andaz Apna Apna is a cult film and we wanted to make something as funny but yet socially relevant. If Bilal (Amrohi) and Pulkit's pair is as appreciated amongst the youth as was the Salman-Aamir one, we will be happy.
And did you like the script?
I fell in love with it! I loved the humour and the smart way of telling a relevant story. Humour is best said on current issues. In a way, what we are witnessing, passing off as excuses... It's funny the kind of things people are getting away with. That's what the film is about. It's a satire on current topics, including politics. We can't change lives but we can entertain and leave you with some thoughts to ponder. A film should have a heart and O Teri has one without being preachy as today's generation doesn't like advice. They want to witness and form their own opinions, so the best way to tell the truth is joke about it.
So no message here like in Jai Ho?
No. We are not making a statement on anything, just commenting on things you are looking at and ignoring. We have not based it on any real-life scams. O Teri is about how the bigger scams cover the smaller ones and though faced with such huge scams, we are okay with them. Now at the end of the journey, I am feeling relaxed that we made a good, relevant and an honest film. Mahatma Gandhi's quote, 'Be the change if you want to change the world' is the moral of the story. For me, this is a very ambitious venture and I have complete faith in the content. It's a nice movie to come before the elections. Maybe people will go and vote after this. We have tried to tell the youth that you can be the heroes.
O Teri is an unusual title.
The story is Delhi based and o teri is very casual, Delhi lingo for when something unexpected happens. Because of the events that happen to them in the pursuit of this scam, there are many o teri moments and this word is spoken so many times in the script that it just organically came to be the title.
After Bodyguard one expected you to make a big budget film again...
I am a producer and my production house has to run through the year. We didn't want a big gap and wanted to try something different. Today times are evolving, and after Bodyguard, we thought of making a film which is not conventionally big. Without big stars.
But Salman is ghar ka aadmi. Wouldn't it be ideal to have him in every film of yours?
The day I come up with something that is worthy of him, I will definitely ask him but this is not the film I would have made with him. This is the film I would have needed him to back. We need his support, input and guidance, doesn't matter if it is in front of the camera or behind it. I trust his instincts on what we are making. He recommended both the boys — Pulkit and Bilal. So there is a connect of Salman in the film even though he's not there.
What was more difficult to make — O Teri or Bodyguard?
For me, it's the same job. Maybe working a bit harder in this film because Bodyguard was a remake and we knew the path. This is an original creation so the job is tougher to get some things right. Maybe the audience looks upon it as a bigger and smaller film but we have really put in the same effort.
Did you ever think of casting yourself in it?
I continuously get offers to act in films that I produce (laughs) but I have told them that I must have a clear agenda. I wouldn't want to be acting in the films that I am producing because I can do only one job. My personality is not such that I can multi-task. When I am making a movie for me, I am the biggest production house in the world, I am the most excited and convinced and the journey is fascinating. This is all I have done since two decades or more. For me to be in production, filming, planning and fixing things on and off the sets are wonderful experiences. Acting is an entirely different process. I just don't want to do any role. Till you don't contribute in the telling of the story you can't really make an impact
Please continue…
The director of O Teri pushed me to do a role but I carefully dodged that. I would never act in a film as ambitious as O Teri. This is not my launch vehicle but for something for Pulkit and Bilal to be launched in.
The success of this film would be the first step towards the making of my next film. That's how we survive in our business and make us understand what we do next. If we are accepted we start with another movie again. Of course we have so many ideas and now want to move faster and faster but I am individual so I have to go from project to project and have to move completely out of this one before I start my next.
Like Karan Johar and Aditya Chopra have you ever thought of directing a film?
I don't know. I do everything on the sets so I don't miss the action. You can be a part of a beautiful film without having your name all over the movie. I guess my personality is like that so I don't mind standing in the corner as long as I am part of the game. I am not a very ambitious person. For me ambition is about getting the realities of life right and definitely economics, children, future are part of it. It is an expensive world and one has to keep going. Now I am more ambitious for recognition now that I have survived for so long and God has given me opportunities. At the end to get all my moves right would be a wonder path for me. I just want to have a production house that will keep me employed the whole year round. Work is our lifestyle and it would be nice if we had a film coming out every year.
Ever wanted to make a film with the three Khan brothers Salman, Arbaaz and Sohail?
It just never works out. I tried but at that time they were all acting and it became difficult justifying all of them in a film. They were famous Kishore Kumar and his brothers films as examples but I feel to get that combination we had to have a more original idea and that didn't work.
Is your next film is with Salman again?
I think of him all the time for all my films. He's every producers dream and for not to get him in every film is because I am greedy to get the film going. Also because I regard him it doesn't matter but if I can divert something good towards him like I loved the ending of Bodyguard and get a mature ending. That justified him. It doesn't matter if I am directing or producing. Every time that's the least I can try to do for somebody who is unconditionally there. If there's something I can come up with, by hook, crook or divine intervention or however it comes I would be happy to run and make it happen with him. With him there's a more pious purpose to do it with him because you want to do it for him and he also is on the set genuinely for you. In that sense it is so beautiful that it doesn't seem like working. To get it right with people who regard you as a human being is for me very important. Success and failure are so momentary.
Why did you completely stop acting after Sanam Teri Kasam in 2009?
I didn't do it as an ego problem but when work started slowing down I looked at TV and regional films and in that I did 150 episodes for Star TV Tanha, Korha, Masaum. That took away a couple of films. I did a Bengali and Gujarati film. It's not that I didn't hang in there but the reality of things were killing me as a person and bogging me down. I didn't see the light at the end of the tunnel with what I was currently doing.
I wasn't bitter at all but lack of good work was not allowing me to put the chicken on the table and that was bothering me. I had always been a man with responsibilities which I could never shy away from and that luxury I don't have even today. I wasn't making enough money at the end of the month when we had the kids – marriage, education, the house was getting small etc. Then I had to reflect how do I come back, where I am now and then I looked back when I started out as an AD, did production for 6-7 years. There my foundation is stronger. I had more education in filmmaking and production. My acting was more erratic, it was more about employment. When I went back to making movies I felt safer because that's where I had started out as a child when I was 16 years old.
I continued working through my college and then had a small ad film company. For me being, belonging in and making films is much more important than acting. It doesn't matter in what capacity I am driving down to a studio I can happily be the producer and director or even with as much joy as the writer or actor. I just like getting up knowing I am a part of the process of filmmaking. Whatever role I play I should do with sincerity. The actor in you never dies but it just got to be perfect. I love films like Paan Singh Tomaar. I am not missing acting, I am making movies and giving employment to lot of people who want to be in films (jokes).
Which Khan brother are you closest to?
Salman. He's the easiest to know. I knew salman even before I met Alvira. We acted in two films together – Veergati and Hum Tumhare Hai sanam and I directed him in Dil Ne Jisse Apna Kahan and Hello. I produced Bodyguard with him, now he's a part of O Teri. When I was a model Salman was already a star from Maine Pyar Kiya. It's at least 25 years of friendship. For me I don't run to him just as a producer, I have seen in various roles – friend, relative, colleague, fellow technician. We have stayed connected to and have knowledge of each other's lives for years.
Your daughter Alizeh is going for higher studies. No interest in acting?
I'm just trying to give her everything that I couldn't get. She's doing very well academically. She wants to study further and wants to pursue certain subjects like Economics, Political Science. We don't influence our kids. She wants to study abroad and If I can provide her the opportunity to see the world why not? I am happy that I am able to educate her to her heart's desire. I will miss hugging her but apart that I am happy that she's doing what she wants. My son is young and still growing up but Alizeh definitely knows her mind and she wants to study. Her dream is to join the UN. I don't know how she will do it but she's on a path of her own.
How involved is your wife Alvira in your production company?
She's completely involved in my production company. She styles the films and has her instincts about the films I make. After all, she is Salim Khan's daughter and Salman, Sohail, Arbaaz's sister who witnessed a lot of cinema. There is a lot of filmi blue blood. Alvira has a great instinct and voracious appetite for movies. She's a great partner to have. I listen to her because she makes a lot of sense and is a contributing factor to my films. Alvira is a great bouncing board, strong support and my best and most objective critic. She's a clear-thinking person so her criticism is helpful rather than just bringing you down.
Why did you suddenly become bald?
I didn't have work at that time so I thought it's a good time to shave my hair and go bald. When I went bald I got such encouraging reactions from everyone that I thought to keep it as it's a better look to have.
Growing one's hair is an ordeal. It takes a very long time. But now I have just started growing it back now. I haven't grown my hair in a long time.