Well-known gourmet gurus talk about the rustic hinterland penchant for chocolate tea, relishing a Punjabi barbecue, and the new-age Indian taste.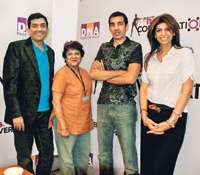 In a special conversation with DNA, well-known gourmet gurus talk about the rustic hinterland penchant for chocolate tea, relishing a Punjabi barbecue, and the new-age Indian taste
With all the talk of discovering flavours and experimentation going on, has the palate of the city changed that much?
Sanjeev Kapoor: When it comes to change we love to believe that its happened, but to tell you the truth, there's more talk than consumption. The reality is, we are very slow to change. In India, we may have decided that the aloo tikki burger is better than a basic Mc Donalds burger and still want a curry flavour to our masala noodles, so the palates are not yet so 'open'.

Nikhil Chib: I'd say in the last 10 years Indian tastebuds have not yet been liberated. We still have a long way to go. I opened a restaurant in Guragon where there's Punjabi grills, pizza and pasta, but it's the Punjabi barbecue that's doing the best, so the bottom line is people want their Indian food.

Shatbhi Basu: Over the last 10-15 years the outlook towards wine and alcohol has seen a huge, huge metamorphosis, especially among women consumers. And it was not the five stars but the stand-alones that made the change, that's where the cocktails opened up. All the five-stars offered was a few drinks and then the 'barman's special' which went onto kill the cocktail as the barman couldn't recall a good drink, a day after he managed to 'create' it.

Zeba Kohli: The biggest change I see is that the customer is much wiser now. I have my Rs30 customer asking me: 'Yeh saccha chocolate hai ke jhoota?'

Do you see people making a health vs taste choice?
ZK: Yes, I see people asking for dark chocolate, they realise that it has a wellness quotient and so they come to me with all sorts of questions.

SB: This doesn't happen where drinks are concerned. I mean, a diabetic person might want do away with the sugar syrup in his cocktail, but when people come out to wine and dine, it's clear they want to enjoy themselves, no-holds barred.

SK: The basic premise that what is healthy works, should be looked at again. Do you know that when we had normal noodles the fat content in them was 15.7 % and when we were offered a healthy noodles option the fat content went upto 17 %. Now, when I read baked not fried, I'm wondering what percentage of fat is really there. Do you know when you ask for a paratha without butter there's extra oil that goes into the dough for that paratha.

NC: I also think it's a lifestyle change that people must make and not just expect the food to work wonders. The French for instance, with their foie gras do enjoy a heavy diet, but they also walk at least 5km a day. We have to make the change too.

What about the sweet market? How has chocolate held its own, among an essentially Indian-sweetmeat favoured nation?
SK: Zeba, before you say anything I just have to mention that the Indian market is at Rs5,000 crores and chocolate is a big part of that. Do you know that there's this tea company that makes 'chocolate flavoured tea' and it does the biggest business (into crores) in the interiors of Maharashtra?

ZK: Absolutely. The customer may be a little discerning with his personal consumption, but sky is the limit for gifting chocolate products. It goes back to the fact that we have always had our kheer and gajar halwa at home, so the appetite for chocolate has been whetted down the ages. But while I'm making a special ganache I also have to add badams to it — that need for dry-fruit to be in all our sweetmeats does come in. India ka palate lajawab hai!
But we hear not all's hunky-dory on the wine front...
SB: Yes. We just do not have the right infrastructure for wine. Maharashtra being one of the most advanced states is also one of the most degenerated states when it comes to policies for alcohol. The social taboo exists too. Women are happy go out drinking to bars, but talk about women working behind the bars...now that's different. When we think of our girls working in the field, we think of what people will say, especially when it comes to the time they are to enter into marriage. Now, these same girls are drinking with their families at home, but the philosophy is daaru piyo mere saath, but bartender bann na, woh alag baat hai.

So, as vanguards of the Indian food industry, would you say our cuisine has become a force to reckon with?
SK: All around the world, people are exploring Indian tastes. And they are finding it interesting because of the explosive value that it has. You go to restaurants in New York and find Pork Vindaloo on the menu. We have so much talent here that we can contend with the best restaurants abroad.

NC: But wait a minute...we still haven't got our Michelin star restaurant here, so obviously something is amiss. At the most if we had one, a 25-seater Michelin star restaurant would survive, but that's it. Forget it! There's a long way to go..

SK: It can happen. The formula is simple: If I were to define four tastes that rule the Indian cuisine: I'd say namkeen, khatta, meetha, teetkha. You have that in place and you've got it all.

ZK: After all the workings and tastings, I find that people want to experiment. So while there's talk of availability of products, in terms of chocolate at least, the palate is geared and ready.

SB: Yes, and maybe, we can completely change our outlook towards alcohol and women in this field.