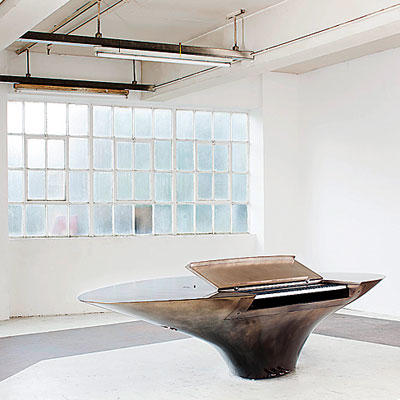 The Indian design market is currently on a steady accent with collectors looking beyond what's currently available in the subcontinent. The formerly inaccessible world of design has gradually opened up with fairs like Maison et Objet, Salone del Mobile, Design Miami, PAD London and even the latest Design Days Dubai. In these recent years the presence of Indian collectors at international fairs and design weeks has become almost habitual. But if you're looking to buy international design you needn't go too far, because along with the cities secret antique dealers are a group of individuals who exhibit and sell works by critically acclaimed designers from across the globe.
Joseph Walsh
Considered one of the finest furniture makers in the world, Irish designer Joseph Walsh's combines function and fantasy in his whimsical pieces. Walsh's ongoing affair with wood started much before when he founded his studio and workshop in Cork, the designer left school at an early age to dedicate himself to the craft.
Walsh's unique pieces are far from cheap, selling from anywhere between £100,000-150,000, it might seem high given that he is only 35, but some dealers still maintain that he's relatively undervalued. The considerable demand for his pieces has resulted in a waiting time of up to 2 years.
The designer pushes the material tenacity of wood to the extreme, bending it to unimaginable shapes creating elegant pieces are almost Dali-esk in form. His sculptural furniture pieces are instantly recognizable yet his aesthetic has been continuously evolving and pushing both formal and material boundaries.
In addition to having his pieces exhibited in several design museums, private collections and galleries, Walsh has also been exhibited in predominately fine art fairs like Frieze London. If you're looking to buy a Walsh around Mumbai try Impeccable Imagination. Set up in 2010 by Ambika Hinduja Macker the company provides design related infrastructure.
Based Upon
Established in 2004 by twin brothers Ian and Ricahrd Abell, the London based atelier Based Upon create large-scale artworks and sculptural furniture.
Working predominately on a commission bases, the studio creates finely detailed pieces which incorporate the individual stories from the heritage of commercial organizations and personal family histories. The atelier works predominately with metals like bronze, aluminium and copper, the studio also experiments with woods, resin and fibre glass.
Twist digital piano, for instance uses materials as diverse as sculpted polyurethane foam to liquid metal. When the digital piano's lid comes down, it can also be used as a table. Ribbon Bar, another interesting piece by the studio was inspired by the path of the river Thames. Sculpted as a single piece and finished in Antique platinum the piece was commissioned for a private London residence overlooking the river.
With a client list that includes the likes of Dior, Armani and Tifanny &Co, their pieces don't come cheap, Twist digital piano for instance is priced at over £175,000. Like Josheph Walsh, Based upon works between the fine line that separates art and design. Their work was most recently exhibited at this years India Art Fair by Mumbai based art dealer Tushar Jiwrajka, who also represents the design duo at his gallery Volte in Worli.
Shout out
Just when you think opening season ended, Project 88 and Chemould Prescott Road opened new shows this week. Chemould is currently showing works by Mumbai based artist Meera Devidayal and Project 88 presented a group show including a stunning work by Tejal Shah.