Sunanda Vashisht writes about why in Kashmir a cricket match, especially between India and Pakistan, is more than just a game.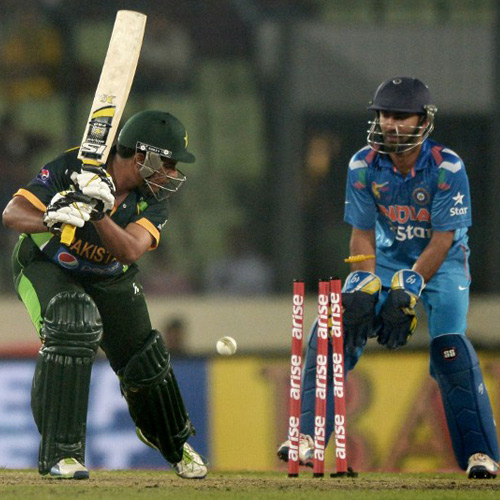 This story is about that forgotten era in Kashmir when it was still best known for its natural beauty. There was no internet, no Google images, but the first mental images that came to mind when the word Kashmir was uttered were the shikaras on the Dal Lake, the majestic Chinars, the slopes of Gulmarg, Yash Chopra's films and women in delicate pashmina shawls.
Kashmiris had not seen or heard of Kalashnikovs and AK-47s yet. The most potent weapon a Kashmiri knew was a kangri, a clay pot with hot coals which they used to keep warm in winter. The most violent sentence a Kashmiri ever used when he was really angry was, 'I will throw a kangri at you'. After that, the warring factions usually made up with a cup of green tea called Kehwa.
There were no guns, so there was no army. There was no army, so there was no AFSPA. It is this idyllic period in Kashmir I refer to. This was during the early 1980s, which I have often called a period of simmering discontent.
It was during these 'peaceful' years in the 80s that I learnt to hate cricket. A cricket match, especially when India was playing, meant staying indoors, because if India lost, deafening crackers would be burst outside my home and I would hide under the bed. It was around this time I started hating crackers too because they reminded me of cricket.
If India was playing Pakistan, it was even worse. A couple of days before the game, my aunts would instruct their teenage sons not to go out of the house and not to get into argument with anyone over anything. I can recall the exact moment I started hating cricket. I remember the scene vividly. I was six years old. My house was located in the heart of Srinagar. From the window of the third floor, I saw a neighbour's teenaged son walking towards a shop that sold milk. As luck would have it, as he reached the shop, Sunil Gavaskar or Ravi Shastri (I forget who) hit the ball for a six. As was common in those days, most people listened to cricket commentaries on the radio. As soon as the ball was hit for a six, the milkman threw the radio away and slapped my neighbour's son so hard he fell down. The milkman was a young Kashmiri Muslim and the boy who got slapped was a Kashmiri Hindu. The boy went red with anger, but like most Hindus of Kashmir had learnt very early in their lives, he swallowed the anger and shame and ran back to his house. He didn't surface for a few days.
Cricket was never just a game in Kashmir. Everyone knows the famous match of October 13, 1983, when India played West Indies in the Sher-e-Kashmir stadium in Srinagar, the first international cricket match ever played in Kashmir. The Indian side was booed by local Kashmiri Muslims for every run they scored and West Indies was cheered gregariously much to their shock. The spectators who were overwhelmingly local Muslims threw stones and broken bottles at Indian cricketers. Eyewitnesses have told me that posters of Imran Khan were displayed prominently even though Pakistan was not playing.
During the lunch break about a dozen spectators terribly hostile to the Indian team jumped onto the ground and damaged the pitch. The match went on, West Indies won by 28 runs. But Indian cricketers had never been so humiliated on their own soil. The few Hindus in the audience could hardly make their voices heard amongst the volatile, hostile crowd.
This happened in the 'peaceful' 80s. Terrorism had not yet engulfed Kashmir; Kalashinkovs had not yet been imported from Pakistan. The army had not been called in, and there was no AFSPA invoked. There were no reports of 'human rights violations' by the army yet, but Hindu houses were still pelted with stones when India won a cricket match. We were also harassed when the Pakistan team didn't do that well. And if Pakistan won a match against India, the crackers bursting outside our homes were enough to remind us of our negligible minority status in our own land, the land where our ancestors had lived for 5,000 years.
All these incidents came back to me when I heard of the sedition charges being filed against Kashmiri students for rooting for Pakistan during a cricket match in a college in Meerut. The sedition laws have now been dropped but the allegations of disrupting communal harmony and causing damage to public property stand and will be investigated.
These students found a lot of sympathetic voices amongst the Indians they love to despise. Most of these Indians said it is ridiculous to be slapping sedition charges on students who cheered for another team. After all, what is the big deal? It is just a goddamn game of cricket.
They are right. But this was not merely appreciating a better team or a better player. This was celebrating your country's loss. This was screaming 'Allahu Akbar' and 'la illaha illaha' after Pakistan won. That, to me, doesn't translate to appreciating a better playing side on that particular day. I saw the video that is being circulated. The students are seen kissing the TV after India lost. They break into rapturous screams of 'Allahu Akbar' and are seen dancing and hugging each other. Can you still ask what the big deal is? After all, in a nation that aspires to be a liberal democracy, there should be freedom to say or do anything. A person should be allowed to root for any country in a game of cricket. Sure. But can this courtesy be extended to me in my home in Kashmir? Can I root vocally in public for the Indian team on the road outside my home in Srinagar? Can I wave the tricolour outside my home in Srinagar when India wins a game of cricket? Would I be safe if I broke into rapturous dance in public in Srinagar when India wins? Who will guarantee my freedom of speech in my own home? It was not safe in the 80s when there were no guns. Can it be safe now?
I belong to the tiny minority who does not want azaadi from India or the merger of Kashmir with Pakistan. I belong to the tiny minority who believes Kashmir is the soul of Indic civilization. I believe that without Kashmir, India has no soul and Kashmir can never be separate from India. Kashmir is my home, and has been the home of my ancestors for 5,000 years. Can anyone fighting for the rights of the Kashmiri students rooting for Pakistan in Meerut fight for my rights to wave the Tiranga outside my home in Srinagar?
The writer is argumentative and a news junkie, for whom writing is both a passion and catharsis. She is community editor for "Centre Right India" and can be reached on twitter at @sunandavashisht.