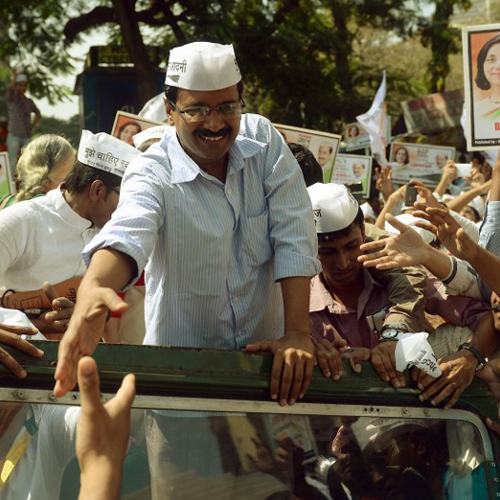 Arvind Kejriwal, the activist turned politician will file his nomination papers from Varanasi on Wednesday. There is sure to be a crowd of his young supporters from New Delhi, Lucknow and a few from Varanasi as well. And he will surely file for his candidature with a heavy heart, knowing well the extent of the defeat staring at him from Varanasi.
Personally, I was never a fan of Arvind Kejriwal, the activist. He appeared to be full of noise when he talked about getting into politics to change the corrupt political system. His politics are difficult to understand, when despite coming so close to getting a majority, he initially refused to form the government in Delhi. Then, he shocked everyone by leaving the government after 49 days.
Following him on his trip to Gujarat, I witnessed firsthand what he had to face at the hands of Narendra Modi's government there. I clapped when I heard his speech at the India Today conclave. He appeared to be a man full of guts, actually ready to take every bull by its horn. He may not be able to rectify the mistake of resigning as Delhi chief minister, but maybe that had taught him to a better politician. That expectation disappeared on reading the Aam Aadmi Party manifesto and finding that they are against FDI in retail. And finally, the man decided to contest Varanasi instead of Vadodara.
Kejriwal or his politics are unfathomable. Any correct thinking person would tell you that FDI in retail is a necessity in India. It is needed to create jobs, to create cold chains, it is necessary to give a push up to small and medium enterprises. Any politically inclined person would tell you that eastern Uttar Pradesh loves its 'krantikari' leaders, not one who runs away from power. Anyone who understands how personalities or products are crafted and sold in India would have told him to contest from Vadodara.
He had gone to Gujarat on a mission, to see for himself the problems that people face in Narendra Modi's regime. He articulated them in detail post his visit. He faced problems there from the government machinery like all opposition faces there. The Youth Congress padyatras before him and Kejriwal's visit, which culminated in a certain minister admitting he is related to the Ambani-owned behemoth, Reliance Industries, had punched a 'chhappan inch ka ched' in the so-called Gujarat Model of Development. He should have contested from Vadodara to capitalize on that.
If he had contested from Varanasi as Delhi chief minister with three months of good governance behind him, Modi would be facing the heat from him and not from Ajai Rai. Currently, as things stand in Varanasi, it's a straight contest between Modi and Rai, and Kejriwal is set to come a poor third. Varanasi is on the verge of creating history by defeating the BJP's prime ministerial candidate; Arvind could have done his part by 'gheraoing' him in Vadodara while leaving Varanasi. This would have made the second safe seat of Vadodara a tough fight for Modi as well.
Who the AAP's or Arvind Kejriwal's political advisor is, they should be sacked immediately. They advised him to run away from governance and power in Delhi. They advised him not to capitalise on the serious dent he created in Modi's Gujarat government. They never taught him the 'chakravyuh' concept of Indian politics.
Frankly, I feel disenchanted with Kejriwal and his politics now. He was a whiff of fresh air in Indian politics; he may just be consigned to the margins of history until and unless he does something different now. I wish him luck as I do admire his guts. But I would advise him to read and follow the path of Mahatma Gandhi and Indira Gandhi and attempt to re-brand himself as a young-ish politician who thinks for the better of India. A good place to start would be a political vanvaas for a year or two!