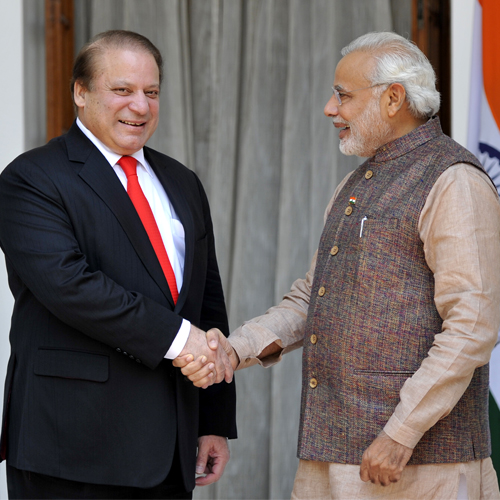 "A creative man is motivated by the desire to achieve, not by the desire to beat others"
– Ayn Rand
I was in New Delhi on the weekend prior to the landmark day when all expectations and anticipations were directed at the next leader of the 1.237 billion Indians. On May 26, billions watched the swearing in ceremony held at the historic forecourt of the imposing Rashtrapati Bhavan. Among those present at this momentous occasion, another state leader was also getting special attention. When the oath-taking ended, this leader walked up towards the former and, as the world watched, these two heads of state warmly shook hands.
This historic moment was real time contact between two corporate prime ministers, Narendra Damodardas Modi of India and Muhammad Nawaz Sharif of Pakistan. This handshake reflected hopes, aspirations, and optimism. This handshake also had its vociferous detractors who floated their negative vibrations in more ways than one. More prominently, this handshake infused new enthusiasm into the advocacy process that has been jointly undertaken by the trade and industry leadership of both countries.
The May 27 meeting between the two leaders was eagerly awaited. A timeline of 35 minutes was allocated, 10 minutes more than granted to other South Asian Association for Regional Cooperation (SAARC) leaders. I had jokingly remarked to my hosts and fellow participants that the meeting would cross the allotted time by 10 minutes or more because Modi would offer another glass of lassi to his esteemed guest. The tête-à-tête took up 50 minutes. This denoted seriousness as well as urgency and both leaders understood it well. What is the next phase? Would trade and investment continue to be hostage to other contentious issues that have plagued both neighbours? As Sushma Swaraj, along with Secretary Sujatha Singh proclaimed, progress in normalisation is difficult when bombs are exploding everywhere.
Notwithstanding the braggadocio that has always been the hallmark of spokespersons in Foreign Ministries of both India and Pakistan, notwithstanding the rhetorical outbursts regurgitated by hawkish elements within the BJP or by its fundamentalism-oriented allies in India, notwithstanding the vitriolic warnings espoused by self-proclaimed extremists under the banner of pseudo-religious organisations in Pakistan, and notwithstanding the bubbling hype against any thaw in bilateral relations, I am bullish about a Modi administration and I am of the firm opinion that India has a pragmatic, corporate-minded, focused leader who will not sacrifice the economy at the altar of parochial or dynastic politics.
I would venture further and add that the Sharif economic team would also emulate the same vision and, thus, there would be favourable breakthroughs in the coming months regarding more liberalisation of trade and removing major roadblocks in the investment scenario in each other's territories. Modi understands the dynamics of regional economic integration, superbly manifested by his invitation to SAARC leaders to attend his inauguration. A small step for diplomacy but a giant leap for SAARC trade and investment process.
So how should the course of trade and investment liberalisation proceed, now that there are business-oriented heads of government installed, and despite the inflammatory slogan mongering or the venomous balderdash emanating out of the naysayers? Remarkably, various political parties are in harmony with the governments and this has given impetus to the business communities in both the countries to forge ahead and not lose traction.
Both prime ministers should immediately set up a joint task force to address trade and investment related issues. This body should be alternatively chaired by commerce secretaries and should meet once every month for a two-day caucus in each country's capital. The members of the task force should have a predominant private sector representation as well as from the legal community, customs, and the banking sector. Since a composite decision encompassing all issues is not possible in an immediate mode, it is recommended that whatever is mutually agreed should be implemented on a priority basis.
It is imperative that Pakistan grant Non Discriminatory Market Access (NDMA), a bureaucrat-conjured euphemism for the Most Favoured Nation (MFN) status. This is unnecessarily a thorn in the side and dilly-dallying by Islamabad is reinforcing any point scoring by New Delhi. The granting of NDMA would also enable the business community to demand withdrawal of some of the irritating non-tariff barriers to trade (NTBs) that have vitiated the already mistrusted environment present today.
The Central Banks, that is Reserve Bank of India and State Bank of Pakistan, are presumably on the same page when it comes to allowing deserving banks to set up branches across the border. The right announcements have been made and the banks are waiting for the green signal. At this moment in time, any delay in this process of providing financial infrastructure facilitation is affecting enhancement in trade and at the same time increasing the cost of trade transactions. It is hoped that the mutually agreed decision is implemented so that local banks, depending on their own network, are allowed to commence cross-border banking business.
The jamming of mobile phone signals at the borders is also a sore point and there is no justification for denying mobile communication connectivity. Whatever may be the security concerns, the fact is that mobile phones from third country service-providers are routinely used by those citizens or foreigners who have roaming facility. It is time to come out of the xenophobic mentality and enter the global age of freedom.
Both prime ministers must ensure trade facilitation is best done if more than one channels of passage are available. The present situation is locked on to the Wagah-Attari channel. This is discriminatory and reflects the discriminatory mindset of the policymakers. Businessmen from Sindh, Rajasthan, Gujarat and Maharashtra, for example, are demanding the opening of the Munabao-Khokhrapar route as well as opening of Deputy High Commissions in Mumbai and Karachi. Untenable and ludicrous excuses are always proffered whenever these issues are discussed or demanded. The delay in opening of DHCs and the Munabao-Khokhrapar route are adding to the cost of products as well as cost of travel and creating delays in movement of goods as well as people.
The onus also lies on the representative bodies of the business communities of India and Pakistan to become game changers. It is now incumbent upon the Confederation of Indian Industries, the Federation of Indian Chambers of Commerce and Industry, the Federation of Pakistan Chambers of Commerce and Industry, and to some extent the SAARC Chamber of Commerce and Industry to use their critical mass to bring about a paradigm shift. There is need to revisit the composition of SAARC CCI since it needs revitalisation and introduction of new, young and dynamic leadership. This is imperative if this apex body representing the business and industrial communities of all eight countries desires to be the catalyst of change.
More importantly, it is essential for the private sector to provide strength to the two political leaders to steer in vibrancy in their economic agendas. Four or five years of determination may be the answer to reduction of poverty, providing income opportunities, enabling prosperity, and most important of all, ushering in an era of peace and friendship in the subcontinent.
Iqbal Azeem, the late Karachi-based poet very vividly put it:
Koi Bataai Ke Manzil Ka Kya Qasoor, Iqbal
Humeen Ne Raah Mein Deewar Khud Kharri Ker Li
Majyd Aziz is the former president of the Karachi Chamber of Commerce and Industry (KCCI). He blogs at majydaziz.blogspot.com and tweets at @MajydAziz.