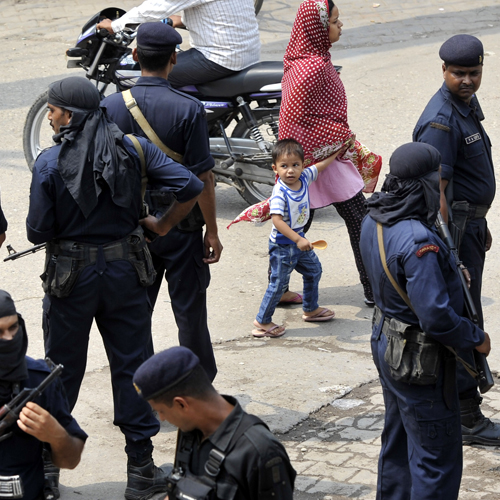 In his book Riot after Riot, MJ Akbar sums up the reasons behind communal riots in India. The latest riots witnessed in Muzaffarnagar district of Uttar Pradesh is also best explained in his words: "Law and order have two enemies: the Full Truth and the Complete Lie. When people realise the truth, they start revolutions. When they are fed lies they begin meaningless riots. Lies are the staple of every communal disturbance. They are spread by people who have a stake in this stupid violence, who have something to gain out of impoverished Hindus and Muslims fighting each other."
This spreading of lies has now taken a more vicious and sinister form. As seen in Muzaffarnagar, fake videos can be spread by communal elements through smart phones and various latest communication apps. This incitement was part of a sinister plan on the part of one party, and its very ambitious prime ministerial candidate, to polarise voters on communal lines. When the state government in UP failed in its duty to ensure public order, the situation quickly went out of hand.
While the damage caused by the riots was noticed, what has been since ignored is the brutal aftermath which impacts thousands of lives. When people focus on the political benefits of riots or look at riots only from the angle of them being a tinderbox for further riots, they become oblivious to the immense tragedy of human lives uprooted by such acts.
In this instance, the state authorities set up 41 relief camps to accommodate 43,000 people who fled their homes after the riots. Fourteen of these camps function now — with no clue when they will be wound up. Despite getting rehabilitation money, the people in these camps refuse to leave out of fear that they will face the same situation once they return to their erstwhile homes. It is a sad reflection on the total lack of confidence in the local administration and the state government. More tragically, the state government is not making any attempts to redress the situation, both by acting sternly against the rioters and by ensuring security and livelihood for the riot-affected.
What we have instead is the trauma of riot-affected populace living in inhuman conditions in resettlement camps, despite three months having elapsed after the riots. Newspapers have been actively covering their pathetic condition: infant deaths due to the onset of winters and lack of medical and hygiene facilities, women getting raped, mass marriages of underage girls to prevent sexual assaults, children missing out on school, young men without work and livelihood. Full of temporary shelters with plastic sheets for roofs, these camps have become a living hell for those forced to reside there. It is a proven fact that communities affected during such riots are susceptible to being lured into anti-national activities. These riots not only impact families but also taint certain communities. The state government, however, remains totally brazen in its apathy towards this humanitarian crisis.
But we can't afford to be oblivious to this suffering. It needs to be highlighted to prevent what could be a pattern in the coming months in UP. Not only is it the most populous state, it also has the highest number of seats in the Lok Sabha. With its near absence in eastern and southern India, the BJP can afford to succeed electorally next year if it does well in UP.
Since the early 1990s, and the days of LK Advani's Rath Yatra, the BJP has only done well in the state when it has been able to stoke communal tension. The real intentions of the party were evident when it felicitated the riot-accused MLAs at Agra at a Narendra Modi rally. They were hailed and showcased as saviours of the Hindu community, when they have been arrested by the police for instigating riots by distributing fake video CDs and making inflammatory speeches.
The ruling party in UP, the Samajwadi Party, has been equally reprehensible in its deeds. In its bid to woo what it believes is its voter base, the party has been announcing community specific sops for rehabilitation. It is indeed distressing when the intent is not to help the affected for humanitarian reasons but to provide for political consolidation. Law and order is a state subject and it is the duty of the state government to ensure victims get compensated and rehabilitated, and due judicial process followed to try the rioters. It must also ensure that strict steps are taken to prevent repetition of such incidents. Unfortunately, we find the state government's response totally inadequate, as this report clearly indicates.
The SP, BSP and BJP have been in power in Uttar Pradesh since 1989. These parties have done nothing to ameliorate the root causes of violent communal riots: slow economic growth, poor education figures, sub-Saharan Human Development figures, repeated emphasis on caste and religious identities, and above all, a singular lack of political will to improve the condition of the people. While the incidents of riots have increased under the current SP dispensation, the other governments have also done little to bring inclusive growth to the state. Unless conditions for social and economic growth are actively promoted by the parties ruling it, instead of focusing on their casteist or communal agendas, UP will remain vulnerable to communal strife.
The Muzaffarnagar riots and its victims should have brought home the need for the enactment of the Prevention of Communal Violence Act, which has been pending for many years now. But parties which can't look beyond the narrow politics of hate are at the forefront of opposing this Act, which can prevent many future Muzaffarnagars.
The choice is upon us now. Do we want to further a divisive agenda which thrives on manipulating the religious identities of people and unleashes immense humanitarian tragedy? Or do we want a proud, modern India that thrives in its pluralism, where all communities prosper under the guarantees provided by our constitution?
Priyanka Chaturvedi is a blogger, columnist and is on the panel of spokespersons of the All India Congress Committee. She blogs at The Book Lovers and Priyanka Chaturvedi. Views are personal.