Why decentralisation or Swaraj is a core tenet of the Gujarat model, and what it means for India's federal structure and a potential PM-CMs team proposed by Narendra Modi.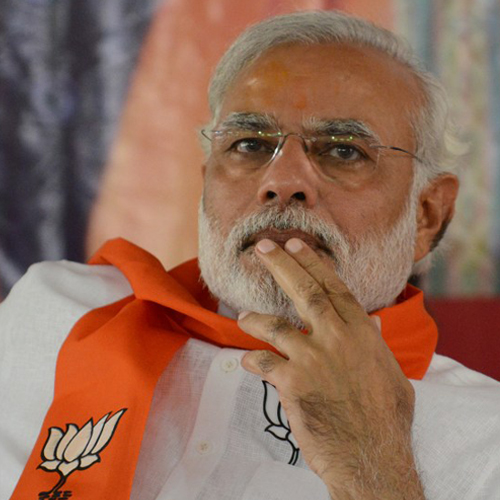 In the recent ANI interview, BJP prime ministerial candidate Narendra Modi mentioned that the secret of his success as Gujarat chief minister was the fact that he has no power and has decentralised the functioning of the government or brought about Swaraj (rule of the people) in Gujarat.
The word 'Swaraj' has inspired generations of Indians, right from Lokmanya Tilak, who propagated the thought to rid India of British rule and called it his birthright, to Mahatma Gandhi who furthered its meaning by alluding to self governance and non interference of the State.
Modi is often projected as a sort of dictator by opposition parties and in the media, and portrayed as running a centralised model in his state politics. This is despite the fact that academics like Bibek Debroy, during their study of the Gujarat model, have often highlighted decentralisation as one of the four core pillars of the Gujarat model. A close study of the Gujarat model reveals that it is in fact filled with examples of how Swaraj has been promoted to empower the common man to solve his problems by self governance versus centralising power in the hands of the government. Let's assess how this was made possible.
Water to the Common Man
In Gujarat, 20% of the area has more than 70% of the water resources, leaving the other areas water scarce. This can be a perilous situation for any state, where normally state leaders would scamper to the Centre and world bodies for additional funds, Even if such help did come, the normal bureaucratic procedures ensure red tape and snail pace of work that would leave users high and dry, literally, in this case.
Swaraj in principle vs Swaraj in practise.
Imagine a building suffering from water scarcity which orders a water tanker to fill its taps with water. One inordinately finds that even if a water tanker arrives, it only takes one person leaving the tap open to empty the entire water supply. As Mahatma Gandhi said, "The world has enough to satisfy everybody's need but not enough to satisfy even one person's greed."
After the supply of water from the Sardar Sarovar Dam, Gujarat faced a similar problem of ensuring that scarce water was used optimally. It could have gone the North Indian way, where indiscriminate and wasteful usage of ground water emptied the scarce resource despite plentiful availability. The core problem boils down to ensuring a semblance of property rights to this problem of commons.
A typical UPA solution to this problem would have been babus sitting in Gandhinagar or Delhi deciding how water should be allocated to different users in a village (akin to how the Right to Education (RTE) centrally mandates how schools should be run, disregarding local issues). Instead, Gujarat focused on the creation of village level Pani Samitis with the consensus of the gram sabhas. This was a group of 10-12 members in the village who were empowered and up skilled by Government of Gujarat by capacity building programmes and allowed to decide how the water resources available in their areas should be used. In other words a delegation of property rights from Gadhinagar to the village and decentralisation.
The women were kept at forefront of this development and more than 2800 women head these Pani Samitis and consist of over 42,000 women across the state. What started as a humble beginning from 82 villages now covers over 18,000 villages.
What did this Swaraj Model Deliver?
By the end of 2011, 72.22% of the households had tap connectivity in contrast to the national average of 26.6%. The rate of women who were affected by poor living conditions in rural regions substantially reduced from 53.8% to 7.7%. Moreover, the dependency on tankers for water supply momentously decreased from 3961 villages in 2003 to 7 villages in 2011.
A contrast with the "Swaraj" model adopted by the Aam Aadmi Party (AAP) in Delhi is in order. Instead of first ensuring water supply and distribution, the AAP cracked on the tanker mafia in areas like Dwarka and New Delhi without water pipeline connectivity. The result was that tanker cost increased manifold and residents were forced to use salty water for daily consumption. Consequently, it's difficult to find an AAP supporter in Dwarka whose residents are daily reminded of the AAP's myopia while using salty water and seeing their plumbing erode from its usage. A true Swaraj model enables public choice by ensuring the government performs its role of infrastructure creation while building capacity for decentralising power. No wonder, in 2009, the UN awarded the coveted UN Public Service award to the Gujarat water supply initiative called WASMO.
What was done differently?
As we can see, Modi was not deciding on how water should be utilised and allocated by villages, instead what he provided was a vision, infrastructure and tools for implementation. That is the job of the government.
It was power given in the hands of people of the villages to decide how water resources will be managed instead of government officials who may be far away from the reality of the ground and lack awareness.
Some anti-Modi campaigners have of late assessed selective data from many such initiatives implemented by Modi and tried to portray it in negative light. Interestingly, the electoral results have always proved otherwise. If you are a chief minister with failed initiatives, there is little chance of re-election, let alone the hat-trick that Modi has achieved.
The state of Gujarat looks forward to Modi's leadership, and given the ideals of Swaraj and policy initiatives implemented in Gujarat, there is a lot of optimism in the country on the endless possibilities that can be achieved when this gentleman is at the helm of affairs in Delhi. This mantra of Swaraj or decentralisation will also be used by Modi when he tries to involve states in decision making and forms the single PM-CMs team for making important decision for the country. The fears around dictatorship or centralisation of power under Modi are clearly overblown if one looks at the experience of the state of Gujarat over the past decade. Modi is one "powerless CM" and hopefully will be a "powerless PM", giving power back to whom it belongs: the people.
Anuj Gupta is an ex-management consultant and a full time BJP volunteer. He tweets at @anujg.
Abhishek Sharma is an international banker currently based out of Chennai. He tweets at @abhisharma1224.