The IPL tie between Kolkata Knight Riders and Royal Challengers Bangalore ended in a humdinger at Sharjah. Abhishek Mukherjee explains why it brought back a sense of déjà vu in him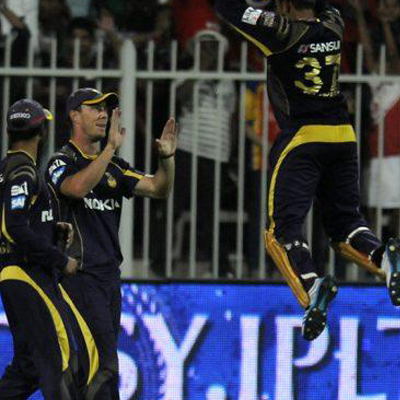 I was late at work that night, typing away gloriously on my keyboard, working on a biography of the Hampshire legend Roy Marshall and how he had transformed English cricket in the 1950s and 1960s. My colleagues, dishing out multiple updates of the ongoing Indian Premier League (IPL) encounter between Kolkata Knight Riders (KKR) and Royal Challengers Bangalore (RCB), kept cheering vigorously.
Then I heard exceptionally loud applause. Something seriously special must have happened, I thought, otherwise the decibels would have been a lot more under control. Poor Roy Marshall had to wait for a while as I made it just in time to catch the replay of Chris Lynn coming up with a catch that was so gravity-defying that Isaac Newton would probably have deemed it illegal.
There was more frenzy. RCB required four off the last ball.
Hang on, wasn't this being played in the UAE? What if… it can't be, right? But there's no harm in double-checking: "Where is the match being played?"
"Sharjah," came the prompt response.
My mind raced. Sharjah; last ball; four runs left; now, where have I come across this combination before?
Surely he cannot bowl a full-toss this time, I thought. That would be too much of a coincidence.
But Vinay Kumar did! It was a full-toss, but hang on, it was not a six. It was never going to be a six.
Roy Marshall took a backseat again as vivid recollections streamed into my mind. Sunil Gavaskar, Krishnamachari Srikkanth, Dilip Vengsarkar all scoring fifties; India reaching 245; Javed Miandad and Abdul Qadir plundering runs; the collapse towards the end as Miandad took the entire responsibility upon his shoulders; and (perhaps) a Kapil Dev error that resulted in Chetan Sharma bowling the last over.
Then that last over; Zulqarnain stealing a single; Miandad hitting a boundary and giving the strike back; and Chetan clean bowling the wicket-keeper off the fourth ball. Surely nobody can score five off two? Even as Tauseef Ahmed gave Miandad the strike back, this nine-year old columnist never expected Miandad to hit a six.
But Chetan bowled a full-toss; and Miandad cleared the ropes; and ran towards the pavilion.
I quickly checked the social networking sites. People were going gaga over Vinay Kumar and Lynn, and some not-too-kind words were being dished out to Gautam Gambhir, Yusuf Pathan, and Yuvraj Singh. But there was no mention of the feeling of déjà vu.
The world seemed to have probably moved on from 1986. Thanks to IPL and other franchise-owned tournaments all around the world, they have got used to close finishes, so the match probably never struck to them as special: it would probably be buried soon in a flurry of Yes Bank Maximums. The one ball-four run-Sharjah-full toss combination is perhaps irrelevant to them.
I checked again. No, there was no mention of Chetan Sharma, Javed Miandad, or 1986 anywhere.
Roy Marshall had granted me enough time. How would the era of strokeplay-based entertainment have treated a man who had pulled English cricket out of its doldrums almost single-handedly?
It was, as they say, time to get back to work. Utopian thoughts and nostalgia can wait; the fast-paced world of the current formats of the sport would not accommodate such geriatric emotions.
But then, why am I smiling and getting flashbacks of that Miandad six as I am typing this out?
Abhishek Mukherjee is the Deputy Editor and Cricket Historian at CricketCountry. He blogs at ovshake.blogspot.in and can be followed on Twitter at @ovshake42.