India's goods export growth performance has been impressive in the past 15 years, even though it started from a very low base
In last twelve months. India has come back from the brink of a balance of payments crisis. The current account deficit, which widened from 0.4% of GDP in FY04-05, to 4.8% of GDP in FY12-13, seems set to decline to below 4%, and even perhaps closer to 3% of GDP. Some of these improvements can be attributed to government's efforts to cut down the import bill, particularly for gold. While the efficacy of these moves can be doubted in the long term, the short term benefits are there to see for everyone. But a more pertinent and positive development has come from the improvement in exports, which has been somewhat missed, in the effort to reduce the current account deficit.
The improvement in exports, both goods and services is not a temporary phenomenon. India's goods export growth performance has been impressive in the past 15 years, even though it started from a very low base. Indeed, among the major emerging markets over that time, India has had the second-fastest average export growth, trailing only China. During this period, India's exports have increased more than 8x in USD terms, and set to rise over USD 300 billion in FY14, and combined together with services, India's export industry will be worth almost USD 500 billion, and rising.
This has not meant that India's export potential has been realised. Things have only started to improve. A major challenge for India is that the import content for its largest goods exporting sectors remains very high. Hence, the net impact on the trade balance of higher exports has not been completely felt, in terms of India's import bill, and the currency. For instance, India's petrochemical exports have been rising rapidly, becoming the biggest line item in exports. Indeed, in FY 12-13, petroleum exports were almost a fifth of total goods exports, four times higher than a decade ago. This is has predominantly been achieved by making large investment in processing capacity by the petrochemical sector, as well as significant diversification in export markets, which has allowed India to develop competitiveness in the refining industry.
One can worry about the large and negative impact of gold imports, one needs to appreciate that a large chunk of India's exports are gems and jewellery, for which growth rates have been impressive in the last five years, driven by strong demand in the Middle East, Europe, North Asia and the US. Given its large domestic jewellery market, India has a very well developed supply chain and production capacity in this field, and hence it has been able to become one of the biggest suppliers of gems and jewellery globally.
While not a large part yet, India has the potential to develop world class export facilities in two other sectors. Pharmaceuticals has been an area where India has been making significant strides, and it is already around 5% of total exports, and one area where India's young pool of scientists, and its low cost developing facilities can give it a significant advantage, particular for generic medicines. The other sector where export potential is starting to rise significantly is in transport equipment and passenger cars. India's domestic market has over the years attracted a large number of companies to set up their production base, and given its proximity of growth markets of Sub-Saharan Africa, Middle East, South Asian neighbours and even South East Asia, the scope to expand its exports through shipments of automobiles is enormous.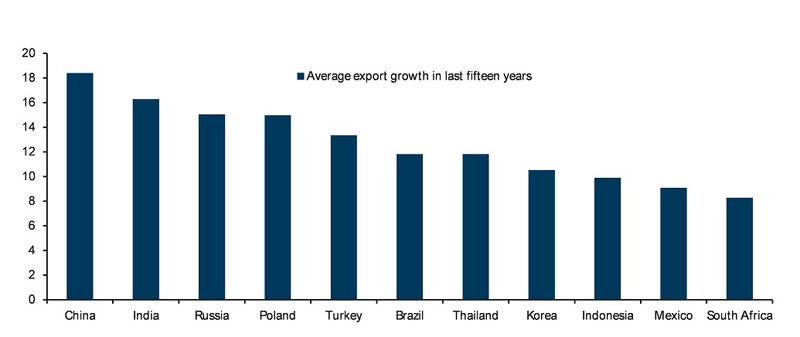 Even as one can see enough reasons to celebrate the vibrancy of India's exports, one also needs to be mindful of areas where competitive edge built over the years is waning. A big drag on the trade balance has been the ongoing absence of several mining-related exports, which in many cases have resulted in addition to imports. For example, demand for coal – though only just 4% of overall imports has been rising rapidly (a CAGR of 25% in past three years), as demand for this fuel has far outstripped local supply. Despite the subdued economy, coal imports remain high, partly due to the inadequacy of domestic coal production. Mining in India nearly came to a standstill in late 2011, when alleged corruption led the Supreme Court to ban several mining activities until the cases were investigated. While this caused overall economic growth to suffer to an extent, this sector's export performance suffered materially. In particular, the reduction in mining exports been a pressing point, as the trade deficit with China has widened significantly, which until recently had been a major importer of iron ore from India. While it is unclear when these legal issues will be resolved and mining exports can resume meaningfully, if it happens, India's exports will grow at a faster pace, thus adding to the strong momentum in India's export sector.
Rahul Bajoria is a regional economist based in Singapore with Barclays. The views here are personal