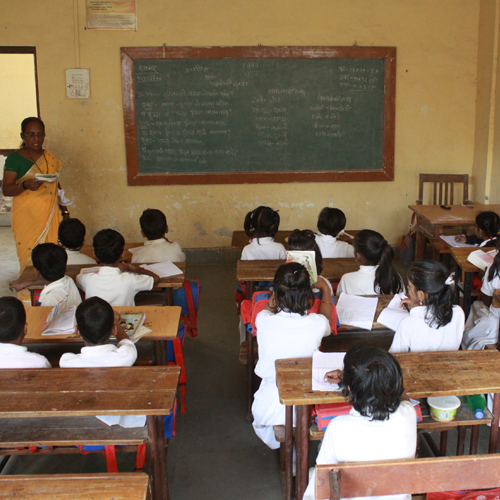 In 1991, the BJP, for the first time, assumed power in Uttar Pradesh after the polarising Rath Yatra and the Babri Masjid campaign. The education ministry was given to Rajnath Singh and he decided to rewrite history texts and incorporated Vedic mathematics into the syllabus.
Cut to1998, when the BJP came to power at the Centre, This time, Murli Manohar Joshi became HRD minister. On his first day in office, Joshi appointed BR Grover as chairman of the Indian Council of Historical Research (ICHR). Grover organised 'evidence', as the Vishva Hindu Parishad (VHP) representative on a government panel on the Babri dispute, which argued that a Ram temple did exist on the Babri Masjid site. Moreover, Joshi, addressing the national executive of the Bharatiya Janata Yuva Morcha, had chastised "Left historians", who he thought indulged in "intellectual terrorism", which was "more dangerous than cross-border terrorism".
The cover story of Frontline in 1998 was titled 'Taking Hindutva to School'. There were palpable attempts to impose the Hindutva ideological agenda on policy-making in education, but the NDA government had to throw in the towel as it was confronted with a cloud of antagonism from various states.
Now we are in 2014. 80-year-old Joshi has been sidelined. However, new HRD minister Smiri Irani, who is merely 38 years old, seems to be following in Joshi's footsteps. As HRD minister, she has announced plans to give a "Hindu perspective" to school curriculum. It is reported she is "keen" to include "ancient Hindu texts" in the syllabus for classes 8-10. According to media reports, officials have been told to build up a syllabus which summarises the glories of Hindu "golden age".
This merely seems like an attempt to carry forward Joshi's unfinished business. When I was in school, eight years ago, we studied how Maratha king Shivaji took on the Mughals. However, the fundamental problem with it was that the conflict was, directly or indirectly, insinuated as one between Hindus and Muslims, not as a battle between two kingdoms. Very few knew that there were 35% Muslims in Shivaji's army. In a fragile and influential age, these things do leave a stamp. The seeds of anti-Muslim sentiment, if not sown, were definitely nurtured amongst my classmates.
Now, with directly glorifying and highlighting Hinduism, there is a chance of concealing a few dark spots in the history of Hinduism. Presentation of partial truths and distortion of history cannot be ruled out, and thereby, we risk our students growing up like Dhananjay Desai, the chief of the Hindu Rashtra Sena.
There is no problem exposing students to world views that may widen their horizons, but presenting a counter view is equally important. However, emphasis on one particular religion is clearly a sign of a majoritarian government. In all his speeches, Narendra Modi harped upon development and inclusiveness. There were talks of Modi neglecting RSS pressure and moving away from the idea of Hindutva. But the trend suggests Nagpur might be the BJP's 10 Janpath. This move has RSS, not Modi, written all over it. If at all there ever was a difference between the two.
"I am meeting Narendra Modiji after the swearing in. We have already sent our demands. Political change has taken place, now there should be total revamp of education," Dinanath Batra, RSS pracharak, told the Times of India. "NCERT textbooks will be rewritten according to the aim and objects of the nation so that it inculcates feeling of patriotism among children. Modernity is not westernisation. We want modernity with Indian base (marked by) patriotism and spiritualism," he said.
In the 18th century, Samuel Johnson said, "Patriotism is the last refuge of a scoundrel." Rabindranath Tagore too had said too much patriotism and nationalism could only lead to war.
Perhaps, it is not a bad time to remember that Batra was the one who pushed Joshi's 'reforms' in 1998. He is also the same gentleman who filed a case against Wendy Doniger's book The Hindus. This is not the end of it. Three days ago, a book titled Communalism and Sexual Violence: Ahmedabad since 1969 by Megha Kumar was forcibly 'set aside' by Batra. He and his organisation now want to withdraw Sekhar Bandopadhyay's textbook Plassey to Partition: A History of Modern India because it is "defamatory and derogatory to the RSS".
As Ramachandra Guha tweeted, it would have been wiser of the 'HRD ministry to focus on educational reforms' instead of 'communalisation of curriculum'.
A story done by Times of India in March 2014 showed in just Modi's home state of Gujarat, the dropout rates in schools are as high as 58% compared to the national average of 49%. The dropout rate for Dalits is even higher at 65%, and for tribals, 78%. Pupil-teacher ratios are higher than the national average. At intermediate levels, there are 52 students for every teacher compared to the national average of 34. Higher education in Gujarat is in a shambles as the gross enrolment ratio (GER) of 17.6 is lower than the national average of 20.4, much below equally advanced states.
However, it seems like the new government will administer exactly the way it campaigned. While Modi spoke the language of development and inclusiveness, Amit Shah spoke of 'revenge' in UP, Giriraj Singh wanted to send anti-Modi people to Pakistan, Azamgarh was called Atankgarh, and so on. The idea of Hindutva was kept alive under the garb of inclusive language.
The trick worked wonders for the BJP on May 16. So, there is no reason for them not to continue with these tactics. Modi will take a few decisions, which will coax crony capitalists and apathetic and indifferent middle class and elite, while his close aides will drive the Hindutva agenda.
We have had an innocent Muslim youngster beaten to death, another attacked on the same night, a book already 'set aside', another book planned to be made obscure, and now the plans of curriculum being transformed. So much for a development oriented government. And we are only in the second week of it.
Parth MN works with the LA Times, and tweets at @parthpunter.