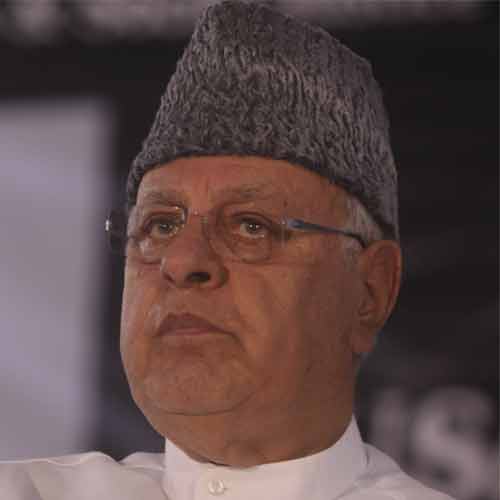 On the quiet Sunday morning of April 27, 2014, Union Minister and National Conference (NC) patron Dr Farooq Abdullah, 77, walked into old Srinagar's Khanyar locality to address a political rally. No sooner than he had begun addressing the audience that militant outfit Hizb-ul-Mujahideen struck, hurling a grenade at his rally. But the NC's candidate from the Srinagar parliamentary constituency stood his ground and continued to speak – only to drop his latest verbal bombshell on the BJP's prime ministerial candidate, Narendra Modi.
Addressing a modest gathering of NC supporters on the lawns of a local school, Abdullah Senior spoke in his usual funny, satirical language. In the middle of his speech, he launched a fresh, scathing attack on Modi. "Pray to God to save us from communal forces," he said, "so that, we can move forward." He paused, then added that India cannot become communal. Carefully weighing his words, he stressed: "If it [India] becomes communal, then Kashmir will not remain with India. Communalism is not acceptable to Kashmiris..."
And then he stirred up a hornet's nest: "They say those who do not vote for Modi should go to Pakistan. Those who vote for Modi should drown in the sea."
A day after Abdullah's comments, Modi hit back, saying, "You talk of drowning those who vote for Modi, but you have committed the sin of making Kashmir communal." Such words do not suit you, the BJP's prime ministerial candidate advised the NC's patron. "And if someone has to drown, please look into the mirror and see who should drown," Modi said. "How can those who removed Kashmiri Pandits talk of secularism?"
In this classic political wordplay, Abdullah Senior has shown once again he is indeed a veteran when it comes to creating controversies. His political detractors believe he orchestrated the controversy out of pure self-interest. A five-time chief minister of Jammu and Kashmir, and twice a Member of Parliament, Abdullah recently created a furore by asserting Afzal Guru's execution was the handiwork of then Home Secretary, RK Singh. Singh soon replied: "Your son Omar Abdullah knew everything about Guru's execution."
Known for his flamboyance and tongue in cheek comments, Dr Abdullah is the only legislator who has never lost an election from Jammu and Kashmir. He didn't hesitate to pitch slogans in favour of Article 370 in his rallies. He will be contesting against Tariq Hameed Karra of the Peoples Democratic Party (PDP) for the Srinagar parliamentary seat on April 30. He recently termed Srinagar the "jugular vein" of his party and family. On another occasion, he said, "I will stand from Srinagar until I'm alive."
The son of the late chief minister of J&K Sheikh Mohammad Abdullah, Farooq Abdullah has completed his MBBS from the SMS Medical College, Jaipur. He is married to British nurse Molly Abdullah. They have a son and three daughters. Their son, Omar is the incumbent chief minister of J&K.
In the summer of 1981, a young Dr Abdullah was appointed president of the National Conference. He was still a greenhorn in politics back then. But as he was the son of the most popular leader of J&K, he became the heir apparent for the party's top spot. After his father's death in 1982, Abdullah became chief minister of the state.
But two years after that, in 1984, his government was dismissed by the Governor and replaced by his brother-in-law Ghulam Mohammad Shah's pro-Congress government. But Shah's government was toppled in 1986 and replaced by a new NC-Congress government. Dr Abdullah was once again sworn in as chief minister. A year later, in 1987, a new election was held, which the NC-Congress alliance won. But this election was widely reported as rigged. The 'fraudulent' victory put Dr Abdullah back in the chief minister's seat, but it also triggered a wave of discontent across the length and breadth of the Kashmir Valley. The pent-up feelings finally took the form of an armed rebellion against the establishment in 1989.
An ardent golfer, Abdullah told supporters in 1989 before leaving for vacation in England: "If you have someone in mind who ends up in jail, you can count me out. I like to play golf. What am I going to do in jail?" As the law and order situation in the state derailed, the Abdullah government was dismissed once again. And the state was brought under the Governor's rule.
Seven years later in 1996, Dr Abdullah made his political comeback. He contested the elections, emerged victorious and was again sworn in as chief minister. After ruling J&K for six years, his government was replaced by a PDP-Congress coalition government in the 2002 State Assembly elections.
In the same year, Abdullah was elected to the Rajya Sabha from Jammu and Kashmir for his first six year term. In the 2009 parliamentary elections, he polled 147,035 votes against 116,793 of his main rival, Moulvi Iftikhar Hussain Ansari of the PDP. He swept the win by 30,242 votes. He was subsequently re-elected that year. Abdullah joined the United Progressive Alliance (UPA) government as a cabinet minister.
However, in the 2008 Assembly elections, his party, in alliance with the Congress, formed the coalition government. And Dr Abdullah paved the way for his son Omar to become the youngest chief minister of Jammu and Kashmir.
The incumbent Union Minister for New and Renewable Energy, Abdullah has been a member of the Committee on Defence, a Member of Parliamentary Forum on Population and Public Health, and a Member of the Consultative Committee of the Ministry of Civil Aviation. An avid traveller, he has been conferred with the 'Dr BC Roy Award' as a medical man-cum-statesman and a D Litt (Honoris Causa) from the Aligarh Muslim University.
Born in 1937 on the outskirts of Srinagar, Dr Abdullah is known for his humour and theatrics in public. At a Budgam rally recently, he danced with folk singers for over five minutes. He had frankly admitted in the past that he could have been either a singer or actor, if not in politics.
But the NC president has his share in controversies as well. He created a public outcry recently for his 'maha chor' remark – he used the term to describe Kashmiris. In December last year, he triggered a row by commenting that the situation in the society is so bad he is afraid of speaking to women these days. He also openly stated that if even if Modi became prime minister for ten terms he wouldn't be able to repeal Article 370 of the Constitution. And a while ago, he was in the news for mentioning the wrong age in his nomination papers.
A photography enthusiast and lover of classical music, Dr Abdullah will be seeking another central term on April 30 when he will be contesting from Srinagar seat with a total of 12.31 lakh voters. But the election for Abdullah, who in the past has said he was aiming for Delhi, and wants to become foreign minister, and ultimately the president of India, won't be a cakewalk – as the 14 candidates in the fray will have their own share of the pie in polling extravaganza.