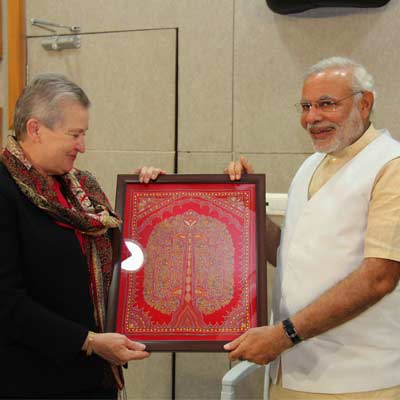 The winds of change are clearly being felt here at home as Narendra Modi fever grips the nation. And this makes one to introspect how the rest of the world is viewing it.
As a Pew Research Center survey indicates, the story isn't any different there either. Washington that consistently denied Narendra Modi a visa since 2005 because of his alleged complicity in the Gujarat riots of 2002, has sort of warmed to him as well. The results are an indication of a growing perception abroad that Modi will be India's next leader with the successful completion of the parliamentary elections in the coming month.
It is only right that they put their money behind Modi for he has promised a revolutionary change and is working towards it tirelessly. In the international sphere, for a country to demonstrate its strength and thereby for it to be taken seriously, a confident leader is a condition precedent who can take firm and clear decisions. Modi has relentlessly spelt out his vision while the rest of the putative shirkers have hid behind their pseudo-secular credentials.
Till about a year ago, Modi focused on the economic success story of his model state Gujarat as a major selling point in his electoral campaign. While his foreign policy cannot obviously be hinging on it, it is important to mention here that the crux of his foreign policy is mainly greater state participation in the country's foreign policy. He argued that it would only be fair for individual states to foster economic and political ties with countries with which they have had some form of historical or cultural association. His game-changing formula seeks for Puducherry to pair up with France, Goa to ease up to Portugal and such like. This is notable as cultural linkages are a rather formidable tool of soft power in international diplomacy. To this end, he has been rather proactive in building ties with foreign nations in order to bring more opportunities to his state.
Modi's recent successes in his foreign visits to China, Japan, Singapore underscore his reliance on trade and other commercial ties with the rest of Asia and this goes onto show how the central narrative of his foreign policy shall be economics. His thrust areas seem to be prioritising boosting trade and revitalising India's depressed economy.
That being said, however, Modi has been equally assertive on India's national interests when he articulated emphatically China's recent policy of expansionism in a public meeting in Arunachal Pradesh, that Indian state which China dubs as its own backyard. Such a statement does not take away the importance that Modi places on China as a trading partner. In his time as the chief minister of Gujarat, he has made four trips to the country already.
Modi is a man of great pragmatic vision. To aid him in his task of steering the country through the complex quagmire of international politics, is Vajpayee's perfect fusion of peace (shanti) and power (shakti).
Modi sang words of praise for the only BJP Prime Minister in this country at a speech in October by quoting examples of how Vajpayee helped India gain a de-facto nuclear legitimacy in the wake of the 1998 nuclear tests. And how only two years after the bloody Kargil conflict he invited Pervez Mushararraf over for a joint summit in India, thereby demonstrating his urge to foster lasting peace between the two warring nations.
By seeking to emulate Vajpayee's foreign policy, Modi appears to be flexible when necessary, rather than remaining a prisoner of history.
This being said there is no reason to suppose that one should go soft on Pakistan. Many opportunities have been given to them in the past to mend their ways, but they have come back with a more visceral blow. While strengthening trade relations may be one side of the coin, Pakistan should be kept on a tight leash till it starts showing signs of making a serious attempt to act on terror. This manouevre of his will be in keeping with public sentiments and one that befits Modi's tough-on-terror image.
To add to this, with the prospect of the US troops withdrawal from Afghanistan seeming almost imminent, Modi should turn the screws on Pakistan to keep in check its flow of aid to Taliban. He would have to sustain international attention and condemnation of Pakistan for its complicity in the proliferation of terror, while also piecing together a military coalition to aid the non-partisan forces in Afghanistan.
In keeping with his nationalist inclinations, Modi is expected to bring in a veritable blend of defense and diplomacy. With the strong religious and strategic moorings that India already shares with Israel and other major defence suppliers like France, Australia, Mr Modi has already set out a grand design for maritime diplomacy in the Indian Ocean region. He has helped organise maritime security and anti-piracy conferences in his home-state Gujarat consistently over the years where representatives both defence and civilian, from Australia, UK, France, Mozambique, Japan, New Zealand graced the occasion.
Taken together, all these elements would suggest that Modi's vision for India's external policy is singularly focused on restoring India to its lost dynamism and grandeur. With him at the helm, India can expect to see a practical approach to its external ties with other countries predicated on improving trade and greater defence co-operation.
This is a time ripe for India to be at the forefront of international developments and Modi's ambitious vision is bound to captivate an entire generation of Indians, provided it is assertive in its implementation.
(Devaditya is a 24. You can follow him on Twitter @DevadityaC.)