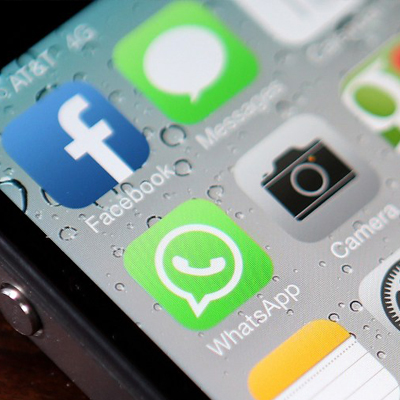 What Facebook does best is allow you to give sense to all the things that define you and who you really are. If we're a projected, best version of ourselves on Facebook, Twitter, or LinkedIn, what could advertisers do with knowledge of what we're like when we're our actual selves?
Facebook's revenue-generation strategy relies on target marketing and data-mining, and considering its base of young people and growing markets. Recently #Facebook has bought #WhatsApp in a handsome deal of $19 Billion, which is considered equivalent to 19 Instagrams. Is that all or does this deal also affect you and me anyway? Yes it does.. and that's why Facebook a new age technology platform has invested in being at the forefront to captured the 'world of consumers'.
WhatsApp was founded by two former Yahoo engineers in Russia (a free information democracy country), as a 'Cross Platform Mobile Messing App' with an ad-free and small subscription $0.99/year, allowing users to send text, picture, and voice messages from any smartphone to the other, without setting up a username or PIN. WhatsApp in a very short span, less than 3 years has over 450 billion active users, and adds 1 million users every day, recently on 2014 New Year's eve over 54 Billion messages were exchanged via WhatsApp, which is a record in itself. WhatsApp would be the equivalent of data-mining text messages, same as what Facebook does with online conversations.
On other side, Facebook has developed its own Messenger App, which was rated down by its own users for the ease of use, features and access to non FB users, resulting in failure to gain popularity with increasing mobile users. Facebook's source of information is majorly from their online and visible platform, which in a way restricts to 'know your consumer privately' and that's exactly is the space captured by WhatsApp, as their users are free from fear in their so called personal or private conversations. This also means there's a lot of social media preening, a defense mechanism that goes down when you're off social media, while calling or texting your friends in intimate and personal moments.
With this acquisition, the consumers (you and me) and allowing Facebook and Whatsapp to 'listen to our every conversation, so they can insert their voice (target marketing)'. You can understand the business sense about this acquisition for from Google's Eric Schmidt tweet: "For every person online, there are two who are not. By the end of the decade, everyone on Earth will be connected."
India story for both Facebook and WhatsApp is very interesting and fast growing. Facebook has close to 100 million active users in India, and nearly seven out of ten of them are mobile users. It's been a key driver of mobile internet access—which accounts for 90 percent of the nearly 200 million internet users as reported by the regulator, TRAI.
WhatsApp has been the top driver for smartphone penetration in India. Together, the two add up to a potent army driving up connected smartphone usage in India. The big appeal of this instant-messaging app that works across all smartphones was that it was nearly free—barring the low cost of a basic mobile data plan—unlike SMS text. 'No Ads, Games, Gimmicks' makes WhatsApp even more popular in India.
WhatsApp now packs in more features, while remaining clean, fast, simple. It's the preferred way to share multimedia now—pictures, audio and video. Its most popular feature today is its handling of groups. That one thing takes it into the realm of social media. WhatsApp groups are the new social groups in India. Be it your school/college alumina, society folks, gym or special interest groups, or even transient small groups created on the fly. The average teen today for whom the preferred choice is not on Facebook, belongs to at least a half-dozen WhatsApp groups.
In conclusion, I can say, a free app is a very smart and a cost effective way for any company to build their highly scientific 'consumer behavior model' using practically billions of people all over the world as the representative sample.