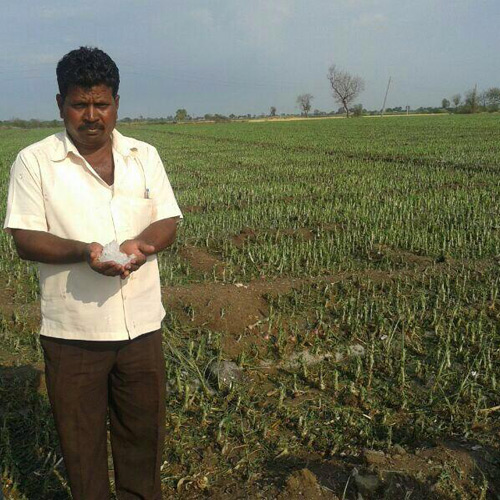 As more than 850 million Indians went to poll amidst a hotly contested pre-election period, the Intergovernmental Panel on Climate Change (IPCC) setup under the United Nations released the first part of its much anticipated report in Berlin, Germany, detailing where the world exactly stood on climate change.
The topic of global warming, an unfolding event which may be the catalyst of driving much of mankind's governmental and economic policies in the future has found only fleeting mentions in the manifestos released by the BJP, the Congress and Aam Aadmi Party (AAP). In fact, the AAP did not mention the issue even once as part of its political aims. However, the fact remains that India's population has already experienced freak weather patterns which have been tied to global warming, such as the recent hailstorms experienced in Maharashtra last month where farmers of the region have put their losses at a massive Rs 20,000 crore due to this unseasonal natural event.
The irony over the lack of emphasis on climate change in Indian electoral discourse, both political and public, is that the country often seen as the most visible and documented proof of the effects of climate change is right on India's eastern borders: Bangladesh. According to some studies, Bangladesh could lose up to 17% of its total land mass, displacing nearly 20 million people in the next 40 odd years, due to climate change.
More than 58,000 hectares of agricultural land is also expected to be effected in the country, costing huge financial disruptions. Coastal Bangladeshi villages such as Bhola have already seen half their land disappear over the past two decades. This village, along with others in its surrounding region, are seen as the ground-zero for observing the effects of global warming.
In such a situation, India could face the challenge of 'climate migrants' from its neighbouring states. Bangladesh, which is one of the poorest countries in the world, could be sitting on a potential humanitarian crisis of gigantic proportions, and people who would face displacement from their coastal towns and villages would move inward, pushing the in-land population as well. Many of these migrants will eventually look to enter India in search of water, food, shelter and safety.
India, which itself has the huge task of feeding millions of its own citizens who go to bed every night without food, has been advised by scientists and organisations such as the World Bank to brace itself for droughts, floods and other such calamities. Villages in the coastal states of the country such as Andhra Pradesh are already facing erratic monsoon patterns effecting agriculture.
According to the IPCC report, much of the carbon emissions responsible for clime change come from the world's massive drive for energy, which has largely come from extensive use of fossil fuels such as coal over the past century. In fact, India is looking to setup up to 300 new coal fired power plants by 2020 in an effort to get nearly 350 million above the energy poverty line.
Countries such as Bangladesh together with others such as island nations of Vanuatu, Seychelles, Kiribati etc., who have already started to face the music of global warming and rising ocean levels, have also begun asking the developed world for compensation for creating such conditions, and even going as far as to ask for 'open borders' for 'climate migrants' to get rehabilitation in these countries as it is a matter of "global justice."
However, according to studies, even "developed" countries face an uncertain future due to climate change. Cities such as London and New York are also at high risk of large-scale floods in the future.
Even as the debate of climate change catches momentum in the global community, it has found very little mention in India's political discourse prior to the general elections. During political campaigning, media reports have regularly shown that one of the most commonly asked question by citizens has been that of water shortages. However, shortage of such basic necessities which may only become more strained due to rising temperatures and inadequate rainfall still does not find its way in pre-poll discussions and political rallies by the respective candidates across the country.
Rising temperatures, water shortages, floods, droughts and climate refugees are problems that India will not be immune to by any means. Global warming is a subject that needs to be brought into public and political discourse urgently, and the lack of its presence in the current election season is a missed opportunity for both, the future policy makers and the people of India.
Kabir Taneja, 28, is a Delhi-based journalist and scholar at The Takshashila Institution. He tweets at @KabirTaneja.