Japanese Prime Minister Shinzo Abe has been invited as the chief guest to India's Republic Day Parade. Shamshad A Khan looks at what his visit could mean for Indo-Japanese relations and China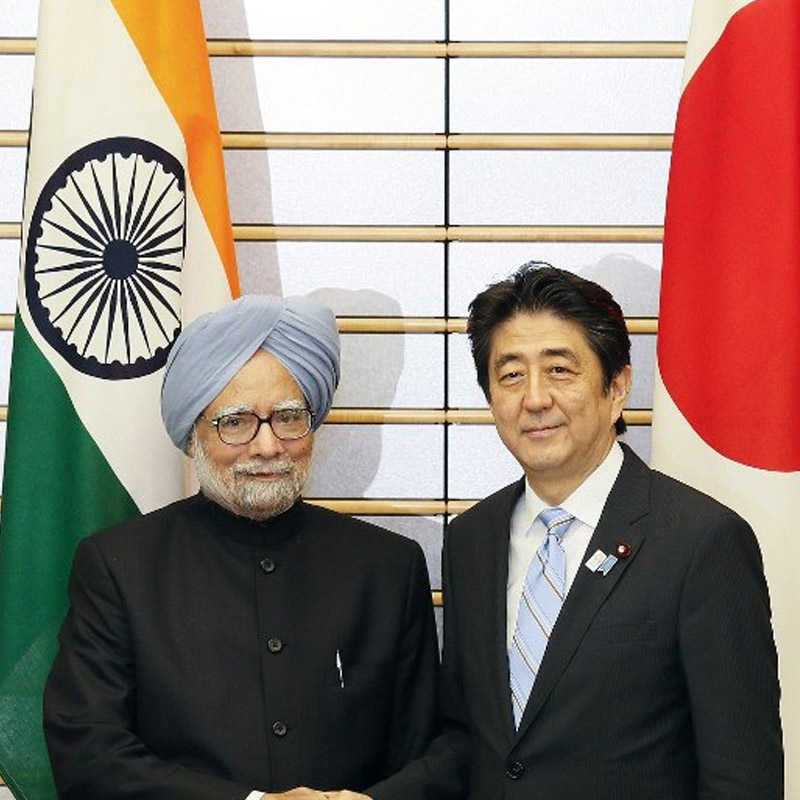 Japanese Prime Minister Shinzo Abe, an ardent friend of India, will be the chief guest at this year's Republic Day parade. India will be showcasing its military capabilities and achievements to a person who wants to restore Japan's superpower status, especially after the recent Chinese assertions over Japanese-controlled air, land and water.
Abe has recently enunciated plans to give teeth to Japan's defence forces, which it was stripped of after its defeat to Allied powers in World War II. He has raised the idea of joint defence productions to lower costs and wants to benefit from overseas military technologies, something previous Japanese administrations have shied away from undertaking, owing to the country's pacifist policies and peaceful image.
Japan has not yet spelt out clearly whether India is part of its strategy on joint defence production, though it has clearly displayed its intentions in this area to Turkey and France. It is hoped that viewing Indian defence equipment will generate interest for Japan to announce joint production of military hardware with India.
Hosting Abe during the parade at India Gate will certainly send signals to China. Beijing has viewed Tokyo's security partnership with New Delhi as a mechanism to 'encircle' China, and expressed its concerns regarding the two countries becoming strategically closer. It will not be a surprise if Beijing expresses similar concerns this time as well.
After World War II and in the post-cold War period, Tokyo did not show much enthusiasm in building or furthering relationships with other states in the security sphere. It wanted to limit these relationships to the economic domain.
The credit of bringing India into the sphere of Japanese strategic thinking goes to Abe. In his book Towards a Beautiful Country: My Vision For Japan (2007), he prophesied that Indo-Japanese relations have the potential to surpass Japan's ties with the US and China. In his first ever address to the Indian parliament, Abe acknowledged that a strong and prosperous India is in Japan's interests, and vice-versa. Before assuming office for the second time after the 2012 general elections, he presented his vision of a "Democratic Security Diamond", which envisages "a strategy whereby Australia, India, Japan, and the US state of Hawaii form a diamond to safeguard the maritime commons stretching from the Indian Ocean to the Western Pacific."
India figures prominently in the new strategic security doctrine Abe's cabinet adopted last month. This doctrine, which will guide Japanese defence policy for the next decade, notes that "India is becoming increasingly influential" in the international community. It recognises that India, owing to its strategic geographical location in Asia, is "important for Japan" not only for its maritime interests but for its overall security as well. New Delhi and Tokyo have already forged a strong strategic partnership and set up an annual bilateral maritime dialogue, according each other much importance in their diplomatic and security strategies.
India's response to the Japanese overtures, however, has been cautious. At times, New Delhi has maintained an almost studied silence, seemingly so as not to affront China, which has emerged as one of its biggest trading partners.
When Abe mooted the proposal of the "Democratic Security Diamond", he obviously wanted New Delhi to embrace the strategy. But during his visit to Tokyo in May 2013, Prime Minister Manmohan Singh merely said India and Japan need an open, rule-based international trading system to prosper, and that they have "shared interests in maritime security." By qualifying his last statement, Singh conveyed that India is not eager to extend the existing bilateral maritime cooperation to a multilateral arrangement. It should be noted that a similar quadrilateral security arrangement involving Japan, the US, Australia and India, mooted by Japan in 2007, did not take off after a strong demarche issued by China, seeking such an arrangement's intention.
Japan, the US and India once again established a consultative mechanism in 2011, and held annual meetings to discuss various common security issues confronting the three nations. Since this remains a bureaucracy-led initiative, it has not gained enough attention. To be taken more seriously, it needs to be elevated to a political level where the defence ministers of the three countries deliberate strategy and chalk out a joint agenda for cooperation on regional security. For instance, when Japanese foreign and defence ministers meet their US counterparts for a 2+2 dialogue, their statements send a clear message to China. On the other hand, the existing dialogue between India, Japan and the US has not even received headlines beyond the Indian press.

Japanese expectations of India to play a bigger role in regional security are growing by the day. When Tokyo says both India and Japan share "universal values and strategic interests", it expects a unified response on various issues impacting Japanese security. A section of Japanese strategic thinkers have expressed surprise over New Delhi's studied silence over China's recently announced Air Defence Identification Zone (ADIZ) in the East China Sea that encompasses the Senkaku/Diaoyu islands, contested territory between Japan and China. The Japanese thinkers expect India, like other democratic countries, to denounce China's move to unilaterally change the status quo in the East China Sea. Japanese defence minister Itsunori Onodera, who was in Delhi this week, has already hinted that Abe will raise this issue during his visit to India, and will seek New Delhi's support over the ADIZ row.
Others issues likely to resurface during the visit of the Japanese prime minister are Indo-Japanese nuclear cooperation and the sale of the US-2 amphibious aircraft.
Abe has been signing deals to sell nuclear technology as part of Japan's plan to revitalise its economy with various countries, including Turkey, the UAE and Saudi Arabia. But the Japanese anti-nuclear lobby is apprehensive of selling nuclear technology to India as it is a non-signatory to the Non-Proliferation Treaty (NPT). New Delhi has already made it clear it considers the NPT discriminatory, and to assuage Japanese concerns it has cited the moratorium of not conducting further nuclear tests. It is yet to be seen if Abe will be able to overcome Japanese domestic concerns and clinch the long pending deal.
Japan's US-2 aircraft is the only of its kind available in the world for advanced air-sea search and rescue operations. There is a stalemate between India and Japan over its sale as well. Tokyo wants to sell to New Delhi, but New Delhi wants to produce them jointly since the cost of a single US-2 aircraft is roughly $109 million.
Abe's visit will reveal what is in store for the relationship between the two countries. Either way, it will surely send a message to China that India and Japan are becoming further closer.
Shamshad Khan is a Research Fellow at the Indian Council of World Affairs (ICWA). The views expressed are personal and not that of ICWA.