In 1975 when the erstwhile chief minister of Jammu and Kashmir, Sheikh Mohammad Abdullah returned Kashmir after signing the much-touted and equally talked about Indira-Abdullah accord, scores of his followers back home felt "cheated" and "disappointed". It was during that period a cartoonist of a Srinagar daily gave vent to the public feelings through his cartoon which fell like a bombshell on state political arena. The cartoon managed to deliver the 'loaded message' behind Abdullah's handshake with New Delhi. And thus, a name: Bashir Ahmad Bashir (BAB) created a special niche for himself in the field of creative display of news. And with that, began a period that witnessed BAB's cartoons hitting state of affairs left, right and centre—that too, quite fearlessly.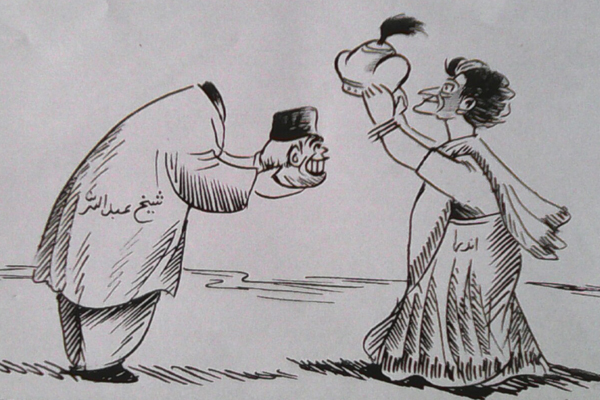 This cartoon was supposed to appear in Srinagar Times when the Indra-Sheikh accord came into being, but later on, to avoid a big controversy, he decided against it
Thirty nine years have passed since then, but BAB is still tirelessly running his hands on papers every evening to sketch out cartoons, which 'mirror' the society. Living in a quiet Bachwara locality at Srinagar's Dalgate area, BAB recalls, when Sheikh Abdullah returned to valley after signing 1975 accord, people were angry "as they believe Sheikh can't sell us to India". He says, people felt ditched by the senior Abdullah who himself was fighting for the "independence of Kashmir" from Indian rule before signing the deal.

BAB gauged the public mood and made a cartoon that showed Sheikh Abdullah heading towards the chair, while a grave at his background engraved with 'Liberation Front'—cries out: 'Meri kahani bhoolne wale, tera jahan aabaad rahe.' (O' you, who forget my tale; may your world prosper).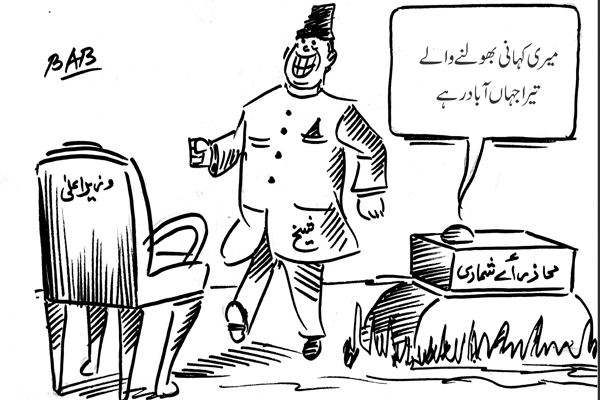 The historic cartoon which BAB drew after Sheikh Mohammad Abdullah returned Kashmir signing the 1975 accord. The cartoon created a great public amusement
The cartoon instantly evoked public emotions, as many believed: "It is cry of martyrs, who laid their life for supporting Abdullah led Plebiscite Movement that was fighting against Indian rule in Jammu and Kashmir." BAB was hailed for his efforts, and with that, BAB became the sensational cartoonist of the valley.

Having friendly attitude, BAB, a clean-shaved man in his late-fifties entered in the Srinagar Times in 1969 and helped the paper to edit reports and letters to the editor. He hadn't exactly planned to be a cartoonist but one day his brother and founder of the Srinagar Times, Sofi Ghulam Mohammad, told him: "I think we should introduce something new in our newspaper." BAB wasn't naysayer to the idea, but took he his time. Then in 1971, the introduction of that new thing left the readers of Srinagar Times pleasantly surprised. The paper had carried a caricature of Sheikh Abdullah in its mid page. And reportedly, it was the first ever cartoon in the journalistic history of Kashmir.

And soon after that, he drew a cartoon highlighting the tug of war between two factions of Congress—one headed by Bakshi Ghulam Mohammad and another by Ghulam Mohammad Sadiq. The cartoon showed two bulls, one having Bakshi's head and another having Sadiq's head. "It created a great public amusement," he says.

But what was pure creative expression for BAB soon invited him threatening calls. He was buzzed with the first threat call during Sadiq's regime in Jammu and Kashmir (1964-71). "It was the elections period and Sadiq's loyalty to India was quite overt," recalls BAB, sporting silver coloured hair. "I drew a caricature that showed voters of Jan Sangh, Jamaat-e-Islami, National Conference, Congress and other parties putting their votes into a magic (ballot) box." But the cartoon showed only Congress votes coming from the bottom side of ballot box. The message couldn't have been more direct to Congress which was left badly irked by BAB's creative display. And soon, a stern action ensued.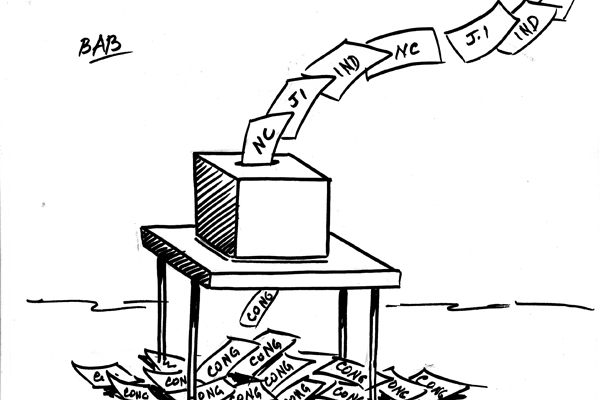 BAB drew a cartoon showing the state election favouring the Congress candidate, Ghulam Mohammad Sadiq in state during 1970's
"We were dragged to courtroom and our paper Srinagar Times was banned for two months," he recalls. "But we never dropped the chips," BAB says. "Had we succumbed to pressure tactics then, our paper would have been a history today." However, support poured from all political circles. National Conference (NC) leaders and Sadiq's political opponents, Sheikh Mohammad Abdullah and Afzal Beig sided with Srinagar Timesfor "upholding the truth". In fact, Beig fought the case in the High Court and got the ban lifted.

But the so-called chilling effect couldn't dilute the venom from BAB's cartoons all these years.

Many people still recall his cartoon that was a big hit in his Srinagar Times in 1974. The cartoon was about a high-profile Urdu Mushaira arranged at the Srinagar's Exhibition Grounds, months before Sheikh Abdullah's return to the mainstream. BAB's cartoon—captioned 'ek shair mulahiza ho', showing then Prime Minister Indira Gandhi presenting a lion to the Kashmiris. (Sheikh Abdullah was famous for his sobriquet of Sher-e-Kashmir meaning the lion of Kashmir.)

With Abdullah as chief minister of state in 1981, BAB again created a storm of sorts. During one occasion then, Jammu and Kashmir Assembly members got involved into verbal duel "where members spoke rude language and torn each other's clothes". The next day, BAB's cartoon described MLAs, as—Monkeys, Lambs and Asses, involved in fight inside the legislature.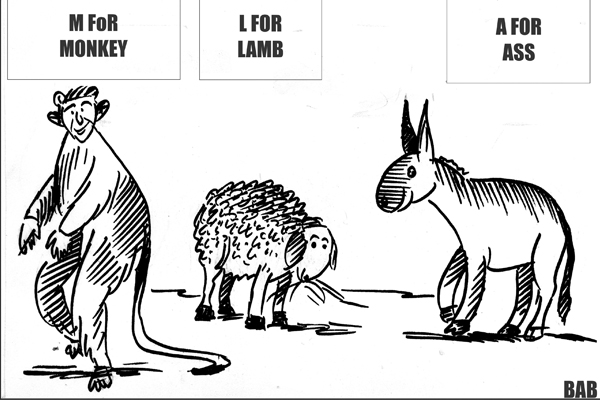 This is the most controversial cartoon of BAB where he drew MLA- with M for Monkey, L for Lamb and A for Ass in 1981
The cartoon got on the nerves of Babus who had reportedly egged on the then speaker of the assembly to press for BAB's appearance before the assembly. The next day BAB presented himself in the assembly and defended his cartoon. "I declined to apologise since I had exercised my right to freedom of expression," he recalls. "The speaker finally got convinced and let me go." And after a brief period of hiatus, BAB was again doing what he has been doing best—making cartoons. "I did not hesitate in making caricature of any politician thereafter," he says.
Four decades into cartoon making has immortalised him as the best cartoonist of valley who has lost the count of his own cartoons. He doesn't remember many of his best cartoons, but he candidly asserts: "Every day, my new cartoon makes me feel—as if, this is my best cartoon." And many a times, he says, people remind him about a particular cartoon and the smile it brought on their lips.

BAB has no formal training in cartoon making, but it is his own inspiration for the art that propels him. "I was drawing sketches till class 10," he says. "And also, I was continuously watching cartoons on TV which surged my interest for cartoon making."

During turbulent nineties in Kashmir when militancy was at its peak there, BAB brought smiles on the lips by making cartoons on political satire loaded with humour. The news pages were detailing deaths, arrests and killings at the same time. "The idea was to alleviate the tension when death was dancing over valley," says BAB, who believes Kashmir is the dispute between India and Pakistan. "You see, political satire appeals a common man and makes him feel good."

Perhaps it was the same political satire that made him depict a raucous hit Jammu and Kashmir Assembly. The cartoon had a woman riding horses in the house being trampled upon by political parties in 2008. But then, the state didn't always play a role of mute spectator to his cartoons. For instance, in the fall of 2010 Omar Abdullah led coalition government could no longer take his satire. It was the time when streets protests had gripped the valley and BAB was mirroring the same through his cartoons. But the media gag imposed then had also 'censored his cartoons'.

He was summoned to Jammu for publishing a cartoon in his daily depicting `sad state of affairs' in the Legislative Assembly. But the moment he went ahead to defend his cartoon, "I was told that my presence on the floor of the house was not required."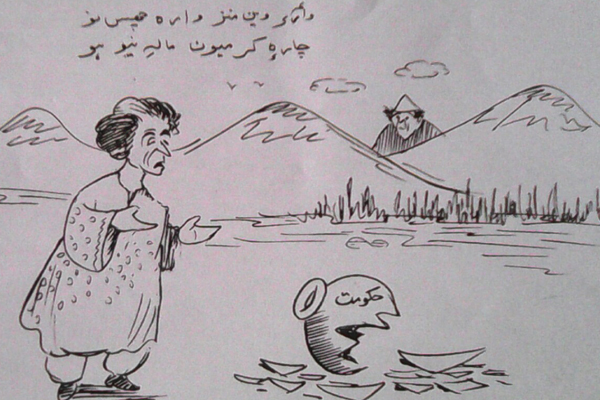 This cartoon appeared in Srinagar Times in 1977 when Indra Gandhi was dethroned at centre and later on she came to Kashmir on the invitation of State Congress Unit

With times, BAB's cartoons had created an everlasting effect on people. Today Kashmir's gen-next is eyeing the same field which he has been serving for last four decades. However, he believes youngsters have still miles to go before they could learn to hit nail on its head. "But with the passage of time, they will evolve and draw cartoons that mirror the state of affairs from the perspective of common masses," he says.

BAB is keenly interested in playing golf. "The advantage of playing golf is that one can immerse into thoughts and ideas while playing golf," he says. "I have also interviewed Dr Farooq Abdullah many times while playing golf."

He has won number of awards, including British Journal Critics Award, Gold Medal by Jammu and Kashmir Editors Foundation and others. He was once nominated for Padma Shree Award but that never came his way, BAB recalls, "They took my biodata and I was told to get ready for the ceremony. However, the award was never given to me. Since I was critical to the policies of the government, therefore, I do not rule out political interference."

BAB usually takes an hour or two for drawing a cartoon. Sometimes, he has to let go of many of his ideas. The subject that clicks his mind during the day becomes obsolete by evening. "But the challenge for me is to draw the cartoon around the latest news, as people expect cartoon on a particular subject," says BAB, whose two sons are also in journalism field.

Apart from being a cartoonist, he took on as the editor of his daily after the death of his elder brother, Sofi Ghulam Mohammad. BAB says, as an editor, his challenge is to maintain the content and editorial policy which has been the hallmark of Srinagar Times .

BAB has a terrific knack of using Kashmiri songs and idioms which strike the right cord with common people. When the former Prime Minister Indira Gandhi lost 1977 elections, she visited Kashmir on the invitation of State Unit of Congress. BAB made her caricature, depicting her with an earthen-pitcher descending down her head and breaking into pieces, and then, she sings the melancholic Kashmiri folksong: 'Waerven manz vara ches nov, char kar meun maleeneo.' (I do not get along well with my in-laws; do something for me, my parents). "I regarded Kashmir as Indira Gandhi's parental home since her father, Pandit Jawaheral Nehru had his origin in Kashmir," he recalls. "That cartoon became very popular and Indira Gandhi congratulated me herself."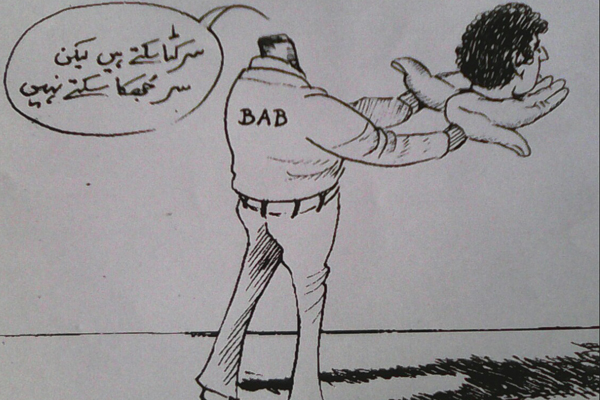 This cartoon was the answer to demand of Assembly Members that BAB should seek pardon from Assembly Members in 1981
Being a celebrated cartoonist of the valley, BAB says, an ordinary person merely looks at the waves of sea, but a cartoonist often plunges into deep to unravel the reason behind their existence. "And yes, I have to put message forward to the public rather than personalizing the character," he believes.