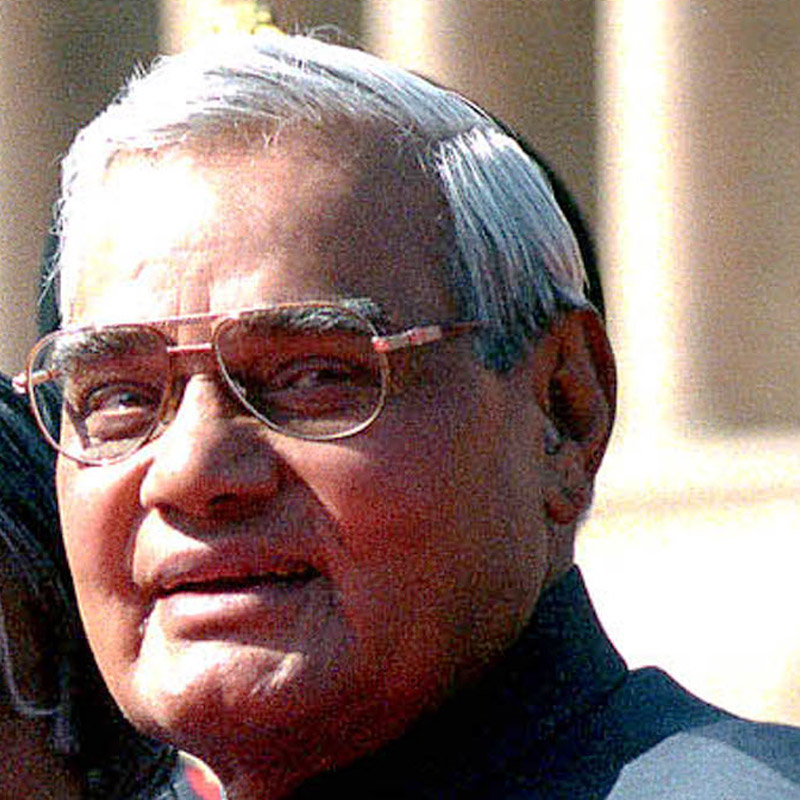 The government has announced that former Prime Minister Atal Bihari Vajpayee would be honoured with the Bharat Ratna, India's highest civilian award. A renowned BJP leader, Vajpayee led the first NDA government as the 11th Prime Minister of India, first for 13 days in 1996 and then from 1998 to 2004.
Several unique characteristics go along with the name of Atal Bihari Vajpayee. In him, the nation had a three-dimensional leader: a statesman par excellence, a highly creative and talented poet, and a thinker with the courage of conviction.
All his life he strived to make politics more value oriented. He had an inimitable style of winning hearts. He has several friends with views diametrically opposite his, but that has never come between him and them when it comes to frank sharing of ideas and feelings. Rarely does one find a leader with such a fine blend of toughness and tenderness.
Atalji has contributed to Indian polity in multiple ways. He remains the epitome of alternate political thought and functionality. He personifies patriotism. If attributes such as informality in interpersonal relationships, spirit of accommodation, respect for the opposite viewpoint, a complete non-compromising approach towards politics of hate and injustice, etc. are still to be found in present day politics, Vajpayee – among others – deserves credit. His most important contribution is strengthening Indian democracy. When power politics sounded extremely monopolistic and people wondered if the element of choice had completely vanished from Indian polity, he didn't need words to send the message "Main hoon na" to the people with all the strength at his command.
He remains the first genuine leader of opposition, the first truly non-Congress prime minister and also the first prime minister who brought in new legislation to check corruption in politics. He also remains one of the few politicians who tried to create some consensus on a range of electoral and political reforms.
Known for his clarity of thought and passion for finding solutions, Vajpayee observed in a 1996 speech: "Neither Parliament nor the state Vidhan Sabhas are doing with any degree of competence or commitment what they are primarily meant to do: legislative function… Barring exceptions, those who get elected to these apex democratic institutions are neither trained, formally or informally, in lawmaking nor do they seem to have an inclination to develop the necessary knowledge and competence in their profession… serious debate has ceased to take place in our elective bodies, which have come to resemble akharas."
When Vajpayee took over as prime minister, India was literally on the threshold of the 21st century. And it was a new, young and assertive India with surging aspirations, contrary to the old status quo-ist elements who were in denial. Vajpayee recognised these burgeoning aspirations, and successfully struck a balance without compromising on India's fundamental values. His regime witnessed the stabilisation of the new economy, and he created an appetite for development-oriented governance. He enhanced national self-respect through the Pokhran-II tests, added to the demand for good quality of life through massive infrastructural development, gave top priority to technological advancement and impetus to every kind of connectivity.
In the preamble to the National Agenda for Governance, Atalji pledged to give good governance. The agenda said, "Our first commitment to the people is to give a stable, honest, transparent and efficient government capable of accomplishing all-round development. For this, the government shall introduce time-bound program of needed administrative reforms, including those for the civil services".
Vajpayee not only strengthened old bridges, he also tried to create new ones to overcome the distances between different social groups, regions and economic strata. His Midas touch impacted every sector of governance. His programmes and policies demonstrated his commitment to a strong and self-reliant India, prepared to meet the challenges of the next millennium.
To make India an economic power in the 21st century, he transformed the economic policy framework. Sectors like telecommunications, civil aviation, banking, insurance, public sector enterprises, foreign trade and investment, direct and indirect taxes, agricultural produce marketing, small-scale industries reservation, urban land ceilings, highways, rural roads, elementary education, ports, electricity, petroleum prices and interest rates were all subject to far-reaching reforms and raised India's power graph in the world.
On the infrastructure front, Vajpayee launched two ambitious projects: the National Highways Development Project (NHDP) to connect the four biggest metro cities along with other cities through the Golden Quadrilateral, and the Pradhan Mantri Gram Sadak Yojana (PGMSY) to every village of the nation by road. These two projects also revolutionised the real estate sector, commerce and the rural economy. The improved road connectivity further integrated the country through a network of world-class highways, which put India on the fast lane to socioeconomic development. Indeed, on the highway to prosperity!
In his book India – The Emerging Giant, Professor Arvind Panagariya of Columbia University writes that key policy reforms in the telecom sector implemented by Vajpayee in 1999 scripted India's true telecom revolution. The New Telecom Policy (NTP) announced by the Vajpayee-led government on 3 March 1999 caused the telecom penetration rate to increase from less than 3% in 1999 to over 70% as of October 2012.
Vajpayee's encompassing governance doctrine can also be seen in his strategic vision about national security and foreign policy. This was particularly outlined in the seminal report Reforming the National Security System in 2001. The establishment of the National Security Council, re-evaluation of India's nuclear doctrine, economic diplomacy, and engagement with the world has re-written India's strategic governance system.
The Pokhran-II tests showed Vajpayee was a leader who refused to bend before any pressure. At the same time, he extended the hand of friendship towards Pakistan, inspired by a genuine desire for peace, through the Delhi-Lahore bus service. Pakistani intrusion into Kargil in May 1999 brought out the iron man in him, but did not prevent him from trying to rebuild mutual trust through the Agra summit. Though a poet a heart, Atalji is essentially a man with the courage of conviction, and therefore tough while making decisions.
The last year of Vajpayee's prime minister-ship saw the country growing at above 8% with strong fiscal indicators. India was knocking at the door of becoming a world power. Vajpayee's legacy of the epitome of good governance continued with his followers, achieving successes in the field of administration.
Dr Vinay Sahasrabuddhe is Director General, Rambhau Mhalgi Prabodhini, Mumbai. He can be contacted at Vinays57@gmail.com