On the 6th of December, DNA Photo editor Soumitra Ghosh shares his memories of the day
I shudder at the prospect of facing a child on the 6th of December who might ask me, "Mr. Journalist, what is today?"
I'd want to prevaricate. "It's Andrew Flintoff's birthday, isn't it?", I'd say. "I'm pretty sure it is. And, it's Ambedkar's death anniversary too. I guess he'd be happy he is not alive to see this day..."
"Eh?"
"And the first edition of the Encyclopaedia Britannica was published today. Oh, and also the first edition of the Washington Post!"
"Look, Mr. Journalist, I just want to know why my mother wanted my father to take P D'Mello Road this morning instead of his regular route to Ballad Pier from Parel. Why is JJ flyover not safe today? And why is my mum so scared today? I want to know what happened. That's why I stopped you, I saw "Press" written on your bike."
I'd sigh to myself, resigned, and begin to tell him what happened on that 6th of December.
I was 20 years younger in every sense of the word that day. I was covering a fashion show on the steps of the Asiatic Society at Horniman Circle. It was a really beautiful evening. The city is generally much cooler in the first week of December.
I remember I was a bit annoyed because I had not been sent to Ayodhya. There was something very serious brewing there, everybody was anticipating something. Well, except the then ruling government. I noticed the unusually heavy police presence at an event like a fashion show, and their unusual alertness. What happened thereafter would make fashion take a step back, and violence would be in vogue.
There were no mobile phones in those days. As I walked into the office, I was alarmed to receive a desperate phone call from my room mate from our house at Antop Hill, asking me if I was safe.
When I left work, the roads were deserted and dark, as if the lights were hiding in fear. I started walking from Wadala station and a deafening silence followed me until the voice of a Mullah drifted into hearing. It was the Imam of Sheikh Mistry Dargah. His voice issued feebly from a loudspeaker, speaking in Urdu, "In the name of god, I implore you with folded hands, don't lose your head... Don't get provoked, even as you stand at this most critical juncture of your lives, of this country... Please don't retaliate... Detach yourselves from any provocation... Let your actions come from the depth of your conscience... Yes, I'm asking you to look down, to look away.... today, the slightest infraction on the part of an individual could be disaster for our whole community..."
I couldn't look up, I kept looking at the ground as I walked until I reached the spartan government accommodations of my friend, Salt Inspector Ranadip.
By this point, I imagine, the child will be impatient. "But what happened?"
"I'm telling you."
There were no 24x7 news channels in those days. But that day's breaking news shook the very foundations of our nation. Brick by brick, it all crumbled, just like it did at the spot which was until then, unknown to the majority of people in the country. I felt personally violated by the act.
In the next few weeks and the coming month, I was witness to the madness of mankind. A poor man in Masjid Bunder, sliced in half by a sword because he was discovered to be one of the majority, or a not-so-poor man of the minority being burnt alive inside his red Maruti 800 in Dadar. People of my own religion forcing me to shave off my beard at dagger point because I looked like a Muslim. The police firing arbitrarily on Muslims at Antop Hill. The 'friends' from the minority community who let me go...
"I was safe, you see," I tell him, "I'd been circumcised when I was just a boy your age..."
At this point, I imagine, the kid would throw up his hands in horror. "Spare me! It was my birthday today!" And he'd be gone.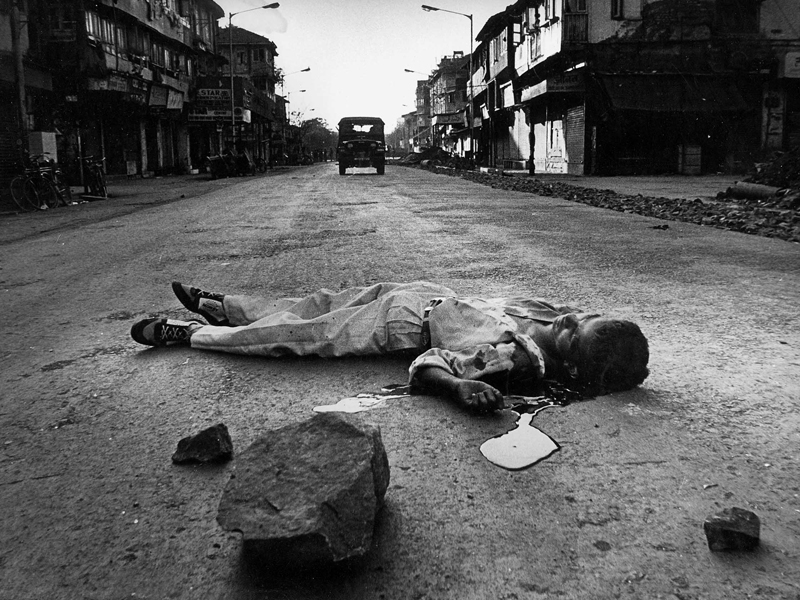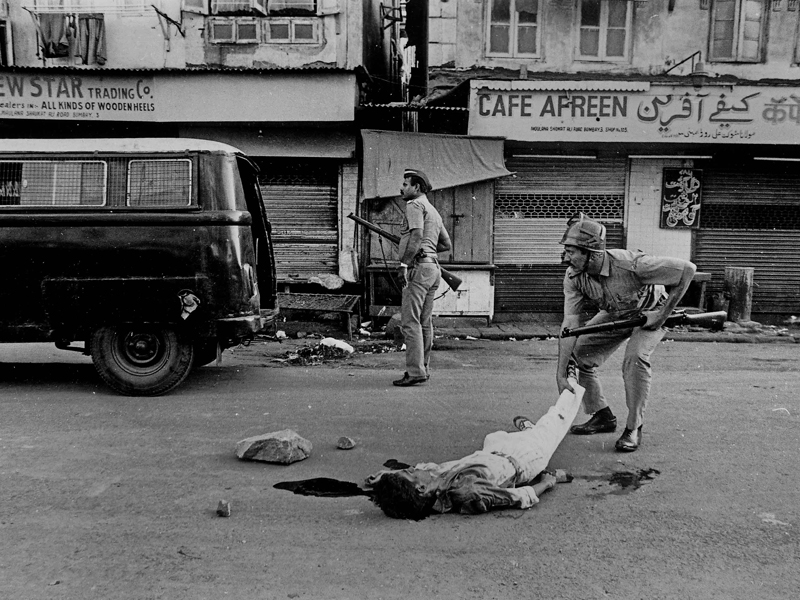 A body lies at Moulana Shoukat Ali Road, Masjid Bunder. The police had stopped their van at a distance and fled to a safer spot because the lanes on both sides of the road were seething with men carrying swords and daggers. The police approached and took away the body only after the photographer dared to reach the scene.