The charge that foreign-funded NGOs are obstructing mega projects, damaging growth and fanning protests ignores local discontent against these projects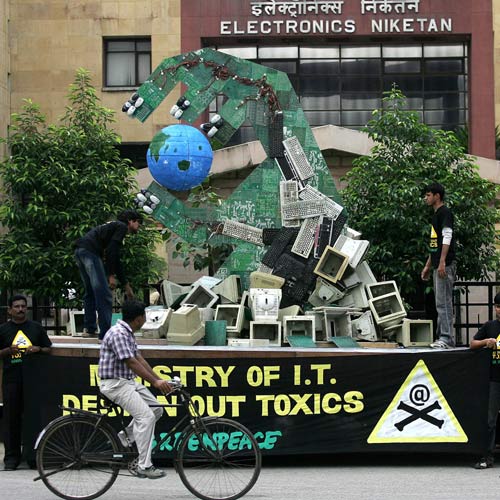 The Intelligence Bureau report — on NGOs, some foreign-funded, and their "negative impact" on economic development — has levelled some serious charges against NGOs opposed to the Gujarat model of development, foreign-funded NGOs and the global activist group Greenpeace. NGO activism against environmental norms violations and crony capitalism had earlier spurred the UPA government to talk tough against their attempts to build powerful civil society movements that discomfited the government's push for rapid industrialisation. In Greenpeace's case, the organisation's activism against nuclear plants and coal mining has earned it powerful enemies in India's corporate sector. The IB's assessment that Greenpeace posed a "potential threat to national economic security" and its efforts were focused on "ways to create obstacles in India's energy plans" and "pressure India to use only renewable energy" does not do justice to the reasons behind local discontent against mega-projects. The NGOs' success in organising localised opposition to mega-projects stems from the lack of transparency and democracy when initiating projects.
The IB's charge that the NGOs have impacted GDP growth to the tune of 2-3 per cent per annum needs to be evaluated against the calculated haste in ramming through land acquisition, environmental impact assessment and public hearings without taking local communities into confidence, leaving no option other than protests. Greenpeace, which has strongly campaigned against Essar's coal mining project in the Mahan forests of Madhya Pradesh, has predictably denied the charges. In January, 12 Greenpeace activists had scaled the building housing the company's headquarters and unfurled a banner accusing the company of "killing forests". While Essar accused Greenpeace of inciting villagers against the company, the NGO accused Essar of forging signatures in securing consent from a Gram Sabha that had cleared the project. By labelling the protests at Kudankulam in Tamil Nadu, against the Posco and Niyamgiri projects in Orissa, or the ones against Special Investment Regions in Gujarat as the handiwork of foreign-funded NGOs conveniently sidesteps the long-term impact of these projects on local livelihoods and ecology and privileges one model of development against several other models that are pegged as anti-growth.
More worrying is the attempt to slot dissenters as anti-national. But the report's contentions on Gujarat NGOs are overtly political in nature and appears to target them for taking on the Prime Minister.
In response to the civil society-led 2011 anti-corruption protests, the UPA government discerned that the "troublemakers" hailed from the NGO sector and dug into their accounts and their source of funding. In the crackdown that followed, an estimated 4,000 NGOs lost their FCRA (Foreign Contribution (Regulation) Act), 2010, registration. Without adequate domestic sources of funding, it is an accepted fact that many NGOs are forced to rely on foreign donors. Like Greenpeace now, the acceptance of foreign funding was used to question the intentions of activists like Medha Patkar, Arvind Kejriwal and SP Udayakumar of Kudankulam fame. Moreover, the different mindset towards foreign funding to the industry and social welfare is inherently contradictory and unfair. As the State retreats from social sectors, it is NGOs that have stepped in to provide leadership and many essential services to local communities. A corollary to assuming such weighty public responsibilities is that NGOs must subscribe to the same standards of transparency and accountability that they demand from the government. To combat allegations of obstructionism, forsaking foreign funding may not be enough, considering the stakes and the influential players involved. But those ranged against NGOs like Greenpeace must realise that environmentalism is an international movement; ironically, Greenpeace faces the same allegations in most countries.