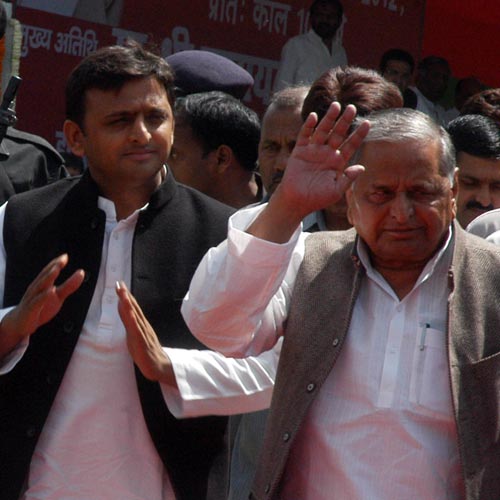 Since coming to power in March last year on the promise of good governance, Mulayam Singh Yadav and Akhilesh have time and again violated the trust the people of Uttar Pradesh had reposed in them. In less than two years, UP has reverted to its old ways of lawlessness. What has further sullied the state's reputation is the duo's brash and insensitive handling of critical and sensitive issues, prompting people to wonder whether the BSP-ruled previous dispensation was better than the current administration. The most recent example of this government's arrogance can be found in the remarks of AK Gupta, the principal secretary for Home in the state. When faced with the state-government appointed committee's report that 34 children had died in the relief camps of Muzaffarnagar riot victims due to cold, Gupta had the temerity to say: "Nobody dies of the cold; if people did, then nobody would survive in Siberia." In his desperate effort to salvage the image of the government, Gupta had abandoned common sense. Otherwise, he would have realised that the comparison with Siberia was outright foolish. Without proper winter gear —the inmates in the camps were deprived of such essentials because of a callous, unsympathetic administration — it's virtually impossible for the children and the elderly to survive the cold wave that's sweeping north India. People in Siberia do not live in flimsy tents or have to make do with less than adequate winter clothing in sub-zero conditions.
What has also provoked widespread condemnation is Mulayam's recent comment following Rahul Gandhi's visit to the relief camps. The Samajwadi Party chief had allegedly said that there were no riot victims in those shelters and that those staying there are Congress and BJP conspirators, a claim rubbished by the same committee that came up with the report on child deaths.
Yet instead of addressing the grievances of the victims, ensuring their rehabilitation, and trying to regain the trust of a riot-scarred state, Mulayam is occupied in making an annual carnival in Akhilesh's native Sefai village a grand success. The state government's top priority is now an all-weather swimming pool in Sefai, which would cost a whopping Rs200 crore. It is evident in the way a senior IAS officer Shailesh Kumar Singh who had apparently caused a delay in releasing funds for Akhilesh's pet pool project was suspended. Singh, who is due to retire next month, was on his way to attend a felicitation ceremony in Sefai of India's six London Olympic medal winners when he came to know about his suspension. His humiliation is likely to demoralise honest, committed government officials. A few months ago Durga Shakti Nagpal had to suffer for taking on the sand mafia in the state. By giving it a communal colour, the state government had tried to deflect attention from the commendable work the young IAS officer had done in controlling rampant illegal sand-mining in Uttar Pradesh. Finally, it had to yield to public and political pressure to reinstate her.
When he had assumed office, 38-year-old Akhilesh had raised a lot of hope about turning UP around. He had initially shown firmness in keeping the criminal elements out of his party and government, but that resolve petered out soon. And, now, only four months before the 2014 elections, he still hasn't been able to get his act together.