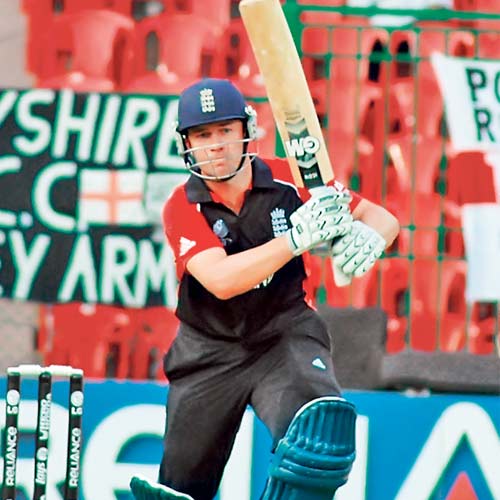 The 21st century arrived with a lot of promise, excitement and, of course joy for mankind, very much like Santa Claus — who spreads happiness. But unlike Santa Claus, the 21st century also brought along a few side effects like stress, anxiety and cut-throat competition — which had a negative impact on our lifestyles and we have started living under undue pressure.
The shortcomings of this ultra-modern era can be seen everywhere. Even sportspersons, in the perceived leisurely profession, are not spared. Cricket, which was not affected by the stress of modern times, has suddenly started showing rather grave symptoms.
The most recent incident to point out is that of English cricketer Jonathan Trott — who felt the heat of expectations from players of the gentlemen's game. Trott was considered to be Mr Dependable among the English batsmen and successfully handled the pressure of batting. He landed in Australia for their prestigious Ashes series, with high hopes. However, the loss of form and heavy scrutiny by the media saw Trott lose his self-confidence. Eventually, he succumbed to the pressure and left the tour midway.
Ironically, Trott is not an isolated case. England — the pioneer of the game — has the most numbers of such cases. Consider these: Michael Yardy flew home, leaving the World Cup in 2011 midway. Matthew Hoggard wrote about crumbling down mentally; Andrew "Freddie" Flintoff drank hard to escape the stress, Stephen Harmison spoke candidly about being apprehensive of going on tour and the terrible stress of playing for England. Marcos Trescothick's marriage was at stake, and this compelled him to give up international cricket when he was at the peak of his career.
According to a report, these cricketers play the game for about 260 days in a year, being away from their families half of the time. That amounts to good four months a year.
Cricketers are paid heavily these days. It is quite natural that being public figures, their lives and performances are under constant scrutiny. It's not that Trott didn't see it coming. The series was going to be hyped after the way Michael Clarke and his boys were humiliated in England in the first leg.
Talking of gentlemen and the sport in India, cricket is a 'lucrative' profession. It pays rich dividends and naturally families rally behind their kids. They are cool about the idea of staying away from their families for days together, as they know that the life as sportsperson is short-lived. But it will be false to say they aren't under pressure. They too, feel mental fatigue.
A few days ago, I came across an Indian cricketer, who had gone through the Trott-kind-of-phase.
He candidly admitted that there was a time when he had hit a dark-patch in his career. Critics too, aimed at his head. The impact of the criticism was so high that he almost lost his self-confidence.
In fact, he even started planning an alternative career by going back to education. Luckily, he realised his mistake well in time, and within months he was back on his feet. Today, he is a successful first class cricketer, on the verge of getting into team India.
This has affected Indian sportspersons too. Soccor Velho, an attacking midfielder with Air India and Maharashtra, lost his life to a heart attack. Velho was just 29 and had returned home after playing an afternoon friendly game against India U-19 boys.
He complained of uneasiness and breathlessness and was rushed to the hospital where he was declared dead.
Needless to say, heart attack at a young age of 29 is another by-product of the 21st century. None of the above lacked financial security. There may be difference in income but by no means was there any crisis.
Not surprising, psychologists and mental fitness trainers have become an inevitable part of support staff these days. But, it is high time sportspersons also find some ways of relaxation to ease their pressure, and tension to live a good healthy life.