Right now, as we cry for justice, it may help if we differentiate between sexual harassment and degrees of rape.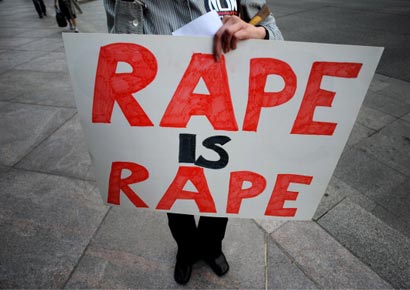 I have a serious problem with the much in vogue, politically correct statement: 'Rape is rape.' Not really. All rapes are not the same. Some rapes are, sadly, not even a criminal offence in our country ruled by patriarchal values. Like the rape of a wife by the husband, as long as the wife is over 15. The rest is on a graded plane of violence. There are degrees of horror in rape, grades of wrongdoing, levels of brutality and intent to harm. Unless we admit that difference, unless we move away from the hot-blooded honour factor to the cold violence of aggravated assault, we cannot do justice to ourselves.
This attempt to paint all rapes with the same brush, this baying for the blood of the rapist, calling for his castration, or better still, his death shifts the focus away from the very real violence on a very real person to an imaginary violence against an idea of honour. It focuses on intangibles like dignity, humiliation and shame rather than on tangible crimes like aggravated assault, actual injury, grievous bodily harm. It is this very attitude, that rape is not just a crime against a woman but against a caste, a community, a tribe or a clan, that has allowed rape to continue as a tool of domination.
But sometimes rape is not a sexual act, but a murderous act. Remember the horror of Khairlanji? An entire family of Dalits were killed publicly through torture like what the Delhi braveheart experienced. In Kolkata, Munia Das, a ragpicker, went through similar torment in a moving van. Unconscious and bleeding profusely she died in hospital, but had come to for a short period to give her dying declaration. She whispered to her son, "Don't let off Dilip." A ragpicker's death in the outskirts of Kolkata clearly deserves just one small news item, so we never got to know who Dilip was or whether he was arrested.
We know about such cases. But we don't identify with them. These are the faceless women around the country who are often subjected to bestial violence. Many of them die unheeded, their families cowering in shame and fear, often not mustering the courage to file a complaint. And when they do, the rustic power network makes sure that they are kept away from justice.
We know how difficult it is to lodge a complaint against rape. The suicide of a Patiala teenager last week is still fresh in our memory. The girl had tried for a month and a half to get her three rapists arrested, but nothing happened despite media reports. Except that the cops summoning her to the police station at odd hours to ask lewd questions. Defeated and shamed, she finally killed herself. Just the other day, the father of a 16-year-old gang-rape victim killed himself in Haryana's Hisar, and a couple threatened to kill themselves because the police refused to do anything about the wife's gangrape in Haryana's Jind.
So we need to get the police to act, we need speedy and certain justice every time an aggravated sexual assault is committed.
Thirty years after the Mathura rape case, where a 16-year-old tribal girl was raped in a police station in Maharashtra and the courts protected the policemen till the laws were changed, we still have custodial rape. And it has become worse. We know of the inhuman torture and sexual violence leading to the death of Manorama in Manipur and Neelofar, 22, and Aasiya, 17, in Kashmir's Shopian. The Armed Forces Special Powers Act (AFSPA) prevalent in Manipur and Kashmir allows the army to get away with such atrocities. More recently, we know of Soni Sori of Chhattisgarh, accused of being a Naxalite sympathiser and put through such sexual torture that she almost died.
Right now, as we cry for justice, it may help if we differentiate between sexual harassment and degrees of rape. Sure, we need a change in our mindset, we need to fight sexism and misogyny. But apart from the attack on our dignity and honour, or the scarring of our minds forever, we must also recognise the aggravated assault where it exists, the bodily harm, the pain and horror inflicted on a human being by another. For rape should not be as much about izzat as about injury. And just as a slap is not the same as chopping off a limb, all rapes are not alike. Each has its place on the graded chart of atrocities.
And we must never let off Dilip. Remember Dilip? No? That's part of the problem.
Antara Dev Sen is Editor of The Little Magazine. Email: sen@littlemag.com