The last 16 balls Ashok Dinda bowled in his final spell of the Rajkot ODI cost 11 runs and yielded two wickets.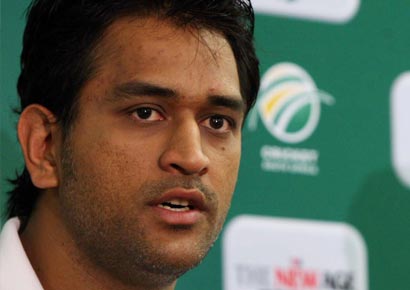 The last 16 balls Ashok Dinda bowled in his final spell of the Rajkot ODI cost 11 runs and yielded two wickets. The wickets were those of potential match-winners Eoin Morgan and Kevin Pietersen, both well-set for an onslaught in the last ten overs on a belter of a wicket and lightning fast outfield.
Dinda began his spell in the 42nd over, and got thumped for a six and a four in his first two balls. But, just as you thought 'here we go again', he started pitching it further up, and mixing in some reasonably well-disguised slower balls too. He gave only two more runs in that 42nd over and had Morgan caught and bowled. In his next over, the 44th, he gave only four runs as he first tied the destructive Pietersen down and then forced him to hole out in the deep. In the 46th, Dinda went only for five runs, and that included a boundary. In other words, he bowled four dot balls in an over at the death in a match where nearly 650 runs were scored.
Had India finally found a bowler who could hold his nerve and use his head in the slog overs? Well, we will never know, because Dinda was yanked out of the attack by Captain Dhoni. Dinda could have bowled the 48th and 50th overs because he had used up only eight out of his quota of 10 overs. Instead, he was left scratching his head in the outfield, wondering what he had done wrong, watching in bemusement as England collected 59 runs in the last four overs from Ishant Sharma and Bhuvneshwar Kumar — and won the game by a margin of nine runs in the end.
Admittedly, if you had asked me before the game for my choice of bowlers among those available in the Indian eleven for the final overs, I too would have picked Sharma and Kumar ahead of Dinda. But if you're going to stick to preset plans, without paying any attention to what's happening that day on the field, why have a captain at all?
Ishant Sharma had been clobbered for 25 runs in the two overs he had bowled previously in the batting powerplay. Bhuvneshwar Kumar is a tad too easy-paced for the slog overs on a 'patta' wicket like this, and a bit raw too judging from his two comical attempts at bowling the slower ball.
So it was a toss-up between them on who should partner Dinda, but Dhoni solved that problem by deploying both Sharma and Kumar and banishing Dinda. How surreal is that? Had our wicketkeeper-captain not noticed how Dinda had bowled in his last three overs, that he had accounted for Morgan and Pietersen, that each time he got hit for a four or a six, he came back with dot balls?
Dhoni's formulaic approach was evident in the batting powerplay too. Ravindra Jadeja and Suresh Raina were pulling things back for India when they were replaced by Dhoni's go-to bowlers for the powerplay — Ishant Sharma and R Ashwin. At least Jadeja completed his quota after the powerplay, but Raina, who was India's most economical bowler that day and had taken out England captain Alastair Cook to boot, never got to bowl again, finishing up with one for 18 in his five overs. It is to Dhoni's credit that he brought Raina on to bowl in the first place, but he lacked the conviction to continue with him in the powerplay, just as he later failed to back Dinda despite picking him for this game ahead of Shami Ahmed who had a wonderful debut against Pakistan.