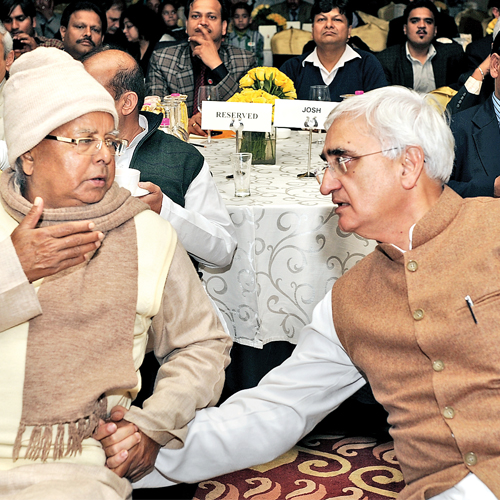 Given the nature of Bihar politics, it is no surprise that the development agenda, the focus of the Bharatiya Janata Party's prime ministerial candidate Narendra Modi and Janata Dal (United) Chief Minister Nitish Kumar, should get short shrift and pitchfork that old helmsman of caste politics, Lalu Prasad Yadav of the Rashtriya Janata Dal to the centre-stage in the current Lok Sabha polls.
It is surely ironical that this should be so, since it was partly Nitish Kumar's attention to development — seen in sharp contrast to Yadav's cynical disregard for it as Chief Minister —that had led to the defeat of the RJD twice in a row in state polls besides reducing its tally to a mere four Lok Sabha seats in 2009. If the mood in the state appears to show the JD(U) is under pressure over its prospects in the national elections, you are perhaps right in imagining that a resurgent Yadav is having a good laugh at Nitish Kumar's expense because, as it turns out, he is emerging as the main beneficiary of all that the Bihar CM has got wrong.
There is an inevitability in the manner in which Yadav's fortunes have turned going by the energy he has shown in recent weeks. Anti-incumbency, poor governance and a slew of corruption cases had contributed to his party's defeat after 15 years in office.
If he stayed out of power and his political fortunes had only plummeted thereafter, it was because of the JD(U)'s alliance with the BJP. Indeed, it was caste politics all along that had kept him out — the BJP's core upper caste vote combined with the JD(U)'s wooing of the EBCs.
Added to this was a sprinkling of the Muslim vote which Nitish Kumar got on his own steam. The push for development and the wooing of EBCs against this backdrop served to broadbase the support for him over Yadav. In fact, even now, if one were to go by the Bihar Chief Minister's election speeches and his detailed posts on his Facebook page, he seems to be laying great store by his development agenda to pull him through in these elections. But, in essence, and in the rough and tumble of Bihar's caste politics, it was the alliance with the BJP that was JD(U)'s insurance against Yadav.
That advantage was frittered away when he broke with the BJP in June last year following Modi's candidacy for the prime ministership.
About the inevitability of this: It was inevitable that Nitish Kumar would part ways with the BJP over Modi persuaded by his own secular credentials and it was inevitable that Yadav would then move in to regain lost ground — because even in his worst days the RJD leader had been clipping away behind the BJP-JD(U) combine with a decent-enough vote base.
For instance in the 2009 Lok Sabha polls, which he fought alone and without the Congress as an ally, Yadav had managed to secure about 20 % of the vote. This time around, and especially after the BJP-JD(U) split in June last year, he has been aggressively pushing to capture the Muslim-Yadav vote base. Besides, he now has the Congress once again by his side to bulk up on his support base.
Yadav's focus is clearly on the over 12 % Yadav vote and over 16 % Muslim vote in Bihar. In these very crucial elections for political survival, his aim has been to pick candidates on their winnability, other issues be damned. That those among RJD candidates are Pappu Yadav and Taslimuddin, both with captive vote bases, should explain the point. His desperation for an alliance with the Congress — common wisdom shows he may have overbalanced himself to give 12 seats to the Congress, even though they may not all be categorised as winnable — was to bolster the secular vote and to take advantage of the traditional Congress vote.
Yadav is evidently sticking to the basics of Bihar politics. The timing of this approach seems right. Corruption and development had appeared to become key political issues coinciding with the Jan Lokpal movement, the rise of the Aam Aadmi Party and subsequently Arvind Kejriwal's swearing-in as Delhi Chief Minister. As an instance, this was reflected in the manner in which the political discourse changed from caste and communal issues in the aftermath of the riots in Muzaffarnagar and Bahraich to graft and development.
But, after the controversial sacrifice of his government by Kejriwal and many slaps later, AAP no longer seemed to get itself heard as campaigning got more raucous. Yadav appears to be loving this return to old style politics, because this is where his strength lies. Sundry factors could be helping him, like BJP candidate Giriraj Singh's comment that Modi's opponents should be sent to Pakistan which came shortly before the third phase of the polls and could help him with the minorities. The perception is that the minority community does not see Nitish Kumar as an effective counter to Modi.
Yadav's return to the centre-stage of Bihar politics has been slow but not sudden. For a year now, when he and Lok Janshakti Party's Ram Vilas Paswan had been together, they had attracted good crowds as they prepared for the parliamentary elections. The parting of ways between the BJP and JD(U) gave his prospects a fillip and Paswan's decision to join hands with the BJP does not seem to have hurt Yadav.
Of course, with two phases of polls remaining and voting still to take place for 13 Lok Sabha seats in the state between May 7 and May 12, there is a fair bit left to fight for. Nitish Kumar seems up for it. On May 1, in a Facebook post that takes off on a Modi slogan, he says, "Abki baar karen vichar, sahi neeti sahi sarkar" (This time weigh your options, vote for the right government that will focus on the right policies). Yadav has done the hard work in his efforts to trump the Bihar Chief Minister and hold off the BJP. He has worked himself right back into the game.
May 16 will show whether his has been a deep penetration strike in Bihar politics.
The writer is a political commentator