WhatsApp's grand acquisition by Facebook is good for Indian entrepreneurship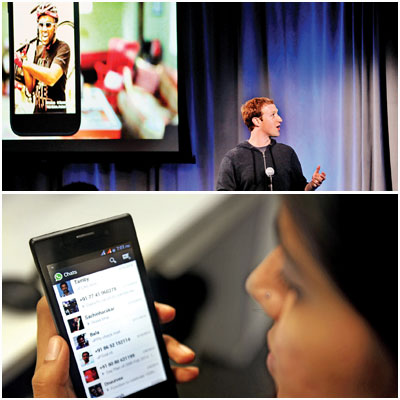 When you think of an Indian company that has made it big, what comes to mind? Infosys, Flipkart, Naukri, Redbus, Makemytrip? All these companies have one common denominator. They are services companies — companies that provide services. Try to think of one Indian IT product company — either an app, or a game, or a networking website that has made a mark globally? Can you think of any?
After a lot of twitching of eyebrows, if your general knowledge is decent enough, you'd probably come up with Slideshare. Even that's not the right answer, since Slideshare shifted to Silicon Valley soon after it kicked off here in India. Other promising Internet product companies based out of India, such as Ixigo (yes, it's an Indian company!), are still in the growth stage, waiting to make it big. Unlike the services companies, companies that are centred around products can be counted on one's hand, only a sliver of them not cheap replicas of western products.
The reason for this discrepancy is the way each of them makes money. A services company has the assurance of making revenue the moment the service is undertaken. Flipkart sells you a book, you pay. Infosys makes software for your firm, your firm pays. Most often the payments for these services happen before the purchase is complete. But consider the situation of an Internet product company. It is the opposite. These companies take time before they start making money. The time is not only required to reach the landmark number of users, but also to find out the most suited revenue model for the business.
Only when the business model is proven foolproof and the most profitable, is it implemented. No wonder, many product companies have still not figured a way to make money, Quora being a prime example.
If you have noticed the numbers, most of the world-class web product companies are centred in the US, mostly in Silicon Valley; whereas most of the world-class services companies are in India. The reasons are multifold. Cheap, bright and industrious labour-force (rather engineer force!) in India is one. Services require managerial abilities and business acumen, readily available in the Indian culture of jugaad, whereas products require innovation and creativity that is a rarity. But the greater reason for this discrepancy is the risk-aversion of both Indian entrepreneurs and investors which deters them from building an innovative product. When investors don't bet their money if there's no promise of quick money, it is quite natural to see the short-cut copycat model being preferred over the arduous, innovative brainwave. And here's where WhatsApp's story fits in and foretells a turnaround.
The recent acquisition of WhatsApp, a five-year-old start-up with almost no revenue, by Facebook for a whopping 19 billion dollars — a valuation more than that of some 100-year-old companies like Harley Davidson or Xerox, is historic. It has sent the entire risk-averse investor belt of India into a tizzy. Nineteen billion dollars exit is beyond the wildest dreams of any Indian investor. With Facebook as the big fish eating up every possible competition in the social Internet space with unimaginable sums of money, it flushes away the diffidence when it comes to starting-up social Internet companies. An Indian investor, now, would feel much more confident about investing in an innovative idea rather than a copycat model that he used to rely on before — which promised money in the short run, but nothing beyond. WhatsApp has showed us that an Internet start-up's revenue model should be secondary to its growth rate — which if meteoric, would ensure a possible exit in quick time. The start-up buying market has consistently shown that it's not stingy and is keeping a close watch on these fast-growing companies.
In 2009, when WhatsApp started, the founders Jan Koum and Brian Acton didn't even dream of becoming billionaires one day. Their core values, as mentioned on their website, remained the same — never to indulge in ads and unfailingly cater to customer satisfaction. WhatsApp's simple user interface (UI), its use of catchy emoticons and a free one-year service for all its users worked its way up, while investors pooled in money without caring to generate immediate revenue fuelling the growth. Their foresight was well-rewarded. A product with an idea as simple as WhatsApp was soon followed up by copycats all around the globe — in India, a Chinese company launched WeChat, a replica, and spent rather lavishly to promote it on TV. Little did they realise that to make a product company soar in the market, explicit marketing seldom works, while winning the mindshare of the customer always does!
Notice the websites that we use the most. Google, Twitter, Facebook. Did they spend money on ads to impress us in the first place? No, it was their simple and sleek UI, and a gamified model of interactions that brought us back to them every now and then. A user who joined Facebook brought in more users — only because his experience of the website was so great that he wanted his friends to be there. Same goes for WhatsApp too. Publicity by word of mouth, this is how truly good products reach out to the world.
The beauty of an online product is that it transcends national boundaries and caters to the global market, unlike a services company which is often bounded by logistical and governmental regulations.
WhatsApp's magnificent exit partly owes it to its towering global presence, besides the obvious exponential growth rate. When placed in the Indian context, it stands as a testimony to the Indian entrepreneurs about the bright prospects of servicing a larger international market in the product space and hopefully, shoos them away from becoming copycats of an already working idea. More than mere inspiration, WhatsApp's example promises an attitude change: the anxiety of an entrepreneur and an investor for making quick money has been replaced by a possibility of making a billion dollars a few years down the line.
In the Indian entrepreneurial ecosystem that is still evolving, WhatsApp's staggering acquisition fills me with hope that the evolution will be faster.
The writer is a former Internet entrepreneur and author