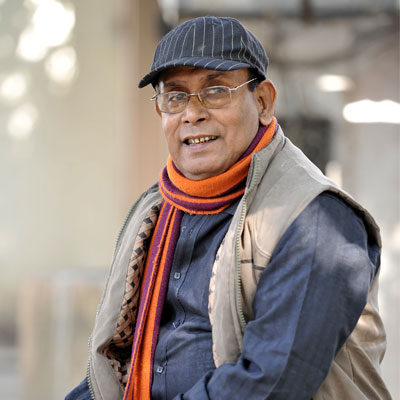 "Don't talk nonsense. It is not true and you know it," film-maker Buddhadeb Dasgupta warned me with a slow, engaging smile. This was long ago, on the lawns of Siri Fort, New Delhi, at an international film festival of India (IFFI). As a brash newcomer I had been blithely airing my views about Indian film-makers' inability to match the excellence achieved by our artistes in other genres.
Of course he was right. Even back then, in Bengal alone, apart from veterans Satyajit Ray, Ritwik Ghatak, and maverick Mrinal Sen, Dasgupta had himself proved his mettle in Dooratwa and Grihayuddha. His Bagh Bahadur framed the gloriously painted tiger dancer against the green fields, mauled to death by the real tiger. That eerie scene haunts me even today as does Charachar, with its poignant paradox of a bird-catcher who loves birds, finally retreating into dreams where reality cannot scorch him anymore.
In Neem Annapurna he invested modern squalor with mythic angst by the bitter reference to Annapurna, goddess of infinite bounty. In the stench of excrement-vomit strewn poverty, every streak of light darkens the pervasive gloom. Nothing maudlin, no. But we are filled with guilt and shame.
Once he shrugged, somewhat testily, "Why do I have dwarfs in my films? Because I am engulfed by dwarf poets, dwarf politicians, dwarf painters and dwarf filmmakers..." The fear of mediocrity demands constant vigilance. But Dasgupta's gaze is also focused on those who are dwarfed by circumstances.
Surely, only someone with extraordinary empathy for fellow beings, and insight into the socio-psychological deprivations of people from differing classes, could have made those films. And surely, his love of music and painting has shaped Dasgupta's distinct style where cinema becomes poetry — as in Tahader Katha, Uttara, Swapner Din… down to the intriguing Anwar Ka Ajab Kissa (where a sleuth tracks himself!) He also dared to make shorts out of elusive, intractable material — Rabindranath Tagore's iconic verses.
Early in life, his MA in economics made Dasgupta realise that consumer ethics had come to stay, and capitalist rapacity promoted corruption. As a filmmaker he records his resistance to the blinding smog; as a poet, he voices his numbing fears:
Do you want to say something?/ You've been sitting in that chair/ a whole year. The chair's lumber./ It's turned back into a tree in/ annoyance, acidity. Do you want to/ say something? Birds fly up and/ their droppings spill, mistaking/ You for a tree, woodpeckers gorge/ pecking at your ears. Ultimately,/ you'll be carried away to a sawmill!/ Do you want to say something!
Dasgupta doesn't give "interviews", but happily shares his vision and work process. He takes his time to find the right words, determined to settle for nothing less than clarity and truth. He cares enough to make you understand.
National awards and international honours have recognized that Dasgupta's style thrives on ambiguities, on what is left unsaid. This auteur is at his best when his character struggles with uncertainties, vulnerabilities; as also when he smudges borders between the apparently real and the so-called unreal. You need a password to enter his secret world: imagination.
Buddhadeb Dasgupta turns 70 this year. Watching his films through the decades, I have come to believe that his inspiration is not drawn from the suffering and hardship that he images so vividly.
What I see is not weltschmerz but wonder — a pervasive sense of adbhuta. Wonder at the world which offers so much and yet so little, at the human spirit that manages to squeeze itself out of the darkest hell — to survive, to live, to aspire.
The author is a playwright, theatre director, musician and journalist, writing on the performing arts, cinema and literature