Hardly had any fuel left after the rescue operation, says Wing Commander U C Vashisth
TALES OF BRAVERY: IAF officers share challenges faced during recent operations in Gujarat, Maharashtra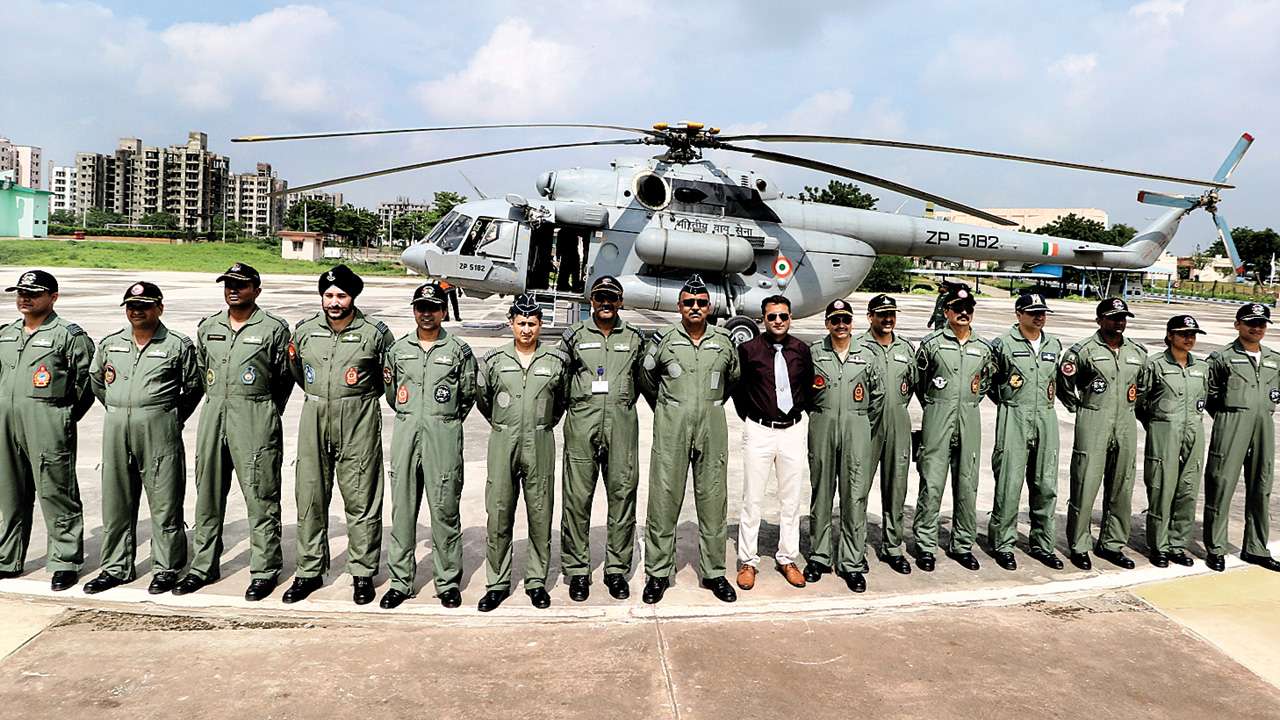 On August 11, the IAF team rescued 125 people stranded on a road washed away by floods in Kutch
Written By
Updated: Aug 23, 2019, 06:35 AM IST
We had hardly any fuel left when we reached Bhuj after the rescue operation at Haji Pir in Kutch, said Wing Commander U C Vashisth.
On August 11, the Indian Air Force (IAF) had rescued 125 people stranded on a road washed away by floods in Kutch. In a media interaction at headquarters of South West Air Command (SWAC) in the outskirts of state capital Gandhinagar, the IAF crew spoke about various rescue operations they undertook during recent floods. They also shared their experience and knowledge gained during the recent rescue and relief operations in Gujarat and Maharashtra.
It was around 4-4:30 pm on August 11 when IAF received a request to rescue a large number of people stranded at Haji Pir. Wing Commander U C Vaish and his crew flew in a Mi-17 V5 chopper of IAF. "We had to finish the rescue operation before it was dark. We can carry only about 20 people at a time. The weather was bad and it was hilly terrain. It was difficult to have situational awareness. We carried out multiple trips. After we rescued all of them, we were running out of fuel. Bhuj was the nearest station, and when we reached there, we had hardly any fuel left," said Vaish, who was also the Commanding Officer of the operation. He said that the weather was so bad that it was difficult to differentiate between water and sky. If the chopper went out of fuel it would not have been available for subsequent missions.
The officials said that while the IAF is confident about its rescue missions, it's the people who lack faith in them. Recalling an incident at a village in Navsari, when a marooned old lady refused to be airlifted, Squadron Leader Praveen Tiwari said, "The water was waist-deep. The woman did not want to get rescued." Owing to floods, landing the chopper was not feasible. At that time, Flight Lieutenant Karan Deshmukh went down, swam to the woman, gave her the confidence following which she was ready to get air-lifted. "I brought her cellphone so that she can remain connected. She was not ready to leave her home," said Deshmukh.
The team also rescued flood-affected people from Vadodara, Navsari and Maharashtra's Kolhapur area
Flight Lieutenant Parul was the only woman in the team that interacted with the media. She had participated in several rescue operations in Vadodara, Navsari and Maharashtra's Kolhapur area. "In Maharashtra, it was more about sending relief materials rather than rescuing people, unlike Gujarat," she informed.
"South Western Air Command had flown large numbers of sorties towards rescuing nearly 300 marooned people including women and children, airlifted nearly 60 tonnes of relief material, which includes 23,000 kg of air dropping of food packets and had mobilised 200 personnel of Army, Navy, NDRF and SDRF rescue teams," said a statement from SWAC.