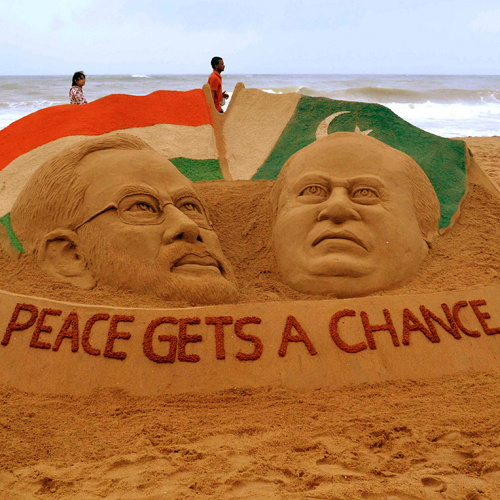 All eyes are on Indian Prime Minister-elect Narendra Modi and his Pakistani counter-part Nawaz Sharif, who, in an unprecedented move, is visiting India for the former's inauguration.
The last time a Pakistani leader officially visited India was back in 2005, when former President Pervez Musharraf and Manmohan Singh were warming up to each other. Peaceniks and activists on both sides are hoping for a similar rapport between Modi and Sharif. Fears over a decline in already fraught relations between the neighbours are being assuaged.
But perhaps a better indication of what India-Pakistan relations are going to look like for the next few years would be the attack on the Indian consulate in Afghanistan's Herat, widely suspected to have been carried out by Pakistan-backed militants. It may also give both Indians and Pakistanis a more accurate look at the factors that continue to keep this conflict intractable.
First, some background. Sharif promised to improve relations with India on the campaign trail last year. He made encouraging references to visa-free travel, bilateral trade and a solution to the conflict. Like Modi, Sharif won a majority in parliament, and ostensibly won the mandate to pursue his campaign promises. If it were up to Sharif, India would have received the Most Favoured Nation (MFN) status already. If it were up to Sharif, bilateral trade would have spiked by now.
But unfortunately, it isn't up to Sharif. Despite the MFN, now referred to as the more sterile Non-Discriminatory Market Access, Pakistan still hasn't signed on. Visas still remain as difficult to get as ever. Earlier this month, Pakistan expelled the only two Indian journalists allowed in the country; India denied hundreds of Pakistani pilgrims the visas to visit Khwaja Moinuddin Chishti's shrine. And of course the bigger issues – Kashmir, water security, Sir Creek – still remain.
Both countries realised a long time ago that more trade, better relations, and less conflict is a mutually desired goal. Pakistan would get the economic boost from trade and investment it so desperately requires. For India, solving conflicts with neighbours would allow it to look beyond its neighbourhood, a welcome step towards becoming a great power.
So, no, these issues do not exist because of a lack of will power. They exist because of Pakistan's military.
Sharif has not been able to follow up on his promises for better relations. Even the decision to go to Modi's inauguration was delayed, allegedly because he needed clearance from the military. A disagreement over whether to pursue to talks or a military operation against the Pakistani Taliban has brought a particularly intense bout of pressure on Sharif's government, and he does not have the space to operate freely, especially in the matters of foreign policy and national security. It's remarkable he is allowed to attend Modi's oath-taking in the first place.
The past week has seen many a good will gesture. Sharif congratulated Modi via phone, Modi invited Nawaz, Nawaz accepted, fishermen were released (they must be hoping for a thaw in relations more than anyone else).
But just as Sharif readied himself for the short trip to New Delhi, the Indian consulate in Herat was attacked by three heavily armed gunmen. If the previous attacks on India's Afghan outposts are any indication, Pakistan is bound to be suspected. If it is indeed a Pakistani outfit or its affiliate, the bonhomie between Modi and Sharif will count for nought, as India would be obliged to respond unfavourably, if not in kind.
Both Modi and Sharif may indeed do what is in their capacity to do, and with the inauguration, there could not be a better start to relations between them. But it is just a start, and one that will be heavily monitored and scrutinised by Pakistan's military.
Many were afraid Modi's election might prompt a rocky start to the bilateral relationship, given his reprehensible record of protecting Muslims. But even with the best of intentions, there is little Modi can do to solve the fissures between Pakistan's civilian and military branches – a conflict seemingly more intractable that India-Pakistan.