Obama praised Burma's "remarkable journey" on Monday since it embarked on reforms two years ago, and pledged to do "everything we can to ensure success" during his official visit to the country.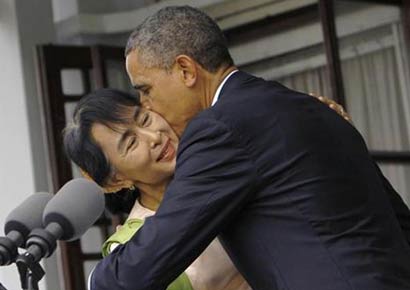 President Barack Obama praised Burma's "remarkable journey" on Monday since it embarked on reforms two years ago, and pledged to do "everything we can to ensure success" during his official visit to the country.
Thousands of people lined the roads near Rangoon's airport after Air Force One's morning arrival, with cheering crowds standing six or seven deep along his route. "Mr Obama we love you, you are the legend hero of our world," read one huge banner.
In scenes unimaginable a short time ago, Obama - the first sitting US president to visit the country - met Aung San Suu Kyi, the revered democracy campaigner, at the home where she was detained for the best part of two decades. The Nobel Peace Prize winner received a hug and a kiss on the cheek from the president and Hillary Clinton, the US Secretary of State.
Suu Kyi warned her visitors that "difficult years" lay ahead.
"I say difficult because the most difficult time in any transition is when we think that success is in sight. Then we have to be very careful that we are not lured by a mirage of success," she said.
Obama has already come under fire from human rights groups for agreeing to visit Burma in the wake of deadly clashes between the Muslim Rohingya minority and the Buddhist majority in western Burma, and while hundreds of political prisoners remain in jail.
The Burmese authorities this week announced the release of a further 66 political detainees, but the opposition National League for Democracy estimates that at least 180 more are still imprisoned. During an afternoon speech at Rangoon University, President Obama made no direct call for the release of the remaining political prisoners. But he did speak of "a future where one prisoner of conscience is one too many".
He was far more direct in calling for an end to the sectarian violence in western Burma's Rakhine State. "For the sake of this country's future, it is necessary to stop the violence," said Obama. He went on to hint at the need for changes to Burma's restrictive nationality laws that render the Rohingya stateless.
"Only the people of this country can define what it means to be a citizen of this country," he said. "But I have confidence that as you do that you can draw on this diversity as a strength and not a weakness."
Washington was insistent that President Obama's six-hour trip to Burma be confined to Rangoon, and not take in the new capital of Naypyidaw which was created by the former military regime.
But as well as announcing pounds 107 million in aid to the country, the US president delighted his hosts with the diplomatic courtesy of referring to the country as "Myanmar" during his meeting with President Thein Sein. Both, the US and Britain, use Burma rather than Myanmar, the name given to the country by the former junta.
The choice of the Convocation Hall at Rangoon University for President Obama's speech was highly symbolic. The university was at the centre of the 1988 student protests that were crushed by the military junta and led to the country being treated as a pariah state for more than two decades.
Before his speech, the president met a number of pro-democracy activists from the 1988 generation. Myo Yan Naung Thein, a student leader who was imprisoned for almost a decade, said: "I was impressed by Obama. He listened carefully and said he would do what he could."
But President Obama's remarks were not greeted with universal approval. His frequent extolling of the United States as a model for Burma to follow was not appreciated by everyone in the audience. Phyo Si Thar, a 22-year-old student from Burma's Maritime University, said: "I didn't like the speech too much. Our country has changed a lot since the start of the reforms. He doesn't seem to think that. He wants us to follow the example of the US, but we need to find our own way."
Yet even critics of his speech conceded that President Obama's visit has energised the country. Nyun Ling, a professor at Burma's Institute of Theology, said: "His visit has made people happy and more optimistic about the future." After just six hours on Burmese soil, Obama made history again by becoming the first US president to set foot in Cambodia, a country once known for its Khmer Rouge killing fields.
Unlike the visit to Burma, where Obama seemed to revel in that nation's new sense of hope, Obama was highly critical of Cambodia's poor record on human rights.